Hog Heaven hosted a car show as a benefit for 6-year-old cancer patient Lane Smith and his parents and The Hunters Edge has been raising money for them, too, along with many businesses and organizations in the area. 
Approximately $20,000 was raised at the car show as hundreds of people visited to look at the cars, eat barbecue, purchase raffle tickets and bracelets and T-shirts that read "Team Lane" and "The Fight Is On Against Childhood Cancer." The Hunters Edge raised more than $12,300, for the family. 
Lane was diagnosed with neuroblastoma, with a volleyball-size tumor in his stomach, earlier this year and he has been undergoing chemotherapy treatments in Jackson for the last several weeks.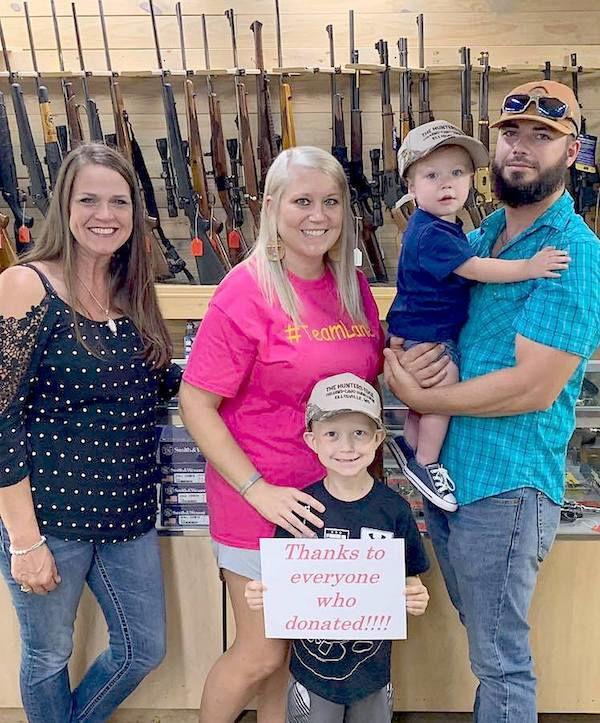 His parents Scott and Amber Smith and little brother Braxton stopped by The Hunters Edge to visit owner Laurie Rogers and to thank her recently.
"We could never thank everyone enough that has done for Lane & our family!," Amber Smith posted on Facebook with the photo. "We are so blessed & we have met some amazing people while on this journey with our little guy! I'm beyond blown away at all that has been done & for the things that continue to happen for Lane. He has no idea how loved he really is! & not just donations & such. All of the prayers alone that have went up for Lane AMAZE me. I am so thankful to have so many people concerned & praying for Lane!!"