f you are like most people, you probably just realized that Independence Day is right around the corner. Just because you are a procrastinator doesn't mean you can't be the most festive party host or guest this year.  
Here are some quick, easy and inexpensive ideas to help you show your patriotic pride this Independence Day. 
Party food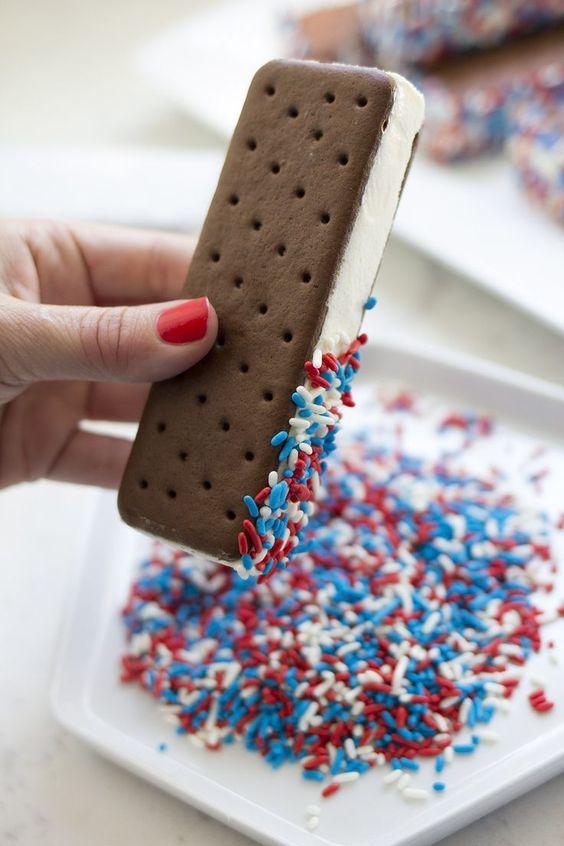 • July 4th Ice Cream Sandwich — Ingredients: store-bought ice cream sandwiches and patriotic sprinkles. Directions: Unwrap each ice cream sandwich, pour sprinkles on plate, dip each side of ice cream sandwich in sprinkles, place decorated sandwiches in freezer until ready to eat.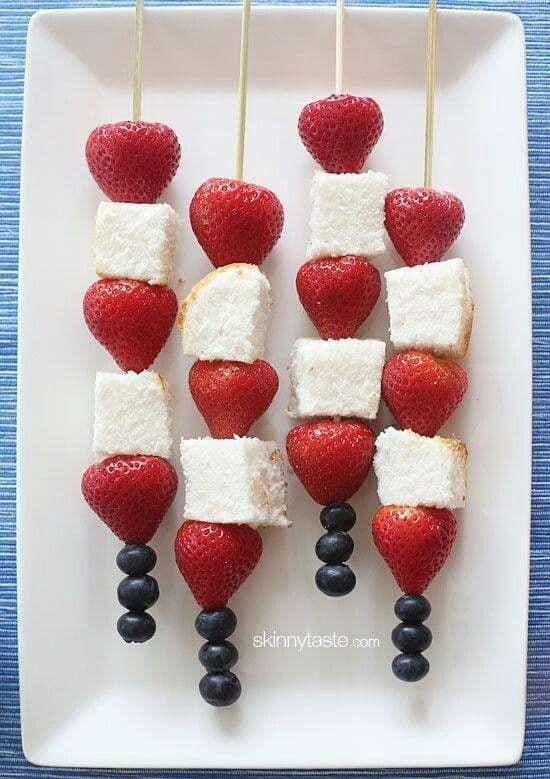 • Red, White and Blue Kabobs - Ingredients: skewers, blueberries, strawberries and angel food cake. Directions: cut strawberries and angel food cake into smaller bites, stick the fruit and cake on the skewers in a variety of patterns.
• Patriotic Jell-O Cups — Ingredients: red Jell-O cups, Reddi-Whip and blue sprinkles. Directions: Once ready to serve, squeeze whipped cream on top of the Jell-O and generously sprinkle the top.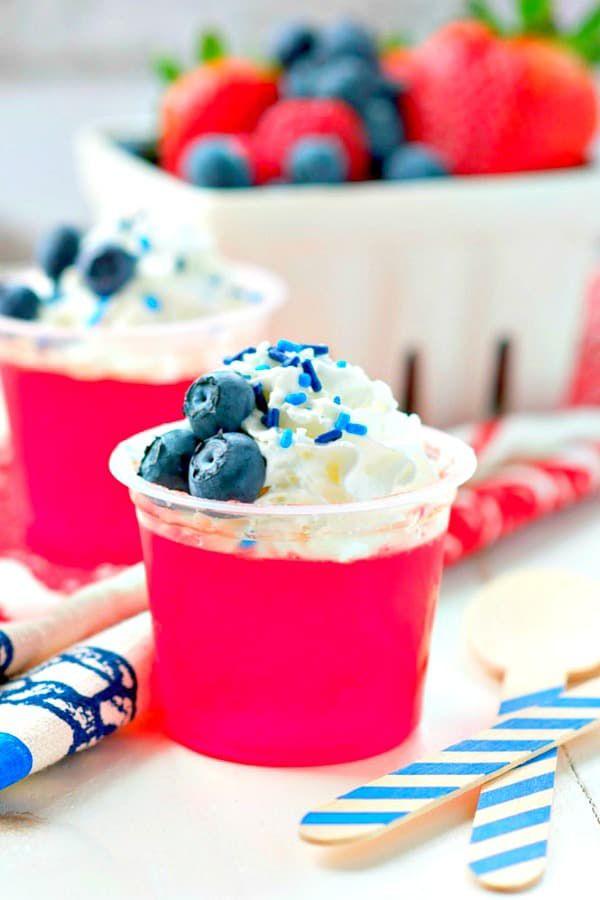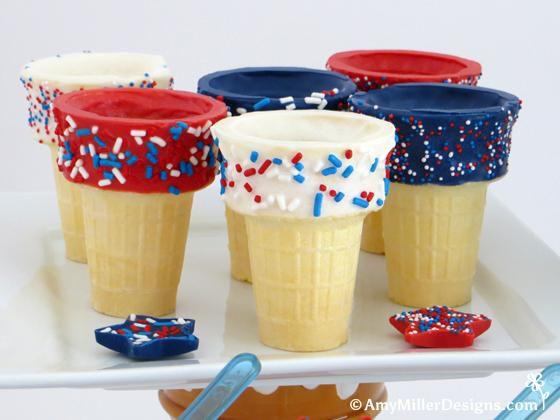 • Dipped Ice Cream Cones — Ingredients: sugar cones, white chocolate bark or candy melts, patriotic sprinkles and red and blue food coloring. Directions: melt the chocolate in three separate bowls, use red and blue to color two different bowls once melted, dip the sugar cones in a bowl and roll the covered portion in the sprinkles. Let the chocolate harden before scooping the ice cream.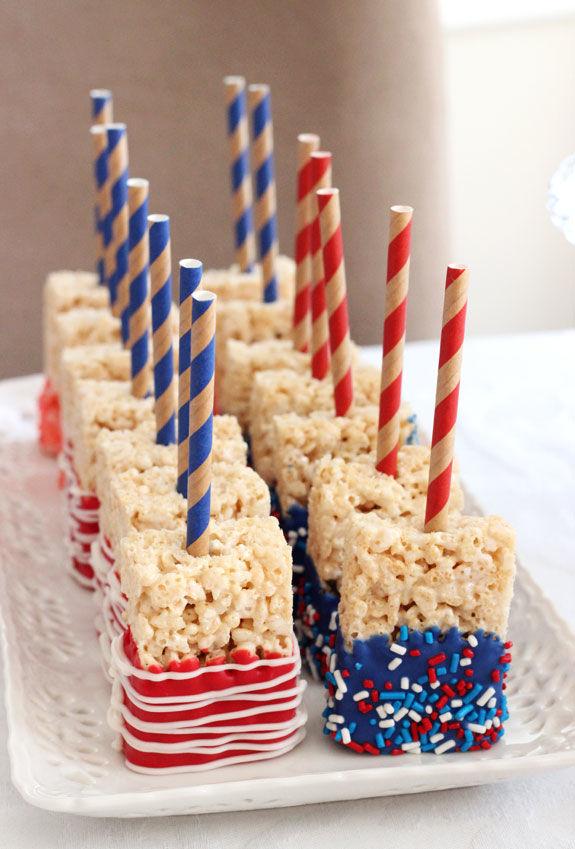 • Rice Krispie Pops — Ingredients: Rice Krispies, white chocolate bark, red and blue food coloring, patriotic sprinkles and paper straws cut in half. Directions: Stick a straw into each Rice Krispie, melt the white chocolate in three different bowls, put food coloring in two bowls, dip the Rice Krispie into melted chocolate and roll in sprinkles. Let chocolate harden before serving. 
Party decor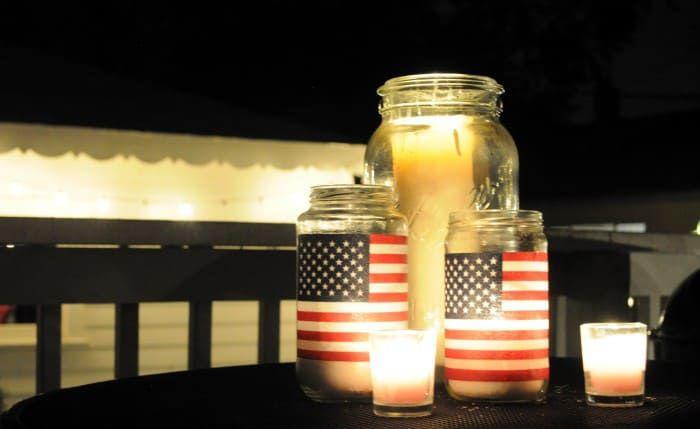 • American Flag Lanterns — Items Needed: small American flags, mason jars, Mod Podge, tea candles and paint brush.  Directions: First, apply the Mod Podge to the back of the flag. Next, place the flag on the outside of the jar. Then, apply a coat of the Mod Podge on top of the flag. Once the Mod Podge has dried, place the candle inside for lighting.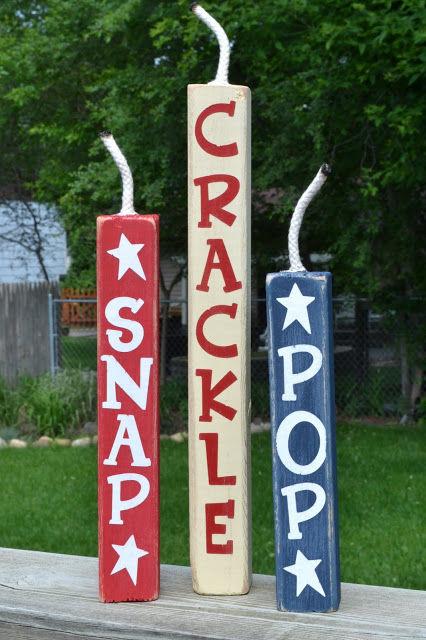 • Firework Decor — Items Needed: three pieces of 4-by-4 lumber (various lengths), red, white and blue paints, paint brushes, letter stickers, rope and hot-glue gun. Directions: First, paint each piece of wood a different color. Once dry, place the stickers vertically down the wood to spell "Snap," "Crackle," and "Pop" on each piece. Hot glue a short piece of rope to the top and your fireworks are ready for displaying.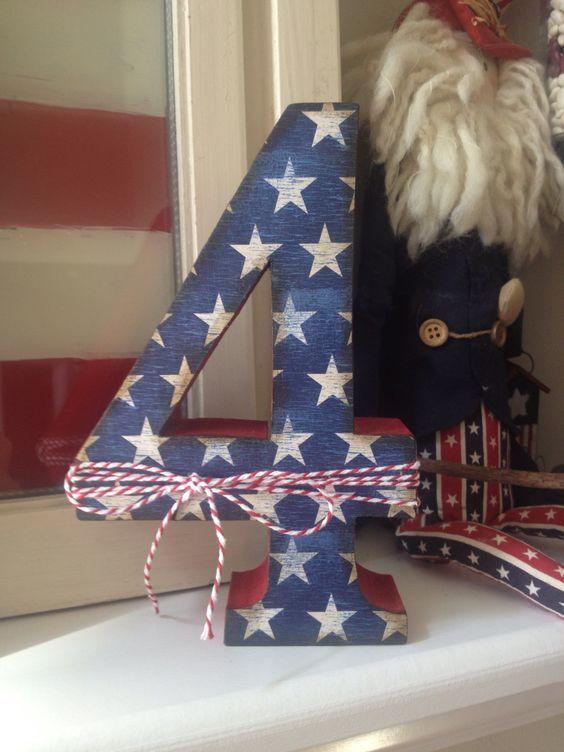 • Patriotic 4 — Items Needed: wooden "4" cutout, blue and white paint, paint brush, red-and-white-striped twine and star stencil. Directions: Paint the "4" blue. After paint has dried, place the star stencil on top and paint stars white.  Once the stars dry, tie the twine across the middle. 
• Tin Can Wind Sock — Items Needed: empty tin cans, hot glue gun, patriotic ribbon cut to various lengths, twine, hammer, nail, paint brush and red, white and blue paint.  Directions: Using a hammer and nail, pierce two small holes at the top of the can. Next, paint the cans. Once paint has dried, use the hot-glue gun to attach the ribbon to the inside of the can. Tie the twine through the top holes and your windsock is ready to be hung.