LL-C graphic designer recruits local artists for community project
"Take what you need, leave what you can."
When Kamron Johnson, a graphic designer at the Laurel Leader-Call, was growing up, her family needed help sometimes.
"I was raised in a low-income family, but that doesn't mean I was without," Johnson said. "I remember going to food drives to get the box that they give out to families that don't have much. I remember getting used clothes from the Salvation Army."
She understands what it's like to struggle. No one should be ashamed of asking for help, she said.
"I definitely understand how hard it is to get back on your feet when you are down," Johnson said.
In February, she started a project using disused newspaper racks to turn into small food pantries. After publisher Jim Cegielski donated the racks, Johnson got the help of local artists Sean "Starwars" Stewart, Mandy Buchanan, staff at Hand+MADE and students at Laurel High School to decorate them. Now, four new mini food pantries will be placed in high-traffic areas for anyone one in need to use or donate non-perishable items and toiletries.
It all started when Johnson noticed a few unused newspaper racks. She wanted to repurpose them as a way to give back to the community and asked Cegielski if she could spearhead a community project using the racks. She prepared the racks for the artists to paint and delivered them to the artists to create their own unique designs.
People want to give back and this would be a simple way to give that could affect someone in a big way, Johnson said.
"People in need wouldn't have to go to the Salvation Army and for non-perishable items, toiletries, snacks, gently used clothing and water."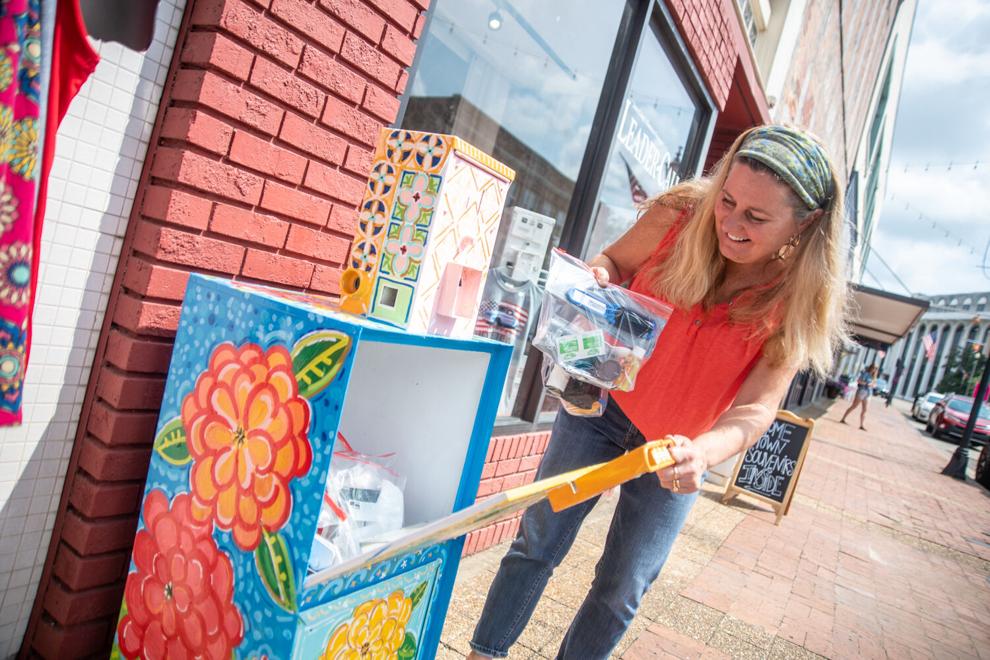 After coordinating with different artists around the city, Johnson had each rack painted as a way to beautify and invite the community to take what they need or leave what they can to help others. Buchanan's rack will be located in front of the Leader-Call at 318 N. Magnolia St., Hand+MADE's rack will be in Ellisville at Trulie Stylin' boutique (307 Hwy. 11 N, Ellisville), the LHS student rack at Cotton Mill Park and Starwars' rack will be at Daphne Park.
Buchanan's rack boasts a colorful and cheerful design with flowers blooming on the front, using acrylic paint and a sealant for weather wear. Her intention was to paint something that gives joy to others and was uplifting.
When she was approached by Johnson to paint the rack, Buchanan said she loved the idea and spent a full week painting it.
"I wanted to bless the people who use it," Buchanan said. "For my birthday
Aug. 2, I'm going to ask that people donate to the racks."
HAND+made's rack is bright yellow with strips of children's books hodgepodged onto the rack. The rack will also provide a place for people to leave gently used children's books and information for the Jones County Imagination Library, which mails a book per month to children ages 5 and younger through Dolly Parton's foundation and is heavily financed by Sanderson Farms.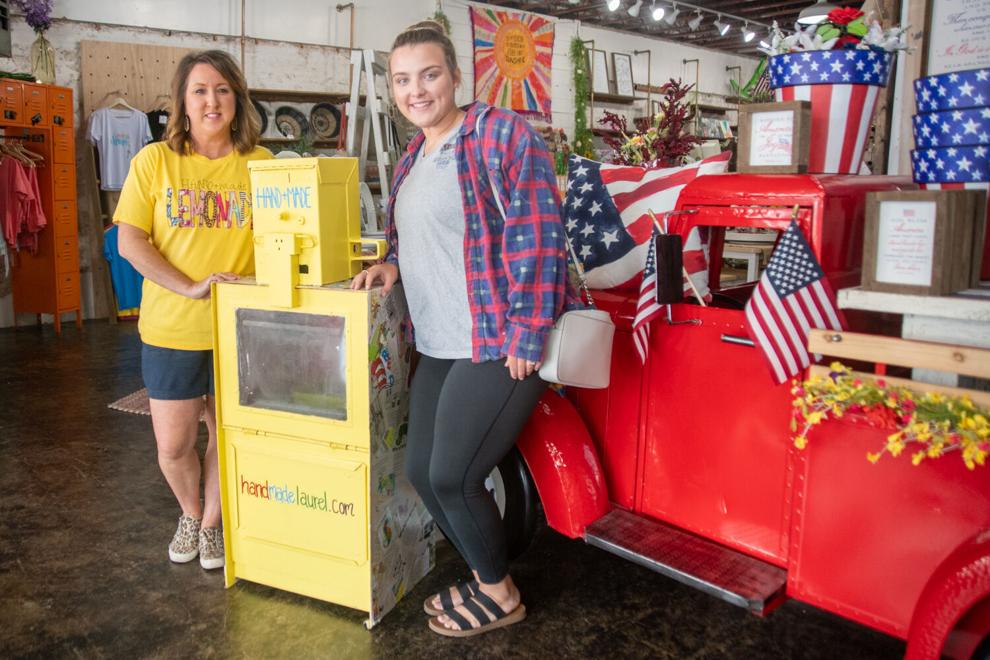 Deanna Baucum, DIY coordinator at HAND+made, said staff members Haley Perkins, Madison Reddoch, Ellie Gaddy and Brionna Williams worked together to decorate their rack.
"Some kids just read their phones now and don't have an opportunity to read a book," Baucum said. "This is a good way to get books to kids who want them for free."
Reddoch said the influence from the design came from "The Very Hungry Caterpillar" by Eric Carle, who died the day they began working on the rack, so they decided to use pages from his book to decorate the rack and use it for the color scheme.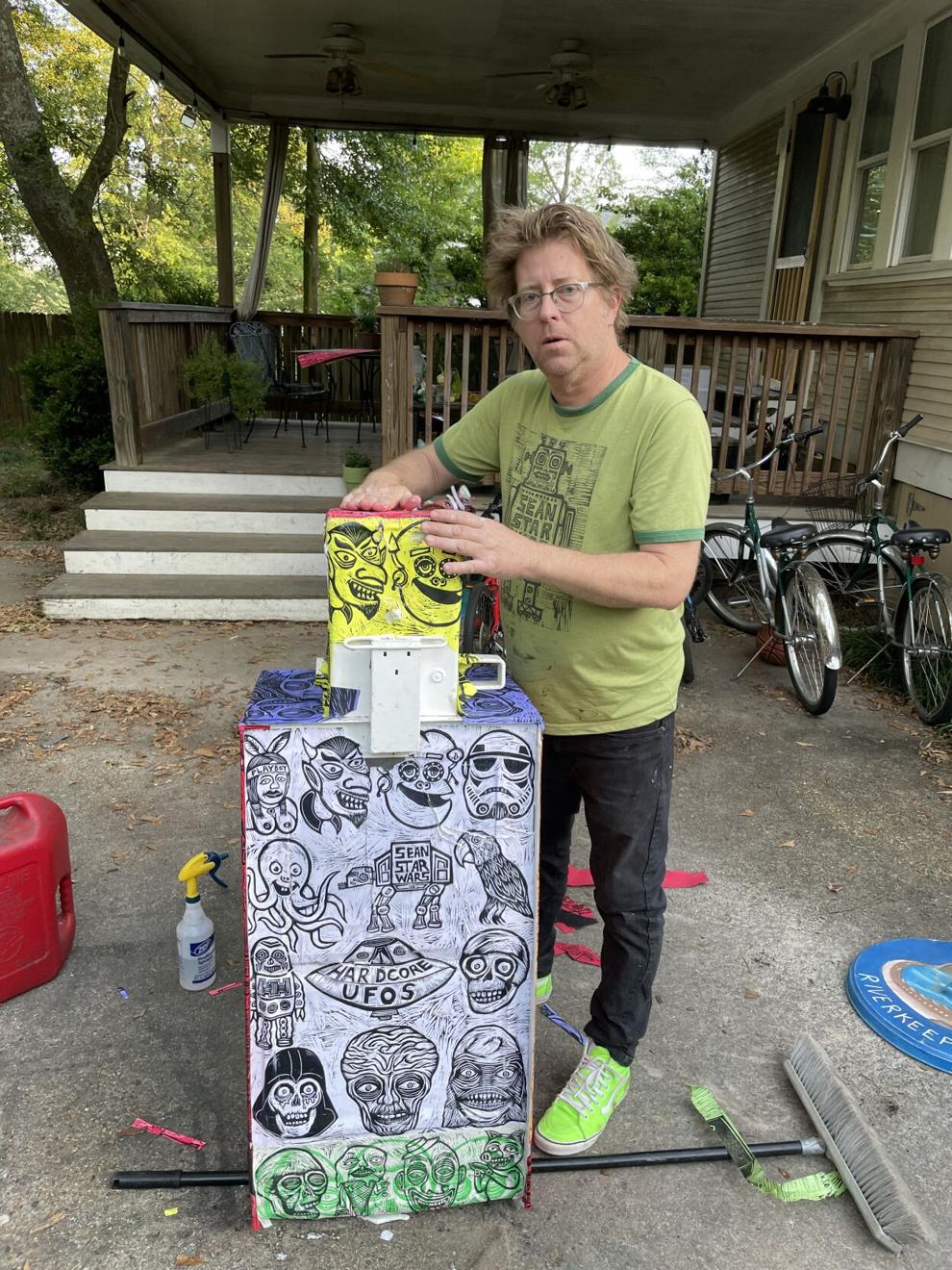 Starwars' rack boasts woodcut print on color paper that were coated with acrylic medium. His inspiration for the racks was to do something similar — take his unused prints and collage them.
"As a printmaker, I always have an abundance of prints for me to use for wheat paste murals — and other installations, so it was natural for me to just go through a stack of prints and start collaging them onto the machine," Starwars said. "I create so much imagery and have so many prints, I could do 20 of these machines, and each one would look different." "Starwars" said this was not the first time he had encountered newspaper racks and that this was a fun project for him to be a part of.
"I have a long history with newspaper vending machines dating back to when I was a 12-year-old kid and found a bunch of stolen machines in a field by my house," he said. "I called the police to report them stolen, and I was given a certificate of heroism, and they put my picture in the newspaper."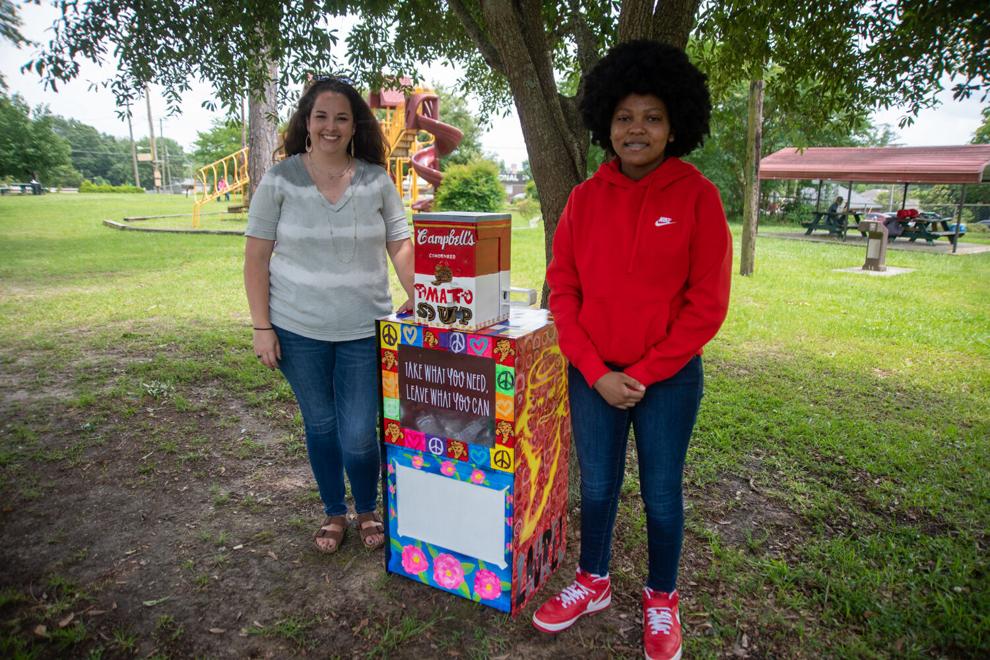 Sophomore Josalyn Ulmer and senior Jaythan Comegys at Laurel High School contributed their talents to the rack, each getting a different section to paint. Art teacher Laura Tew facilitated the project. Tew said she wanted to be a part of the project because it was a great idea. Four of her students contributed to painting the newspaper rack, which took them five weeks to complete.
"I hope they learned a bit about art history and they gained an appreciation for helping others in the community," Tew said. Ulmer said she was inspired by artist Chuck Close and painted a tornado in a surrealist style.
"It felt good to do something to help others," Ulmer said. "I enjoyed being a part of the project. "
Comegys said he was inspired by Van Gogh's "Starry Night" and painted a tribute to the piece.
"I'm not a fully experienced artist, but I felt happy being a part of something that's important," Comegys said. "Doing this is nice, and I feel like I can come out here and appreciate it."