Tempers flare at court; woman at heart of firestorm safe, JCSD says
Kaileigh Schmidt is safe. That's according to the Jones County Sheriff's Department, who responded to rumors that the woman who was arrested after publishing racist texts and attributing them to her parents had not been heard from since her charges were dropped.
The rumor that she may be in trouble surfaced Friday afternoon on the steps of Jones County Justice Court, when attorneys Carlos Moore of Grenada and Javaron Buckley of Chicago organized a press conference to address questions about the unusual case that made national headlines. Chantelle Dunn, Schmidt's biological mother, appeared alongside the attorneys in support of her daughter; a family member named Cody Abadie opposed the attorneys, calling Moore a "lying piece of s#&t."
The press conference devolved from there. Videos of the confrontation are available at leader-call.com.
The sequence of Friday's events began at 2 p.m., when Moore arrived at the courthouse without Buckley and "the client," per Moore's announcement on Facebook. Buckley appeared with Dunn at 3 p.m., calling into question Schmidt's whereabouts. Moore and Buckley then clarified that Dunn was the client, though she hasn't technically retained Moore as a lawyer.
Dunn said she feared for her daughter's safety, noting, "She would have called me by now and let me know something. Nobody's heard from her."
Investigator J.D. Carter of JCSD said she's definitely safe and with family.
Moore and Buckley said they organized the press conference to call attention to injustice and an "unconstitutional" arrest in response to Schmidt being arrested for allegedly posting the racist comments on social media sites and attributing them to her father. The posts set off a social media firestorm that led to hundreds of death threats against the family, investigators with the JCSD said.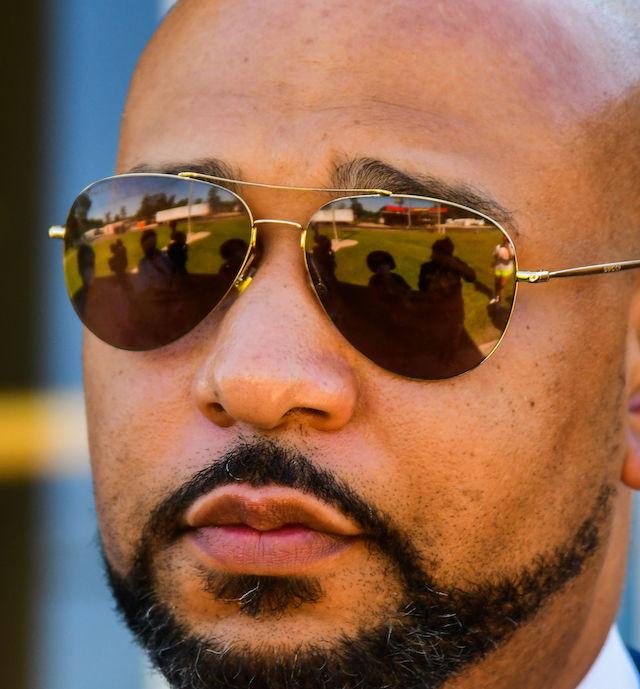 "I'm a judge in Clarksdale and I'm a judge in Grenada," Moore told reporters. "I would never sign a warrant to arrest someone for a crime that didn't happen. And anyone reading that affidavit with a grain of sense knows that there was not a crime."
Schmidt, a former Jones College student who identifies herself on Facebook as JCJC's most beautiful in 2017, initially faced two felony counts of posting electronic messages for the purpose of causing injury. Those were subsequently reduced after it was learned the charge had been deemed unconstitutional by the U.S. Court of Appeals in April. She was then charged with two counts of obscene telecommunication. Her parents later dropped the charges and Schmidt was released from the Jones County Adult Detention Center after spending a night there.
As Moore began the press conference, Abadie began speaking over reporters to press him for answers.
"You're lying to everybody," Abadie said. "You didn't do anything at all. For real, what did you do? You're just showboating for money."
Abadie claimed Moore and Buckley made the appearance for money and political reasons and that they hadn't helped get Schmidt's charges dropped.
"That's why the country is in so much turmoil right now, because people like you are lying," Abadie shouted. "Prove me wrong. That's why the system is so screwed up. You're a piece of s#&t is what you are. You can't make me be quiet. I'm a citizen. You work for me."
Abadie initially identified himself as a concerned citizen and later gave his name to reporters as the press conference was ending. He said that he was present when "an altercation" occurred between Schmidt and her stepmother.
Buckley and Moore said they have evidence proving Schmidt was assaulted by her stepmother after the racist texts were posted to Facebook. When asked whether the department is investigating such an incident, Carter said on Monday that no formal complaint has been filed. If a complaint is filed, the department would like to receive that evidence, he said.
The viral story began after Schmidt made the post on June 5. While it was initially reported that Schmidt had posted addresses and phone numbers of her parents — called "doxxing," which is illegal — no phone numbers or addresses can be seen in her post. Abadie clarified that outsiders had gathered and posted that data against Schmidt's wishes.
Schmidt's parents filed charges against her after receiving multiple death and rape threats resulting from the post. 
Investigator Reuben Bishop of JCSD said the family dispute began when the parents took away Schmidt's car; on Friday, Abadie reinforced that statement.
"Kaileigh has a pretty darn high insurance bill and car payment," Abadie said. "I don't have children of my own. But if I did, and they started calling me the B-word, C-word, stuff like that, and I was paying their bill and my name was on her car, I wouldn't want her to have that car either."
Abadie, who said he is a Navy veteran, said he doesn't agree with the widespread political division in the country these days.
"'It's sad. Everyone has their own agenda. 'We the United States,' that's what was said at the birth of this nation," Abadie said. "Not 'the United States' but 'we the United States.'"
Moore said people in 2020 are not going to stand for the kind of racism alleged by Schmidt.
"This stinks to high heaven," Moore said. "I am an African-American attorney who came to the aid of a white woman. That's how important this is."
Moore, who has been involved with multiple high-profile cases, was reprimanded by the Mississippi Bar Association in January over a BP oil spill settlement, according to broadcast station WTVA.