Smiles and tears as longtime 'judicial servants' Barlow and Stanley retire
 •
Liz Barlow remembers how then-Judge Billy Joe Landrum set her and the attorneys at ease on her first day as a fresh-faced, just-out-of-school court reporter.
"I was very nervous," Barlow recalled, "and Judge Landrum said, 'Don't worry, she's grown up in this courthouse,' … and you know, that's right. I really did grow up in this courthouse."
Last week, she retired after 38 years of working in Jones County Circuit Court along with longtime court administrator Rachel Stanley, who had served almost 20 years in that office.
There were laughs and tears as officials, family members and friends bid them farewell in a retirement ceremony Thursday in the circuit courtroom in Laurel, where both had spent so many years tending to criminal and civil matters. Judge Dal Williamson referred to them as "longtime judicial servants."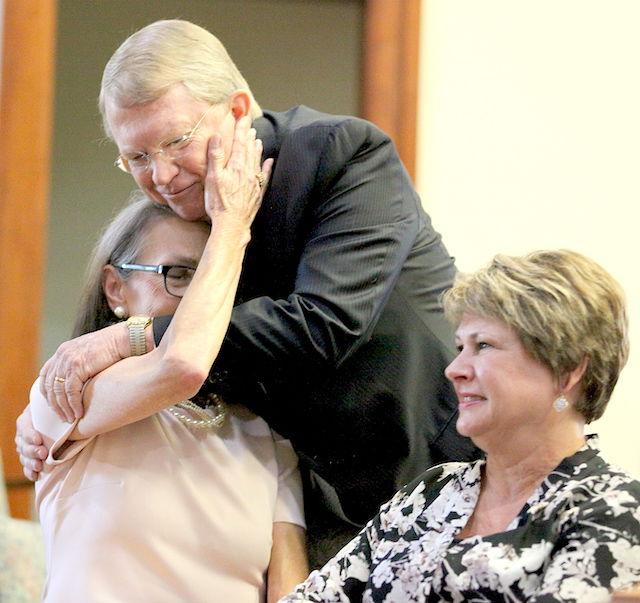 Barlow's voice cracked when she talked about spending her teen years in the courthouse with her father, but she quickly lightened the mood when she said, "The highlight of my career was my brother getting to be circuit clerk because I could boss him around."
Barlow's father, the late Wendell Gavin, served as circuit clerk from 1976-83 and chancery clerk from 1984-91. Her brother Bart Gavin served two terms as circuit clerk (2008-15) and he will begin his second term as chancery clerk in January.
Barlow started her job in 1981, when she was 20, after training at Ole Miss and Prince Institute in Montgomery, Ala., but she'd already received a lot of training from Tommie Larson, Patsy Shoemaker and Eschol Helveston in her early years.
"She had to dip her quill in ink when she first started," Williamson joked.
The equipment and technology have been the biggest changes Barlow has seen over the years. Her first tools of the trade were only a couple of steps up from a quill and ink well. 
"I started with a typewriter and correction tape," she said. "Now there are computers with digital dictionaries."
Some things haven't changed over the years, though. She has sat right beside killers, rapists and child molesters, hearing firsthand the most disturbing criminal cases and most bitter civil disputes for more than a generation in Jones County. And through it all, she had to keep her composure so she could provide a transcript of the proceedings.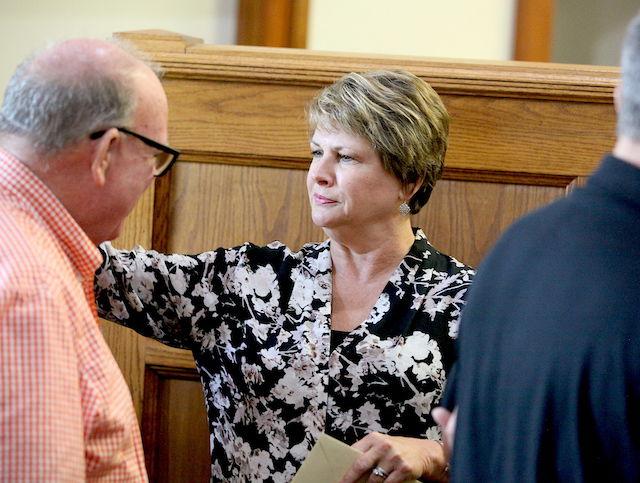 "I heard a lot of disturbing things, civil and criminal," Barlow said. "Certain death cases, especially when a child is involved, stick with you."
Seeing the families — of the victims and the defendants — can also take a toll, she said.
"You try not to take it home … but there are one or two I can't ever forget," Barlow said.
There have been a few light moments over the years, too. She recalled one that happened in a court she was working for outside of Jones County.
"One time, an ADA (assistant district attorney) asked a defendant if he was present when blood was drawn from his arm," Barlow said with a chuckle. "Sometimes, you do ask yourself, 'Oh, did I just hear that?'"
And if she doesn't hear something, she wasn't afraid to stop attorneys in the middle of a cross-examination and ask them to speak up or to tell two arguing attorneys to stop talking at the same time.
"Well, I have to be able to hear," Barlow said.
Then there was the time she went to the theater to see "A Time to Kill," and one of the trials she had transcribed in the early 1980s was referred to in a scene with stars Matthew McConaughey and Sandra Bullock.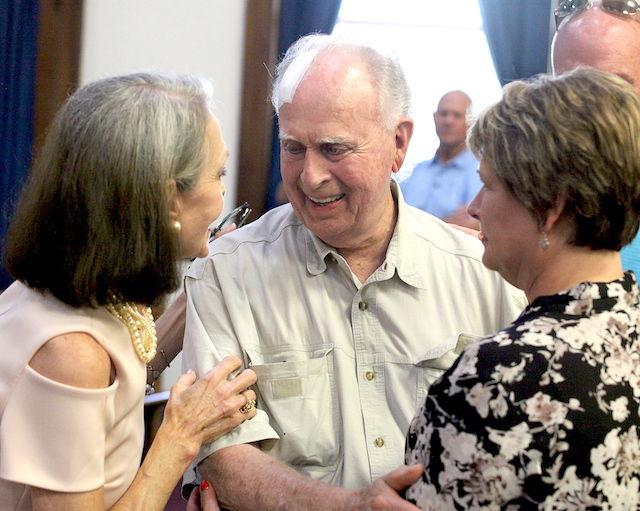 "When they didn't get a change of venue … (they cited) Fisher vs. State, and I was like, 'I did that trial!'" she recalled of a case involving two teenage girls who were raped and murdered in Meridian.
Barlow also transcribed a speech the former Speaker of the House Newt Gingrich made at the Southern Governors Conference.
But most of her time was spent doing work for the court in Jones County. 
"I spent many nights transcribing late into the night," she said. "You've just go to do it. I had great family support. They understood."
Her husband Mike is a retired football coach from Laurel High and they have three adult children — Millie Adcock, Brett Barlow and Ashley Moore.
Williamson thanked Barlow for her "efficient service" and professionalism, as well as the knowledge she gained over her years in the courtroom. 
"She saved me from reversible error more than once," Williamson said. "I love you, I thank you and I wish you a very long, happy retirement."
Barlow said she intends to travel with her husband and be a full-time grandmother and part-time court reporter.
"I'm going to do some freelancing and fill in when needed," she said. "I enjoyed my time here."
From hip surgery 
to heels in no time
Rachel Stanley has had "a lengthy career," Judge Williamson said, then he held up a powdered wig and added, "Lawyers had to wear interesting headdress when she started."
But then he got serious. 
"Rachel has been invaluable to me in the transition of the court," he said of his election to the bench in 2014. "She has a tremendous work ethic. She anticipates what needs to be done and has it ready. She made the quickest recovery from hip surgery I've ever seen. She was back in high heels in record time."
Stanley thanked Williamson for keeping her on staff and giving her "the opportunity to work 4-1/2 more years" as she helped train her eventual replacement, Debbie Wade.
Stanley had to learn under intense pressure on the job. When she started working for the court in 2000, there had been no court administrator for three months, she said. Stacks and stacks of files filled the office.
"I would be up here until 4 a.m., then drive home (to Waynesboro), take a shower and come right back," recalled Stanley, whose husband Teddy had died the year before.
Still, Stanley was known for greeting court officials — and at least one reporter, too — with a hug and a kiss on the cheek and always being upbeat while taking care of business. Those are the traits that Chancery Court Judge Frank McKenzie and his longtime administrator Noelle McKinnon noticed in her when they recommended her for the vacant circuit court position. They knew her from the almost 10 years she spent working for Waynesboro attorney Louis Bishop when McKenzie was presiding over cases in Wayne County Chancery Court. 
On one of her first days on the job, then-DA Grant Hedgepeth asked her to call then-defense attorney J. Ronald Parrish to tell him a case was going to trial. "He said, 'Hell no, it's not going,'" Stanley recalled.
So she called ADA Dennis Bisnette and relayed Parrish's message. "Dennis said, 'Oh, yes it is going,'" Stanley continued.
They were in the judge's chambers later that day and Parrish and his client, who was handcuffed and in shackles with his shoes on the wrong feet, "got into a cussing match," she said.
Landrum witnessed the heated argument and appointed another attorney to defend the accused.
"J. Ronald looked at me and said, 'See, I told you it wasn't going,'" Stanley recalled with a laugh.
Too much of what she witnessed in court wasn't so funny, though.
"You can't help but carry home the horrible cases," she said. "I had nightmares about two young girls that were shot in the head … The pictures showed that their legs were still crossed from when they knelt down. You don't forget things like that. And the molestation cases. You see the families and you just feel for them."
Stanley plans to spend a lot of time with her family now that she's retired. She has 12 active grandchildren and four great-grandchildren, spread from Oak Grove to Mobile, and she plans to be at plenty of the events they participate in.
"Your experience was something we all benefitted from," Williamson said. "I wish you a happy retirement and a lot of time with your grandkids."
Stanley thanked all of her colleagues, former and present, saying, "You've been so wonderful to me."
She concluded with a special message about her last boss.
"Judge Williamson is a serious man," she said. "He's been very good to me … and I think I lightened him up just a little."