West Jones sack machine to make announcement Wednesday
•
On fall Saturdays in LSU's Death Valley, during the pregame festivities, Garth Brooks' hit song "Calling Baton Rouge" rumbles over the public address system and the LSU faithful sing along with the tune about the city that their Tigers call home.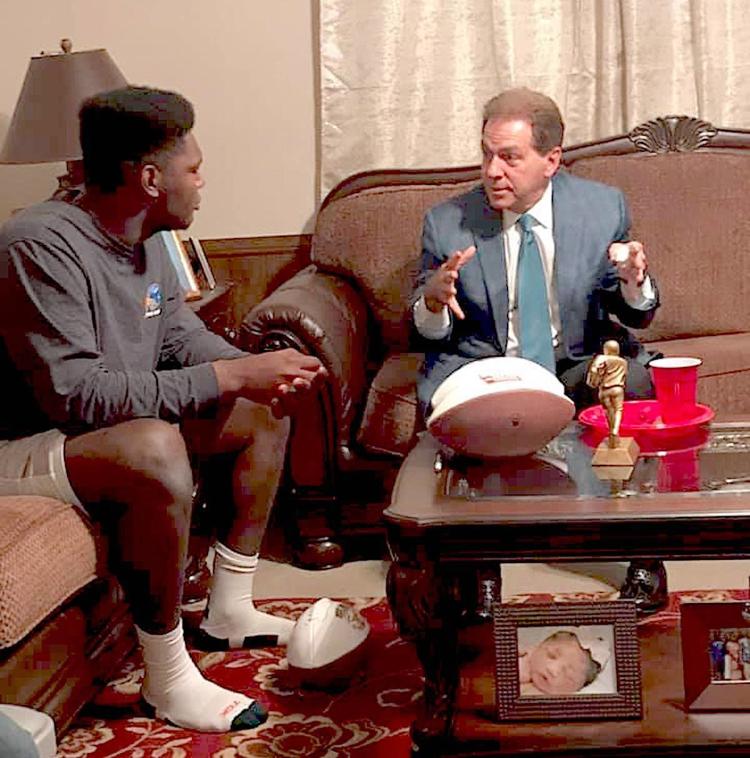 In Tuscaloosa, Ala., the Lynyrd Skynyrd anthem "Sweet Home Alabama" can be heard ringing through Bryant-Denny Stadium.
The question now is, which tune will West Jones defensive lineman Byron Young, the most vigorously recruited football player in school history, be humming Wednesday morning?
Wednesday is National Signing Day, when Young will make his choice official. He committed months ago to the University of Alabama, but did not sign in December, when recruits are allowed to ink their names to National Letters of Intent to where they will be playing college ball next season.
By Young's not signing, the Free State has seen a flurry of activity.
Last week, Alabama head coach Nick Saban and LSU head coach Ed Orgeron made personal visits to Soso. A photo of an Ole Miss plane made the rounds of social media and reports are that the Rebels have sent just about every coach they could to pay a visit. 
"The biggest thing is that when you have a young man who is 17 years old and acts like he is 48 is just almost beyond words," said WJ coach Scott Pierson Pierson. "Mentally — decisions he makes on and off the field, the way he carries himself and the way he leads — that is what is just so special about him. 
"His athletic ability is God-given, but the way he has matured and the way he handles himself speaks volumes about him. Let's be honest, how many 17-year-olds can handle the people who are coming at him the way they have been coming at him and still stay grounded and humble like Byron has? I don't know many others that could."
Young has kept his choice under wraps.
"I am looking forward to accomplishing a childhood dream, a lifelong dream, of playing at the highest level of amateur football," said Young, who was selected as the 2018 Laurel Leader-Call Person of the Year for his performance on the field, in the classroom and in the community. "And I just feel like I will be able to contribute, wherever I go, right away."
Young verbally committed to Alabama last summer, but when he chose not to sign his letter of intent in December during the early signing period, it appeared to leave the door open. Young has said that he did not sign early so that he could take all of his official visits.
The transition from high school football to the next level, whether it be JUCO, Division II or the big time in the SEC is a tremendous one. So, it begs the question if Young is ready for such a big leap?
"I have said the whole time that I don't worry about him," said Pierson. "The reason I don't worry about him is because he works hard enough that he will get where he needs to be. That is just his mentality. 
"Is he good enough now to start at the highest level of college football? I don't know, but I wouldn't bet against him."
While there are a lot of big games to come for Young, he is grounded in knowing where he came from and knows that no matter what colors he wears next, there are a lot of people from Jones County who will be rooting for him to succeed. 
"I made a lot of memories and I will take away a lot of life lessons that I learned while I was at West Jones, like determination and learning not to take things for granted," said Young, who helped lead the Mustangs to the Class 5A state championship game. "Those lessons are something I will take with me everywhere I go.
"I can't thank everyone who is a part of Mustang Nation enough for all the love and support that they showed me during my time at West Jones and I know they will continue to support me at the next level as well. They made all the hard work over the last six years worth it because of their support. And, in the end, it shows that a kid from anywhere, even Hebron, Mississippi, can do big things if he just works for it."
Young was a defensive machine this season, racking up 125 tackles, 29 1/2 tackles for loss and 17 1/2 sacks. 247sports.com has Young listed as the 77th best recruit in the country and the eighth best at defensive end. If he does sign with Alabama, he will be joining the top-ranked recruiting class, as chosen by both ESPN and 247sports.com. LSU's class is ranked No.6 by 247sports and NO. 8 by ESPN.
Young made a final official visit to Baton Rouge over the past weekend, but it's not believed that he will back down from his commitment to the Tide, those who are close to him have said.
So, will it be "Calling Baton Rouge" or "Sweet Home Alabama"?
We'll know Wednesday.