The bold banner "NOT GUILTY" across the top of the page on Aug. 30, 2018 was the largest of the hundred-plus headlines we published in a little more than a year of reporting on the Greg Burroughs manslaughter case. The justice system had spoken. It didn't matter what you thought or what we thought. It only mattered what those 12 men and women in Franklin County thought after hearing and seeing the evidence that was presented in the shooting death of his young girlfriend inside the garage of his home on the night of June 1, 2017.
---
EDITORIAL: FIGHTING FOR THE FIRST AMENDMENT
---
It never was personal for us. We wanted justice for 23-year-old Katherine Sinclair and her family. That didn't necessarily mean a conviction. But it didn't mean trying to have it quickly and conveniently ruled a suicide, either. We simply called for a grand jury to hear the circumstances and what appeared to be inconsistencies with Burroughs' story, the evidence and common sense. That happened. He was indicted and the case went to trial, as it should have. That's all we pushed for based on the evidence and information we obtained from confidential sources and from what we observed ourselves.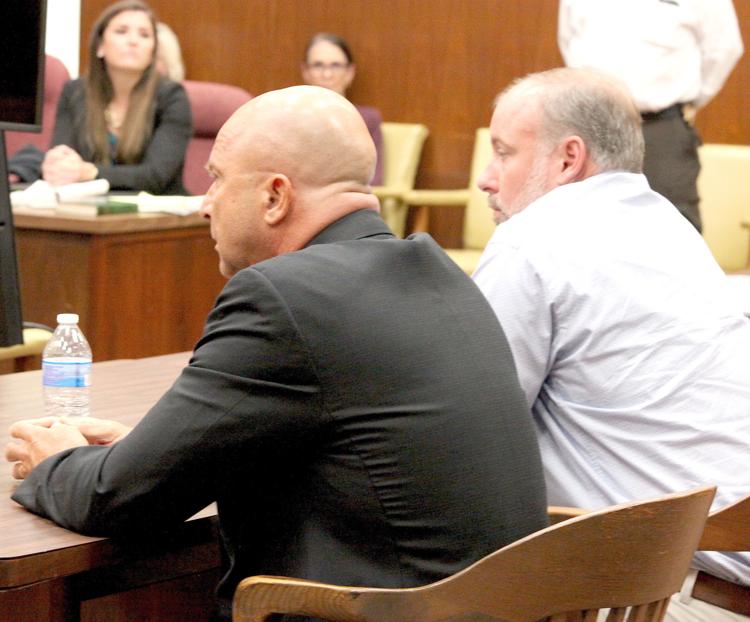 After a post-trial story and a couple of columns and editorials, we were content to let the case go. But Burroughs wasn't. Instead of going on with his life here or moving to start over somewhere else after winning the criminal case, he decided to sue the city of Laurel and members of the Laurel Police Department in U.S. District Court for the Southern District of Mississippi in Hattioesburg. 
Then he and his lawyer, Daniel Waide of 
Hattiesburg, brought the fight to us.
In late August, Editor Mark Thornton was subpoenaed to testify at a deposition in the office of Hortman, Harlow, Bassi, Robinson & McDaniel in downtown Laurel. Burroughs and his attorney were trying to force Thornton to reveal the identities of confidential sources who provided him with information before the indictment. They needed that to bolster their complaint against the city and LPD.
Specifically, they wanted to know who told Thornton that Burroughs failed the lie-detector test that was administered by LPD Officer Josh Welch a few hours after the shooting, and they were going to try to force Thornton to reveal that. The reporter-source privilege is as sacred and vital to a newspaper as the attorney-client privilege is to the courts and the doctor-patient privacy is to hospitals.
Reporters have what's called "qualified privilege" under the First Amendment. That allows them to refuse to disclose the identities of sources and other unpublished information used in their reporting. That freedom of the press has rarely been legally challenged in this state. In 25-plus years working as a reporter, Thornton had never heard of a case challenging that nor had anyone else he asked. They're scarce because they aren't likely to be successful.
But history has shown us to expect the unexpected when Burroughs goes to court at any level, so we did the responsible thing and sought legal counsel — in order to protect the identities of our sources, not ourselves. Our integrity was on the line. Sources spoke to us on the condition of anonymity, and we weren't going to break our word — even if it meant breaking our little paper's bank account.
At first, we tried to hire Leonard Van Slyke to handle our case. He is the Mississippi Press Association's attorney and answers questions on a legal hotline for all MPA members. He had all of the background on our case, so it made sense to hire him. He quoted a fee and a strategy and … on the Friday morning before the Wednesday, Aug. 26 deposition, he notified Thornton by email that there was a conflict for his firm, Brunini, so he couldn't represent the Leader-Call. That left us scrambling at the last minute. We quickly secured the services of John Sneed at Wise Carter in Jackson. 
Sneed sat beside Thornton and objected to all inquiries about confidential sources, claiming qualified privilege under the First Amendment. Burroughs and Waide sat across the conference table. Attorneys Brett Robinson and Chris McDaniel, representing the city, sat at one end of the table, and a stenographer sat at the other. The deposition took a little more than an hour. 
By the end of the week, Waide had filed a motion to compel Thornton to reveal his sources. When U.S. Magistrate Michael Parker denied the motion to compel on Sept. 21, Waide immediately appealed to U.S. District Court Judge Keith Starrett. He upheld the magistrate's decision, denying the motion on Oct. 14. It was a victory for the First Amendment, not just the Leader-Call, in what could be a landmark case.
"I've been representing media interests in libel and First Amendment litigation in Mississippi for 30 years, and I've handled only a handful of reporter's privilege matters in that time, and none of those went as far as having a motion to compel filed, briefed and decided by a federal magistrate and district judge, as happened in my representation of you," Sneed told Thornton.
Defending our sources costs thousands of dollars, which is tough any time, especially for our business in this economy. The paper could have been fined and Thornton could have faced jail time if the motions to compel had forced him to testify in federal court, where he would have continued to refuse to reveal his sources.
It wasn't a farfetched scenario. After all, there weren't a lot of similar cases to look at and see how they had been handled. We were in uncharted territory. Luckily, we had a good man at the helm. Sneed handled the motion and all of the responses masterfully.
"Situations like you recently faced — subpoenaed to a deposition and then subjected to a motion to compel you to disclose the names of your confidential sources when you refused to identify them in your deposition — are rare, especially in Mississippi," Sneed told Thornton. "There are few reported court decisions in this state squarely addressing the reporter's privilege, but these decisions make it clear that a litigant seeking to compel a reporter to give up his or her sources has a steep hill to climb. The courts do not favor the notion that reporters should be treated as little more than investigators for private or public litigants and their attorneys."
During the whole ordeal, we didn't write about what was going on with the case. We didn't see the need to provide more fodder for Burroughs' attorney to feed the federal court. Every time he filed something, our attorney had to file a response — and it's not cheap. Burroughs seemingly has deep resources and his attorney is desperately trying to prove wrongdoing by anyone linked to the city, and we're just doing our job and playing defense.
Most attorneys agree that Burroughs' motive in the lawsuit is to get a judgment against the city that he can use in his defense in the Sinclair family's wrongful-death suit against him in Jones County Circuit Court. He was granted a change of venue to Neshoba County for that case, which has yet to be scheduled.
During the federal case, Chief Tommy Cox, Lt. Michael Reaves and Welch of the LPD, District Attorney Tony Buckley, grand jury foreman Jack Smith, Thornton and Burroughs were deposed. Some interesting information resulted. Look for more about that in the next few editions.