Prince spruces up community with hand-painted signs, gold-leaf gilding
River Prince is only 20, but he's made his mark allover the Free State, bringing life to old building fronts and giving timeless appeal to the new ones.
South Jones High School graduate has done murals and signs in downtown Laurel and Ellisville, and uptown Laurel, and now he's taking his work a step further. He is the proud owner of the Ellisville Fire House, which has been abandoned for 30-plus years. He is renovating it to be converted to the new home of Prince Sign Co., and a new apartment for him and his fiancé Jessie James. "Jessie and I walked into an Ellisville city meeting in hopes of becoming the new owners of the firehouse," Prince said. "We proposed our plans for the building in September and signed the contract for a five-year lease of the building on Feb. 1."
Directly across the street from the Ellisville courthouse, Prince says the firehouse lettering will stay on the front of the building in its original form. The first floor of the building will house Prince Sign Co., and the top floor will be converted into an apartment for him, James and their two dogs.
Prince first became interested in sign painting through graphic design. At the time, he was studying at Jones College and he did lots of research on vintage, hand-painted signs and ads and fell in love with the look and style of the craftsmanship.
He discovered the Better Letters workshop in Minnesota, taught by Mike Myer, and decided it was something he needed to take part in. His fiancé surprised him with the tickets to attend, and after the weeklong class, Prince was hooked for good. "I met retired sign painter David Shows here in Laurel and he had the means and know-how and showed me all the tricks of the trade," Prince said. "He taught me everything and even gave me some of his brushes and paint."
With sign-painting, Prince uses "One Shot" lettering enamel, which got its name because the painter only has one shot to get it right. On walls, a water-based acrylic is used, as well as, leathering quill brushes that are made of squirrel hair. The gold leaf is applied with gilding brushes. "You have to flick it through your hair to get a static charge," he said.
Gilding is Prince's favorite aspect of what he does. He is one of the only people in the area who is skilled in this and feels fortunate to be able to practice his self-taught talent with Prince Sign Co. "I gathered up books and spent months practicing, with a lot of trial and error. This is what I am most proud to offer with my business because it's a very intricate technique," Prince said.
Hot days are best for work, as long as you paint fast so your brushes don't dry out, he said. Humidity doesn't affect work much, except for windows. With window painting, Prince paints on the inside and works in reverse. "It's difficult because it's all backwards," he said. "Luckily, the windows are forgiving if you make a mistake, which is great."
Prince and James are both left-handed and work from right to left, in reverse. She is currently in Jackson in grad school, so they don't see each other too much. When she is in town, she helps him paint and even helped him on the signage for the Scotsman Co. workshop.
"That was a 12-hour day together working on the American flag on the back of Scotsman Co. I work with Jesse around, even if she is just sitting in the truck. She keeps me on track," Prince said. James said, "He is some- times easily side-tracked, and I help fill things in for him when I can. We work really well together."
Prince's first wall job was the redesign of the South Jones Brave on the side of his alma mater. It was based off of one in the 1960s, and his design is 25 feet long and 12 feet tall. He started by drawing it out on paper and then used an old-school projector to help place it on the wall. "Redesigning the South Jones Brave was the most fun," he said. "I have lots of pride tied together with that project after graduating high school from there. Because of that, it's the most meaningful to me."
He has painted signs on storefronts and windows all around Laurel and Ellisville, including new construction and restoration projects. He added a vintage flair to Rubies Home Furnishings on 16th Avenue. He also brought his vintage touch to The Midtowner, the newest restaurant opened by Robert St. John in Hattiesburg.
As for the largest job Prince has accomplished, the Fitness Depot wall sign in downtown Ellisville takes the cake. This image was laid out strictly by hand, with no computer or machine assistance.
"I am passionate about doing my work the old way," Prince said. "Modern sign shops put out signage, with no limit of quantity. They punch it into the computer, and the design may or may not be good, but they are still put on display. "This creates a really saturated and watered-down sign with no emotion, and it can look like a robot did the work. So I will always offer up creating the sign, not just painting it for the company or business or anyone who is in need of those services."
Prince has become an entertainer of sorts for the tourists and locals who pass by him while he is painting. People have been known to ask him if they can help out, and in order to stay on track, he came up with flyers for passerby to read so they can learn about sign-painting without him having to be interrupted for too long.
"We are really into small business and shopping local, and with that, brings money into the city and helps keep making it more and more beautiful," James said. "We want to help the cities around us grow and help fill it with life. "We are the luckiest people in the world and so blessed and have these God-given abilities and a great relationship together that works, so we view every job as the dream. There may be a job here or there that isn't the best or isn't his style, but it's still a dream for him to be doing it."
Prince manages all operations and work for Prince Sign Co. Half of his week is spent figuring out the estimates and logistics for a job, and on the other days, he is busy painting. "I have a lot on my plate, but I'm also still learning," he said. "If I don't think I can do a job, I turn them down because it's not just about the money for me. If I know it's not going to be top-notch, I'll refer them to someone else.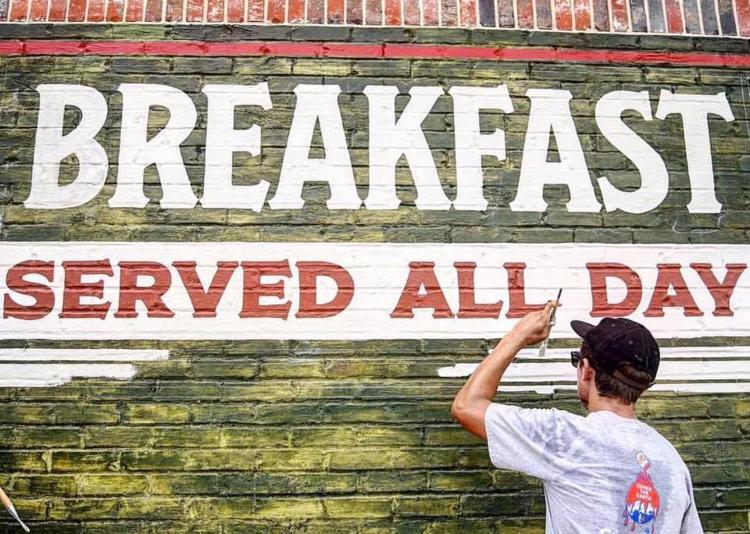 "What we do in this life carries on, and if you focus on too many things at once, then they become poorly done. But if you focus on one or two things that you know you can do and are passionate about, then that's where the best work shines through."