What started as a disaster over a hummingbird cake has turned into a bit of Netflix stardom for a Calhoun grandmother.
Amanda Giles was so popular on the first season of the Netflix cooking series "Nailed It" producers invited her back for a spot in Season 2, which will debut Friday on the streaming service.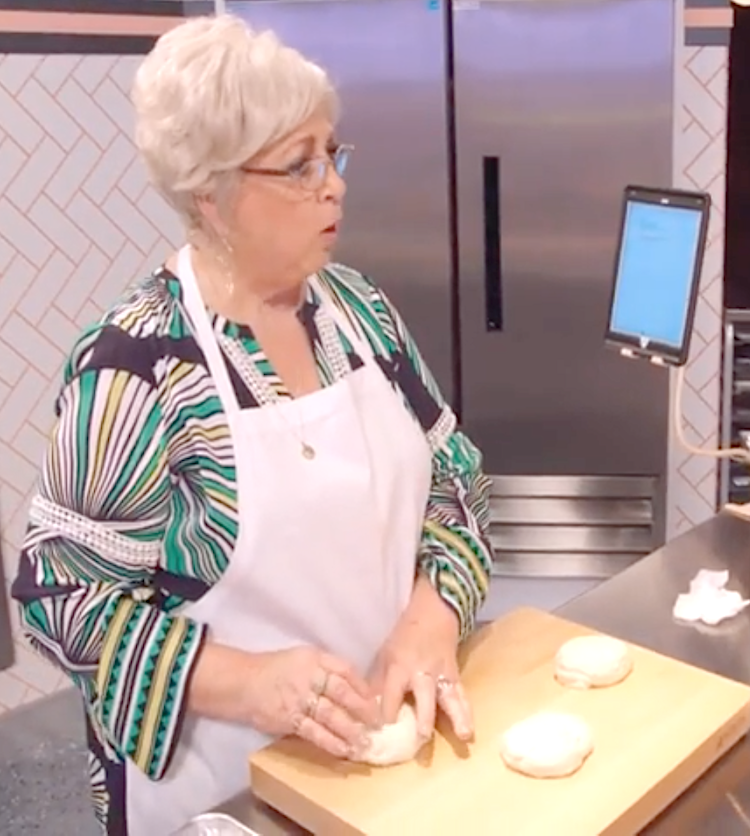 The show gathers contestants who are amateur bakers to try to recreate professionally done cakes, pies and donuts. The contestants are chosen partially because of disasters they may have had in the kitchen.
That is what happened to Giles when she was at her Calhoun Community home making a hummingbird cake almost two years ago. The cake contains bananas, pineapples, buttermilk, cinnamon and the usual cake ingredients, but it was the frosting that got Giles.
"I was making the cream cheese frosting and when it was time to add the powdered sugar, the celophane wrapping came apart and sugar went everywhere," she said with a country drawl that made her an instant hit once she got on the show. "It went everywhere. It was the biggest, stickiest mess I'd ever gotten into. It was in my hair, on my clothes…
"I took a picture and put it on Facebook."
A few months later, Giles got a call from a producer for the show from California telling her they wanted her on the show, which had not yet had a season.
Giles and her children — Matt Everette and Angie Fletcher and Fletcher's two children Kate and Samuel — flew to Los Angeles "or Hollywood or Burbank, because you never know when you leave one and are in the next."
In California, she was treated like a queen, but was always under the watchful eye of producers and assistants on the show.
"They were responsible if anything happened," Giles said. 
She appeared in Episode 2 of the first season and was paired with a man from Utah and a woman from Florida who had her own dessert food truck. Kevin from Utah, who became friends with Giles and mailed her a Christmas card, learned to cook from his grandmother. 
Giles admitted that she wasn't much of a fancy baker, preferring the "turnip greens, cornbread and peas."
"I can bake," she said, "but just plain. None of that fancy stuff."
When she filmed the first season's episode, it happened on her 70th birthday. She had two challenges, the first being a recreation of a pirate donut and the second a cake formed into a castle with Rapunzel and her knight in shining armor.
Her pirate donut was, well, everyone should watch the first season's episode. Her cake got rave reviews, even if she didn't win the grand prize of $10,000 in the first episode.
She was able to spend a few days in California with her family after filming and said the experience was a once-in-a-lifetime event.
"It was so much fun to so and something I never dreamed of," she said.
Her bubbly personality, classic drawl and sense of humor that had the three hosts in stitches throughout the show was so adored, producers invited her back for the second go-round.
Her family did not accompany her on the second trip to Los Angeles.
"I just got up one morning and drove to New Orleans, parked the car and got on an airplane," she said with a chuckle.
The second season is a holiday-themed season and she will be on the New Year's Eve episode. Season 2 should be available on Netflix Friday sometime after 2 in the morning here in Laurel.
She was under a non-disclosure order on telling anyone how she did on the show, but judging by the first season there is a little doubt she will be a hit.
Back home, she lives a quiet life with her husband George right next door to her daughter, a teacher at Oak Park Elementary School and her grandchildren, Kate, 14, a West Jones High School student and Samuel, a sixth-grader at West Jones Elementary School — "perfect," she said.
She has lived-in the Calhoun Community for about 20 years, having come to Jones County from Heidelberg when her children were grown and moved here. Since appearing on the show, she says, she gets recognized in restaurants or sometimes in Hattiesburg.
"I will take a picture with them and put it up on Twitter," she said.
One recent trip to Sawmill Square Mall had a young girl come up to her and ask, "Are you that woman from the Netflix show?" 
Her voice gave it away, the 71-year-old said with a chuckle.
"Never in a million years," Giles said when asked if she ever thought she would be a recognized TV star. "I never dreamed of being anything more than a momma and a grandmother."