Residents hold suspect at gunpoint; man jailed
A would-be burglar who was held at gunpoint by a resident who caught him red-handed is in jail … and he's probably happy to be there.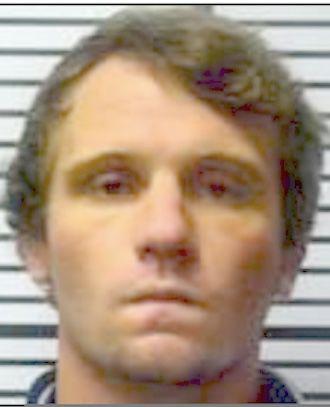 Destin Lewallen, 29, of Mendenhall was charged with burglary of a dwelling and is being held in the Jones County Adult Detention Center. He was arrested just before noon Wednesday after homeowner Sabrina Guthrie came home from work at Big Creek Baptist Church and realized her home on Soso-Big Creek Road had been burglarized.
"The door was wide open … and then I saw a cord in the driveway," she said just a couple of hours after the incident. "I thought that was odd … I got scared when I saw that the TV was not in the living room."
She got back in her car and went to her fiancé Kevin Jefocat's shop, about a minute away.
Guthrie told him what was going on and he got employee Todd Jordan and a pistol and took off to the house. They were all back at the residence within five minutes, she said, but when they arrived, there was a white car in the driveway.
Seconds later, they saw a man — later identified as Lewallen — carrying a TV from their house to his car. Jefcoat pointed the gun at the suspect and "yelled at him to get down and kicked him to the ground while I called 911," Guthrie said.
"(Lewallen) threw the TV in the bushes and started saying, 'I'm sorry, I'm sorry,'" Guthrie said. "Kevin and Todd scared him. I mean, they really scared him."
The man started making all sorts of outlandish excuses, Guthrie said.
"He said there was a black man that held a gun to his head and made him do it, then he said there was a woman … just crazy stuff," she said.
Jones County Sheriff's Department deputies arrived in a few minutes to take the man into custody, she said.
When Guthrie went inside, she discovered that her family's home had been ransacked. 
"I'm still cleaning," she said early that afternoon.
She was trying to get things in order before her three school-age children got home. Her 13-year-old son "was freaking out a little" when he found out, she said, "but he seems to be OK."
She also has an 8-year-old and a 14-year-old with severe developmental disabilities. 
"I'm just glad they weren't home," Guthrie said.
Guthrie and Jefcoat have lived in the house for less than a year, she said. She was glad it turned out the way it did — with them not losing anything and no one getting hurt.
"All of our stuff was in the car, so we didn't lose anything," she said, although her mother's jewelry box was broken while the suspect was pilfering through the house looking for valuables.
Guthrie said someone commented on her Facebook page that Lewallen had been arrested for a similar crime before. There is a warrant for his arrest from another agency, according to the JCSD jail website.
She said she was shaken up by the incident.
"I will never feel safe again," she said.
Asked what she hopes happens to him, Guthrie said, "I hope he stays in jail this time."