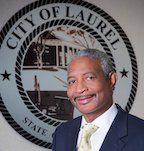 As we continue to monitor the spread of COVID-19, we are blessed that, as of (Monday), we have not seen an increased spread of the disease in Jones County. That fact could change overnight, therefore it is imperative for citizens to heed the recommended precautions of the Mississippi State Department of Health and the Centers for Disease Control so that we can help conserve the resources of our local health-care facilities and protect all citizens. 
Visit the MSDH website https://msdh.ms.gov/msdhsite/_static/14,0,420.html for all the latest and detailed information regarding COVID-19 in Mississippi. For questions, call the MDSH COVID-19 Hotlineat 877-978-6453.
Currently, there is no mandatory stay-at-home order or business-closure order. If you see the National Guard, they are assisting with delivering supplies and doing humanitarian service to help MSDH and Mississippi Emergency Management Agency. This week, MSDH will be setting up six drive-up testing sites across that state with assistance from the National Guard and the Mississippi Highway Patrol. 
Visit this link to locate COVID-19 "fast-track" testing sites: https://msdh.ms.gov/msdhsite/_static/14,21870,420.html.
Small businesses that are impacted economically can apply for an "economic disaster loan" https://www.msema.org/news/sba-declares-economic-disaster-for-mississippi-due-to-covid-19/ 
The Laurel Police Department, in consultation with the Jones County EOC, is instituting the following temporary changes:
1. Non-criminal fingerprinting services will not be provided until further notice.
2. Residents who have non-emergency calls for service will be offered a handle-by-phone option. The EOC dispatcher will get a call-back number from the resident and provide a length of time when he or she will receive a call. An officer will telephone the caller in order to obtain information for a police report. This will help with social distancing that is so important during our current situation.
These two minor changes will help to ensure that going forward the citizens will continue to receive the same excellent level of service from your police department.
While most local business owners, organizations, churches and citizens have already adjusted their daily operations and activities to align with CDC and MSDH guidelines, the City of Laurel urges everyone to comply with the following:
• All restaurants and other establishments where food is served are encouraged to suspend dine-in service and offer only take-out, drive-through or curbside service; 
• Social and business-related gatherings should be limited to no more than 10 people at a time; 
• Practice social distancing by keeping at least 6 feet apart when interacting with others;
• Do not hoard food or basic supplies. This is to ensure that everyone has access to the supplies they need.
• Wash your hands frequently and thoroughly. Visit this link for correct hand-washing procedures: https://msdh.ms.gov/msdhsite/_static/resources/8472.pdf
City services are operating. 
City offices where public business is conducted will remain open. However, residentss are encouraged to handle as much business as possible over the phone or through the city's website, www.laurelms.com. 
Municipal Court is suspended until April 1.
All City of Laurel recreational facilities are closed until March 30, at which time we will make a determination on future availability. This includes the Cameron Center, Laurel Train Depot, L.T. Ellis Center and Natatorium. Event rental deposits will be refunded. 
City parks remain open, but there should be no gatherings of groups larger than 10 in city parks. 
City public meetings will also remain open at this time.
Individuals who have traveled out of the country recently are asked to limit their contact with others for 14 days and monitor their temperature twice a day. If you get sick with fever (100.4°F or higher), call your primary care doctor. 
For COVID-19 information about Laurel City Schools, visit https://www.laurelschools.org/