Park Place Garden Club announces that Sammie Mitchell, daughter of Sallie and Mark Mitchell, triumphed and secured the win for Mississippi with a national first-place award for her participation in the National Garden Club Recycling Sculpture contest.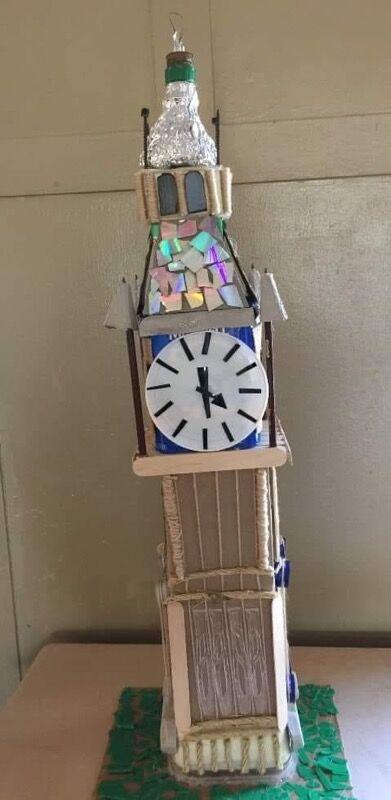 This contest, was first introduced to the St. John's Day School fifth- and sixth-grade students in the fall of 2019. Sammie entered the contest as a fifth-grade student under the guidance of science teacher Lilly Trest and support of the school Headmistress Carolyn Stone. 
The purpose of this contest is to encourage youth to keep our planet green by illustrating the value of recycling and repurposing disposable items. The students were instructed to create an imaginative sculpture consisting of recyclable, reused and reduced materials. This creative contest required the participants to imagine, plan, document and execute their artistic vision. Upon completion, each sculpture was judged on creative use of materials, disclosure of materials used, self-expression, craftsmanship and technique. All of this creative energy must be displayed on an 8 ½-inch wide by 11-inch piece of construction paper. The sculptures are judged physically at the local level. State, regional and national levels are judged by photographs and written documentation. In order to proceed to any next level a sculpture must receive a first place award. 
Sammie's artistic vision was that of London's Big Ben. 
"I chose Big Ben because I want to be an architect and Big Ben had all of the elements of design that appeal to be." Sallie Mitchell said. "Sammie worked so hard on this sculpture and is already working on her 2020 entry. First place at Nationals is an awesome achievement… Sammie is so excited!"
"This recycling art contest turned out to be a successful venture for Park Place Garden Club," said Jayne Cooper, contest chairwoman. "When I learned of this project, I immediately knew that I wanted to bring it to Laurel. I presented it to Mary Anne Sumrall, Park Place president, and to Mrs. Stone, both said, 'Go for it!' 
"I had some doubts as to how this contest would be received but my angst was put at ease with the enthusiasm of the students. I am so happy that the children enjoyed this project. My committee and I look forward to the 2020 entries."
— By Park Place Garden Club