Back the Blue section in Thursday's paper, in special sections 
 •
It's 2 a.m. when the phone rings. There's been a shooting, a stabbing, a fatal wreck, a suspicious fire …
Sgt. J.D. Carter of the Jones County Sheriff's Department always answers the call, kisses his wife Christy, then heads out the door.
Dealing with people during tragedy is routine for the JCSD investigator, and Carter and his family adjust their routine accordingly to accommodate them. He's also on call 24/7 to answer questions from fellow investigators and even inquisitive reporters, and he handles it all with good-natured professionalism — even hours before and after undergoing back surgery.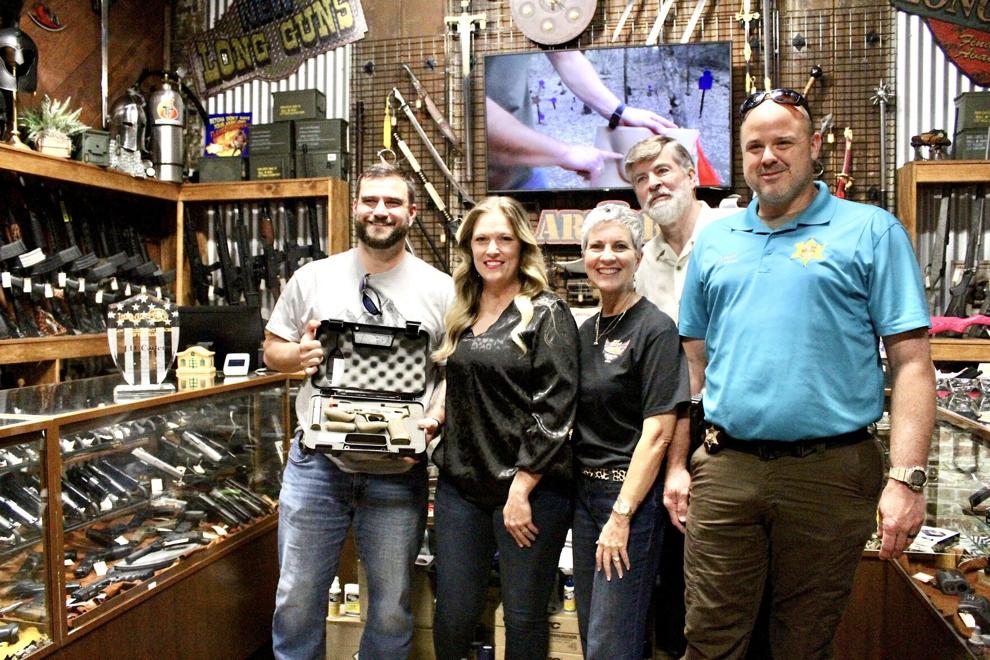 Carter is many things to many people. He's dad, husband, supervisor, trusted adviser, cosmetics and hair-stylist mannequin for some. Criminals call him some names that can't be printed in a family newspaper. 
And now, he can be called the Leader-Call/Hellfighters USA Law Enforcement Officer of the Year for 2022. He was presented with the award and a special Smith & Wesson 9mm handgun at a surprise ceremony at The Armory inside Hellfighters as Sheriff Joe Berlin and other JCSD team members gathered there for the announcement.
"This means more than words can express," Carter said. "I really do appreciate it."
The way Carter sees it, getting to work in a profession that he's admired since he was a little boy is the real honor. Ever since a deputy in Covington County was kind to him as a kid at school, he wanted to wear the badge one day. He keeps that in mind as he and others handle work details at local schools every morning.
Carter, 37, graduated from South Jones High and Jones County Junior College — where his parents John and Judy worked until their retirement eight years ago — before taking a shot at making that dream come true. His career started at the Ellisville Police Department.
"I'll always be thankful to (Chief) Bruce Russell for giving a 21-year-old with no experience a shot," he said.
Since then, Carter's career has run the gamut. He also worked with the JC campus police, the Laurel Police Department and the Jones County Emergency Operations Center before landing at the JCSD for good in 2014 and becoming an investigator in 2017.
"This is where I want to retire," he said. "I love it. I love serving the community."
And "community service" isn't just a catchphrase for Carter. He's one of a handful of holdovers from the Sheriff Alex Hodge administration who kept his focus on that instead of the polarizing campaign of 2019, keeping his head down and doing his job instead of engaging in politics. 
He was promoted to a leadership position when Berlin took office, serving as a supervisor for the investigators, all of whom work under Capt. Vince Williams. Carter is also the department's arson investigator, accident reconstructionist and hostage negotiator, among other specialties. He helps colleagues prepare their cases for trial in addition to dealing with the more than two dozen active cases he's investigating.
Carter is "everything you want in a law enforcement officer," Berlin said. "I can't say enough about his dedication and his determination. If there were more people in law enforcement like him, there probably wouldn't be a backlash against people in this profession like there is across the country."
He's described as "a workhorse" by JCSD team member Lance Chancellor. "He is a resident expert in sexual assault cases, homicides, fire investigations and violent crimes," he said of Carter. "His passion for his work and his endless energy are legendary. He truly cares for the crime victims he serves."
Carter said he appreciated being in a community and state that, for the most part, values law enforcement. 
"It can definitely be stressful, and there is a lot of extra stuff," Carter said. "There's never a quick resolution like there is on TV, but you get to see cases through and help get justice for victims. That makes it all well worth it."
His wife Christy and their four kids — ages 5 to 15, all active in sports and other activities — often have to sacrifice to share him with his job, but they are understanding. And proud.
"Getting up at 2 a.m. to go on a call, staying out and not finishing until 8:30 then calling me to bring him some clothes to church … then takes a bird bath at church and is still there to worship and for his family," his wife said, recalling a recent "routine" morning at Salem Heights Baptist Church. "He is a role model. He pushes himself without complaint. Whether he is in the office, out in the field, at home, church or ballgames, he is always helping others."
She is a relative newcomer to the law enforcement family, but she understands and embraces the role — and the man she married in April 2021, a year after they met at her store on Central Avenue in downtown Laurel, Forever Nutrition. He would order a cucumber-watermelon loaded tea, and she would drop or spill it "because he made me so nervous," she recalled with a laugh.
"He truly is my hero," she said. "J.D. has the biggest heart and will do anything for anyone, no matter the time of day. He puts everyone's needs above his own. He is dedicated to his job. The phone is permanently attached … He is always available, and that's never a problem. As his wife, I understand completely. It shows his work ethic. I knew marrying J.D., I had to marry the job, too. He is devoted to his job and he is devoted to his family."
Not only does he work around the needs of his colleagues and victims, he does the same for his family. He will rearrange his schedule to pick up or drop off kids at school or to take them to doctor appointments and to be at their events. He's also there to help with homework or to even serve as a life-size dress-up doll for a daughter. And while juggling all of the demands of a job and home life that have him on call around the clock, he earned his degree in environment management from Columbia Southern University.
"He works on himself daily to be a better father, husband, friend, investigator …" his wife said. "He grows daily. His plate is over full. Not everyone on the outside truly knows what this man really deals with … I'm beyond proud of him. He inspires us all and everyone around him. I can't thank God enough for sending J.D. to me and our family becoming one."
Carter lost 100 pounds in a year before he met his future wife, but he has been battling a painful back ailment in recent weeks. Still, even right before and right after surgery, he was on the job, doing what he could from home and by phone. Less than 24 hours after undergoing the knife, he was at the JCSD Training Center with his colleagues to learn about a new piece of high-tech equipment that will assist with investigations.
"If you get a picture of me, make sure you show the pillow in my chair so my wife will know that I'm following doctor's orders," Carter said to a reporter, chuckling and grimacing a bit as he adjusted in his seat.
"My wife is stronger than me," he said at the awards presentation, adding that she is the model of what a law enforcement officer's spouse should be. He said the same of the JCSD leadership. "This department has our backs. They've got you covered. I appreciate the sheriff, my co-workers and the community."
Carter's wife echoed that sentiment.
"Sheriff Joe Berlin is an amazing leader, and the way he runs that department and how he is to his guys makes them want to do their best, and I assure you it's changed J.D. for the better as well," she said. "They have a great thing going, and I'm proud of all our guys and the sacrifices they make daily.
"As their families, we have to be there for them, whether it's an ear to listen — and not repeat, maybe not respond — a shoulder to cry on or just a hand to grab and pray for them. They need us just as much as we need them out there."