Judge forced to kick 2 more accused felons, blames JCSD
•
Last week, Sheriff Alex Hodge stood before an audience at the Laurel Train Depot and Supertalk radio listeners and proclaimed, "I promised that if we were given papers and process and warrants, that we would serve those, and we've done that."
This week, two more accused felons stood before Judge Dal Williamson in Jones County Circuit Court and had their cases dismissed because Hodge's department didn't serve their indictments in a timely manner. 
Since January, at least 20 accused felons have been given a walk for the same reason — for failure to be served.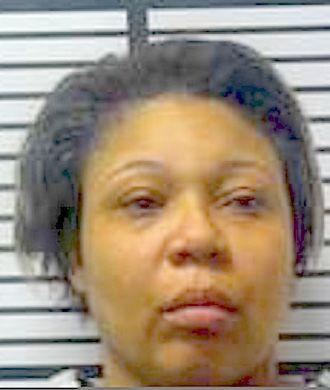 Roberta Carter had a total of three felony charges dismissed from cases that were more than 10 years old and Frank Holder had four felonies dismissed on cases that were more than six years old. Both were not served with their indictments until this year, which violated their Sixth Amendment right to a speedy trial, the judge ruled.
"The only reason for the delay appears to be insufficient effort," Williamson said. "There's no good reason for the delay."
Carter was charged with felony malicious mischief in April 2008, then with making fraudulent statements and representations to fraudulently collect federal assistance in 2010. She was accused of destroying ex-boyfriend Lavaris Evans' plasma TV, a vehicle window, his bed, clothes and carpet, according to the first indictment from more than 11 years ago.
Her second and third indictments accuse her of "failing to disclose a change in circumstances" and altering check stubs to continue to receive federal aid benefits from February 2008 to March 2009. 
"It's been so long, there's no way her employer would still have proof" of the amount of her paychecks, public defender John Piazza said, and that would hinder the prosecution and the defense.
Records show that Carter was never arrested or served with any of the indictments until May of this year, after the Leader-Call started publishing stories about the rash of dismissed felonies due to the department's failure to serve papers to the accused in a timely manner. 
"She was on food stamps the whole time, so she could've been found," said Piazza, who filed the motion to dismiss Carter's cases. 
Carter also received "numerous citations" on the coast and elsewhere after she was indicted, but still wasn't held and served with papers from the Jones County Sheriff's Department during any of those run-ins with the law, Piazza said.
"If she had been on NCIC (National Crime Information Center), she would've been picked up," he said. "They could've put her in jail and served her there."
District Attorney Tony Buckley didn't make an argument against Piazza's motion to dismiss.
"We will confess the motion, based on previous rulings," he said.
Carter said she didn't know anything about the charges until she was served a couple of months ago.
"What attempts were there to serve her?' Williamson asked, thumbing through the paperwork. "I don't see any in the file."
Williamson said he had no choice but to dismiss the case.
Public defender Cruz Gray filed the motion to dismiss the charges against Holder, who was indicted for four counts of forgery in March 2013. Since that time, Holder has had two addresses and the same phone number, Gray said.
"He had 14 traffic citations in the interim," Gray said, but his client was never held or served with his indictments during those encounters with law enforcement.
Gray noted that 2,039 days passed between the time Holder was arrested in September 2013 and the time he was served in April, after being held by law enforcement in Gulfport.
"That was 2,000 opportunities to serve him, but they just didn't try," Gray said of the JCSD. "Another jurisdiction's apprehension prompted action in Jones County."
Holder was accused of forging checks of $500 to $900 on the accounts of County Line Fence Co. and owner Mann Broadhead more than six years ago, according to the indictments.
Assistant District Attorney Dennis Bisnette said he had no explanation for the JCSD's failure to get the papers served. He said Holder was finally caught after he was placed on NCIC in March.
"It's a different day now with (Deputy) Bobby Moree in charge (of serving process)," Buckley said. "This is in the past."
Williamson agreed, but said he had no choice but to dismiss the Holder case, too. He cited case law showing that a delay of eight months is considered too long of a delay by the state Supreme Court. If he ruled otherwise, he would almost certainly be overruled by the high court, he's said.
Hodge called a press conference in May to talk about the issue of unserved indictments.
"Those that were recently dismissed, that's not on us," Hodge said after the 14th dismissal for lack of a speedy trial. "That's the law."
In the cases that have been dismissed, the delays ranged from almost three years to more than 12 years between the time the defendants were arrested and the time they were served with their indictments. There was "no satisfactory reason" for the delays, Williamson wrote in the orders to dismiss. All of the defendants had lived and/or worked at the same locations for years and JCSD officials made only one attempt to get the paperwork to them.
"With reasonable diligence, the Sheriff's Department should have been able to serve the indictment," Williamson wrote in most of the orders.
Hodge said his department has a 94-percent success rate of serving indictments since he took office in 2008 and noted, "We've done that with a total staffing of 39 people." He said that "manpower and staffing" are issues with the department, continuing with a theme that goes back to his budget battles with the Board of Supervisors that boiled over last year.
"Let me be honest," he said. "If we go one time (to serve an indictment), that's great. If we get there two times, it's a blessing. If we make it a third time, it's a miracle … that doesn't mean we're not looking for them and we don't keep looking."