NEJ star rises from Russian orphanage and death bed to take next step toward dream
•
The distance from Northeast Jones to Hinds Community College is about 110 miles. But the road Patrick Little took to get from NEJ to the two-year school in Raymond was a lot longer than Highway 49 and much rougher than any street … even in Laurel.
Little, a 6-foot-7, 180-pound right-handed pitcher, signed a letter of intent to play for the Eagles in 2020. Getting the chance to play the American pastime at the next level is a lifelong dream for the senior who was born in Russia.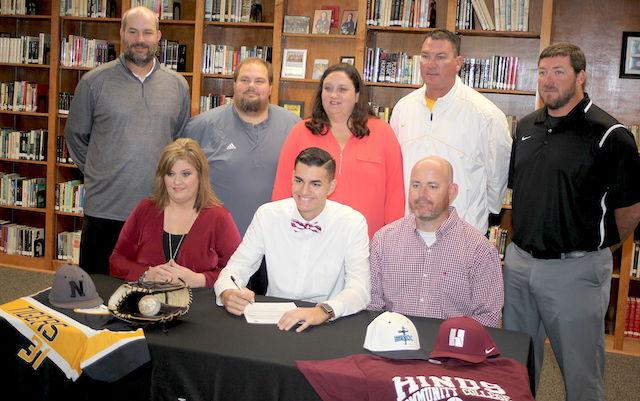 But it was only a couple of years ago that surviving and having a normal life were in doubt.
In October 2016, Little had a near-death experience on the baseball field at West Jones. During practice, he and other players were moving a 600-pound batting cage. It has tires on it, but one was flat, so they tilted the contraption to move it along on the good tires. Little slipped, and the next thing they knew, one of the bottom bars of the batting cage had slammed into him, just above the waist. Nearly one-third of a ton had fallen on top of his lanky frame. The crash also broke two bones in his left hand, which he had reached out to protect himself — a move that likely saved his life, doctors later said.
While trauma surgeons did a rare surgery to repair a finger-size tear in his duodenum (the first part of the small intestine directly beneath the stomach), his parents weren't thinking about him getting back on the mound. They were just praying he'd mend. They prepared for the possibility that he could wind up with a colostomy bag, so it didn't look like there'd be a need for a rosin bag in his future.
"We were thinking not just about baseball, but a total life change," said his father, Lt. Robert Little of the Jones County Sheriff's Department. "We were just praying that he would survive."
His mother admits that she thought her son's baseball career was over. He was already very thin before the accident, but he dropped more than 22 percent of his body weight and his prognosis was uncertain.
"He was so weak. He couldn't even eat," Jennifer Little recalled. "He had gotten down to 140 (pounds)."
Patrick Little remembers what it was like, lying in bed at Blair Batson Children's Hospital and hearing doctors say that his dream of playing ball in college and the pros wasn't in the cards anymore, much less his junior year.
"I had a new drive," Little said, recalling the first time he heard that news. "I'd worked too hard for this. I was determined to get back on the field. And, God willing, I was able to. Giving up is the easy way out. In life and sports, there's no easy way out."
He went to the South Central Regional Medical Center Wellness Center, then started working with trainer Whitney Whittington, who helped his father rehab after heart surgery. 
"His whole goal became proving the doctors wrong," his mother said.
And prove them wrong, he did. The first step to his recovery was transferring to Northeast Jones. The change in scenery helped him cope. He didn't have to see the equipment and the place where his life changed forever every day. That helped him deal with the trauma. But he was also dealing from the bump and the plate.
Not only did he overcome the odds by being able to play again, he performed at the highest level. 
Little led the Tigers in pitching and batting. He hit .442 with three home runs. He was 7-2 with a 1.81 ERA and 58 strikeouts, all tops on the team. With only 14 walks, his 4-to-1 strikeout-to-walk ratio was also the best among NEJ starters. 
As if that weren't amazing enough, Little joined the football team for his senior season — his first time to play on the gridiron since his pee-wee days. As the Tigers' punter, he was one of the busiest players on a team whose offense often sputtered. He averaged 34.2 yards on 36 punts, including a long of 51 yards and six that went inside the 20-yard line. Football coach Keith Braddock has said he is a contender for a spot on the all-region team.
"Who thought I'd be playing football?" Little said with a chuckle. "It was a lot of fun. There are a lot of great guys and I learned a lot of great lessons."
The grueling rehabilitation that Little went through gave him even more of an appreciation for hard work, like two-a-days. That's what drew him to Hinds CC and coach Sam Temple's baseball program.
"Coach Temple, the way he runs his program — he's hard-nosed, no-nonsense, and they have a great strength-and-conditioning program," Little said. "That's why he's had 17 (Division I) commitments in the last two years.
"When I went on my visit, that's what drew me to the program. It had a real blue-collar feel to it, and I like that. You're not handed anything. You have to work for what you want."
And the next thing on Little's list of wants, after trying to take the Tigers to a state championship, is to win at Hinds CC and earn a Division I scholarship.
"I grew up going to Mississippi State games, so that's always been a dream," he said. "Ole Miss has a great program, and I know some guys who are going to Alabama. The SEC is the most competitive conference."
Little got some attention from the Bulldogs a short time before his accident, being featured on Gene's Page — a popular website for MSU athletics. He has also gotten some attention from Southern Miss, Jacksonville State and Troy State, he said. Little was selected for the prestigious 2017 Under Armour Preseason All-American team and was slated to play in Arizona before his accident.
"The draft is the ultimate goal," he said.
But the pros isn't his only path to success. He excels in the classroom and the community as well as on the diamond. He's a straight-A student and an active member in the youth group at Immaculate Conception Catholic Church. He's been on mission trips to Washington, D.C., where he worked in a soup kitchen, a homeless shelter and a home for the mentally challenged. He stays in touch with some of the people he met there. He also stays in touch with some of the hospital personnel he met at Blair Batson, where the nurses gave him the nickname "Mr. Popularity." 
    When he signed his letter of intent to play for Hinds, an NEJ special-needs student asked to be there to get her photo made with him, and they smiled for the camera and he hugged her. A coach's 7-year-old son also asked to be there, and he hugged Little and got his photo made with him.
    The camaraderie at NE Jones has helped Little achieve his goal of making it to the next level, he and his parents say.
"I have been accepted from Day 1 here," he said. "They accept me for who I am, not just sports."
He credited coach Jeremy Parker, assistants Hunter McKeiver and Bob McCrory for helping him progress. 
"They're big reasons I was able to sign this scholarship," he said. "The people here are great and I have great teammates. This is a special place."
His parents agreed. They credited surgeons at South Central Regional Medical Center with saving their son's life, then the surgeons at Blair Batson and Whittington for saving his sports career.
Little was adopted from an orphanage in Moscow one week before he turned 1, so life has been hard from the beginning. That gives him perspective now that he is old enough to appreciate it. That wisdom beyond his years also helped push him through rehab.
"There were days I didn't feel like walking," he said, "but then I remembered that my dad had open-heart surgery, and he went through the same thing. You have to want to recover. I could have felt pity for myself, but I chose to keep fighting, and here I am today. I couldn't have done any of it without God, though.
"It's a miracle I survived," Little said. "God had a plan for it all, starting with my adoption from Russia. It would be wrong not to be thankful."