Laurel Main Street announced that the organization's executive director, Judi Holifield, will retire at the end of this year.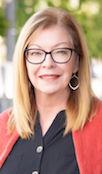 Holifield oversaw a period of unprecedented growth in downtown Laurel and many beloved city events — the Loblolly Festival, Magnolia State Bank Chili Cook-off, Touch a Truck, Farmers' Market and more — during her tenure. 
"Nobody has cared more about the mission of this organization, worked harder despite challenges or advocated more passionately on behalf of LMS than Judi," said Truitt Taylor, president of Laurel Main Street. "She successfully managed the organization through a period of significant growth and set us on a great path programmatically." 
Holifield joined LMS in 2011 and while she was executive director, LMS received several Mississippi Main Street awards, including Outstanding Community Transformation for a mid-sized town and she was named Outstanding Main Street Director in 2019. She was the Leader-Call Person of the Year in 2016.
"Working together with the membership and board at Laurel Main Street has been a highly rewarding experience, and I'm very proud of what we've accomplished," Holifield said. "I look forward to the next chapter of my life and the opportunities to take time for myself and my family, while continuing to support LMS and its endeavors as a volunteer."
The LMS board is conducting a search for a successor as executive director. 
The mission of Laurel Main Street is to establish a vibrant downtown commercial district through efforts of design, promotion, organization and economic revitalization.