Charles Couch had two real guns and three fake $100 bills when Jones County deputies arrested him last week, according to the incident report.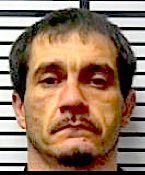 Couch, 35, is a convicted felon with several serious offenses in the last decade, so he wasn't supposed to possess a firearm. But Sgt. Jared Lindsey and Deputy James Smith found two loaded guns — a Taurus revolver (.38 Special) and a Hi-Point semiautomatic pistol (.45-caliber) — along with a loaded syringe in an SUV that Couch was a passenger in during a roadblock on Highway 15 South just after midnight last Wednesday. The contents of the syringe were not disclosed in the report.
Couch was charged with felony DUI-leaving the scene after causing the death of 84-year-old Lloyd Dennis Chance of Richton in a crash in Perry County in July 2010, according to court records. He was also found guilty of burglary in September 2010. Both convictions were in Perry County. He was sentenced to 25 years in prison in February 2012 as a habitual offender — meaning he was supposed to serve his time day-for-day, with no chance for early release. 
But he was out of prison within six years, because in February 2018, he was arrested by the JCSD for possession of methamphetamine (21 grams) with intent to distribute and possession of a weapon (.380-caliber) by a felon. The trial for those charges was set for Feb. 11, but he was on the docket to plead guilty today (Thursday).
In Couch's latest arrest, the revolver was found in his backpack along with three $100 bills that had the same serial number, according to the incident report, and the  syringe was beside his seat.
In an interview with Sgt. Jake Driskell of the JCSD's Narcotics Division, Couch admitted to being a "regular user of methamphetamine," saying he had been using approximately 1 gram per day for the last seven months, according to the report.
Couch also admitted to having and firing the guns that were in the SUV and knowing he wasn't supposed to possess or be around firearms, according to Driskell's report. He was charged with possession of a firearm by a convicted felon and possession of counterfeit currency.
The driver of the vehicle he was in, 54-year-old Shirley Taylor Guy of Ovett, was taken into custody for felony warrants with the JCSD and the Calhoun County Sheriff's Department, according to the report.
On Friday, 39-year-old William A. Couch was arrested for DUI-refusal to take test, simple assault and open container after a traffic stop by Laurel police at Interstate 59 and Highway 11, according to the incident report. 
Couch was accused of "brandishing a firearm at people" on Flowers Drive and warning them to get out of the road after their vehicle had stalled, said LPD Chief Tommy Cox. A complaint about that is what led to Couch being pulled over, he said.
Court records show that Couch was charged with DUI-second offense in May 2006, but a videotape of the Jones County Sheriff's Department's field test was "misplaced," according to his file, so the case was dismissed as he was about to be deployed to the Middle East on military duty.
Couch was convicted of DUI-first offense in August 2013 and the DUI last week. He was also charged with exhibiting a weapon after the complainant signed an affidavit against him. No felonies are listed on his court record. Family members say that he has suffered from PTSD since his time on active duty.
William A. Couch's mugshot and name were erroneously published in the initial report about Charles Couch's charges in Tuesday's edition. We regret the error.