Last July, Cole and Taylor Avera of Stringer were looking forward to a joyous occasion that so many young couples do — they were expecting their first child.
In April, they brought home their bundle of joy, as expected.
But what happened in the months in between was anything but routine.
Cole Avera, 24, and Taylor Avera, 22, feel blessed to have their new baby girl, Parker Kate, after she underwent a cutting-edge, rare new surgical procedure to repair a potentially debilitating condition while still in her mother's womb.
"God had this in His plans, and while I will never understand why this happened to my family, it has made us all stronger and I know we can do anything through His will," the grateful new mother said.
When she went for her 18-week checkup, OB/GYN Dr. Robert DeSantis saw that something wasn't right and he sent the couple to Hattiesburg to see Dr. Marie Darby, who specializes in high-risk pregnancies. Their baby tested positive for spina bifida — the most common permanently disabling birth defect for which there's no known cure. Those who suffer from the condition are often confined to a wheelchair, suffering from abnormal function of the bladder, bowels and legs.
After doing lots of research and weighing their options, the Avera family decided to find out if their unborn daughter would be a candidate for fetal surgery at Texas Children's Pavilion for Women.
"I would do anything I possibly could to give my baby the best outcome," Taylor Avera said.
They traveled to Houston for an evaluation, and on Nov. 29, mother and child underwent fetal surgery. It was the 100th fetal surgical neural tube defect repair case done at the Texas hospital. 
Of those 100 cases, 53 repairs were performed fetoscopically, an experimental, minimally-invasive surgical approach pioneered at Texas Children's Hospital in 2014. Texas Children's was the first center in the country to correct spina bifida defects fetoscopically and is among just a few centers in the country that offers fetoscopic repair of spina bifida.
The surgery lasted six hours and Avera stayed in the hospital for five days following the surgery to make sure everything was healing smoothly.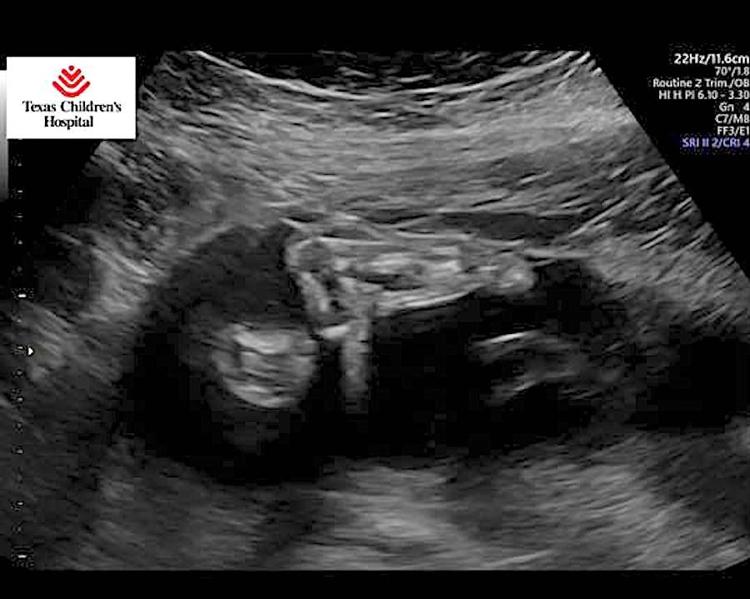 In a Facebook update on Nov. 28, the expectant mother reported that they received "really good news at our ultrasound today. Parker Kate has GREAT movement in her legs and feet," she wrote along with a posted photo of the ultrasound image of her baby's feet. "We got to see her feet moving, toes and her kicking her feet."
She also noted that their baby's brain ventricles had decreased in size and doctors said that was "as good as it gets for surgery."
She asked for prayers for "steady hands" for the surgeon and that she and her baby would do well in surgery.
Those prayers were answered. Parker Kate Avera was born at Texas Children's on March 5, 2019, weighing 7 pounds and 3 ounces. They got to come home to Stringer a month later, and the young family is doing great.
Parker Kate's back is now healed thanks to the surgeons at Texas Children's, Dr. DeSantis and Dr. Darby and their staffs, Avera said.
"Those doctors are now my family, they are my daughter's angels," she said. "I will never forget what they did for our family and I can't thank them enough."
Parker Kate will continue to have checkups for the next several months. Most will be closer to home, in Birmingham, but she will have to make a couple more visits to her doctors at Texas Children's to make sure her brain fluid is normal and the rest of her body is healing and growing correctly.
"I hope my family's story can inspire other struggling mothers through their difficult times," Avera said. "There is no way to prepare for something like this, but with wonderful doctors and the prayers of friends and family, it makes it possible to push through and fight."
Cole and Taylor Avera graduated from Jones County Junior College, and she went on to earn her bachelor's degree in business administration from Mississippi State in Meridian. He works at Southern Pine Electric in Taylorsville and they both help operate A&P Farms & Produce in Bay Springs and their family owns Parker Processing in Stringer