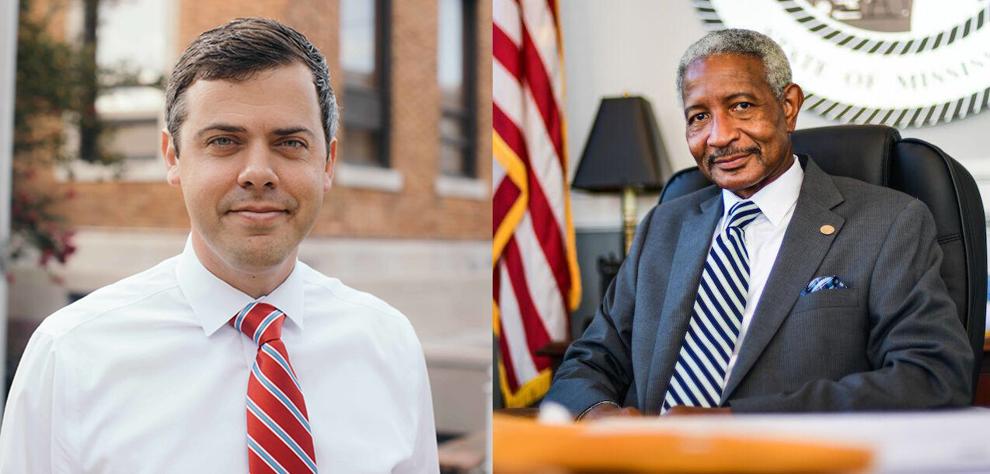 Trash-talking and bets between the mayors of Laurel and Hattiesburg are traditions of the annual Battle for the Lil' Brown Jug.
But for the 100-year anniversary of the oldest rivalry in the state, Hattiesburg Mayor Toby Barker brought Laurel's most famous residents in on the action. He challenged Ben and Erin Napier to build a "permanent home" for the jug in the Hub City because he expects the trophy to remain there.
"I believe it is appropriate for us to take steps to memorialize this epic battle," Barker wrote, referring to the centennial year of the game, which has playoff implications this year. "Specifically, it is important that we document Hattiesburg's dominance in recent years. As you know, Hattiesburg High has won six of the past seven meetings."
Barker proposed the conversion of a room in one of Hattiesburg's public buildings as "a permanent home" for the jug.
"Such a home should be designed with both communities' history in mind," he wrote. "However, as storytellers, we must accurately convey the accurate history of Hattiesburg's gridiron supremacy."
Barker went on to commend the Napiers for the renovation work they've done in Laurel on the HGTV hit show "Home Town" while "using many of the small businesses and craftsmen in the Hattiesburg area." Because of that and their knowledge of both cities, the Napiers would be "the ideal candidates to design and construct this permanent home for the Lil' Brown Jug."
The flattery stopped there, though. Barker continued, "As the superior city — and as the most likely keeper of the Lil' Brown Jug for years to come — we understand that the cost of this project will fall on the City of Hattiesburg, as it wouldn't be fair to the City of Laurel to pay for something it will never use."
Laurel Mayor Johnny Magee offered a more traditional bet with the leader of the larger but less famous city to the south.
"I would gladly wash his vehicle, in front of city hall, while wearing my suit and tie, if by any chance the Tigers were able to beat the Tornadoes," Magee said.
He predicted "a very close game: Laurel 24, Hattiesburg 21."
"While the Hattiesburg coach (Tony Vance) is a fine young man, Ryan Earnest is head and shoulders above him," Magee said of the former Tornado player and assistant who is now head coach of the team. "We pray for the safety of all the players involved on Saturday night, but it will still be a long ride back down 59 to Tigerland, after the loss." Barker sent his letter of proposal to the Scotsman
General Store and included his phone number for the Napiers to get back to him if they are interested in "such an ambitious and meaningful construction project" as the one he proposed.
"I understand that you keep busy production schedules, and so if this needs to wait for a year or two, that will be fine," Barker wrote, finishing with this final jab: "The Lil' Brown Jug won't be going anywhere anytime soon."