Tactic under national scrutiny necessary, sheriff says, 'We need element of surprise'
Not the Jones County Sheriff's Department's SWAT Team or Narcotics Division.
    Because they don't knock more than once …
    They used a battering ram to storm through doors and arrest drug suspects in abrupt early wakeup calls before daylight Thursday. The no-knock warrants — which are under scrutiny by anti-police forces across the country — are the reason the operations went off without a glitch, Sheriff Joe Berlin said.
    "No-knock warrants can be executed successfully if the officers are well-trained and well-prepared," Berlin said. 
    The JCSD teams had both of those elements on their side Thursday as they allowed local media members to see the preparation and to tag along for the arrests.
Before going out, Sgt. Brennon Chancellor gave a Powerpoint presentation with details of each suspect and each residence — from whom was expected to be inside and what kind of cars will be in the driveway to which way the doors swing open — to which JCSD team members would be doing what. Sgt. Jake Driskell offered a prayer and Chancellor offered a stark reminder just before the mission began at 2:30 a.m: "Eyes are on law enforcement right now, so don't do anything stupid."
A trusted dispatcher was notified of the "targets," so they could simply radio in they were at "No. 1 or No. 2" just before going in. EMServ Ambulance was staged nearby and two volunteer medical first-responders from Powers Fire & Rescue were on the scene, in case something went wrong.
But none of those precautions were needed. Everything went precisely as planned.
The team first took 49-year-old Adam Walker into custody at 103 Camp St. in Ellisville. He was charged with sale of a controlled substance after JCSD Narcotics Division agents built a case against him. He was handcuffed and escorted down the stairs of his home, which had two rooms below. One that was empty was adorned with Dallas Cowboys logos. The other had a heavy bag that boxers use for training, a small dog chained below it, a refrigerator and clutter.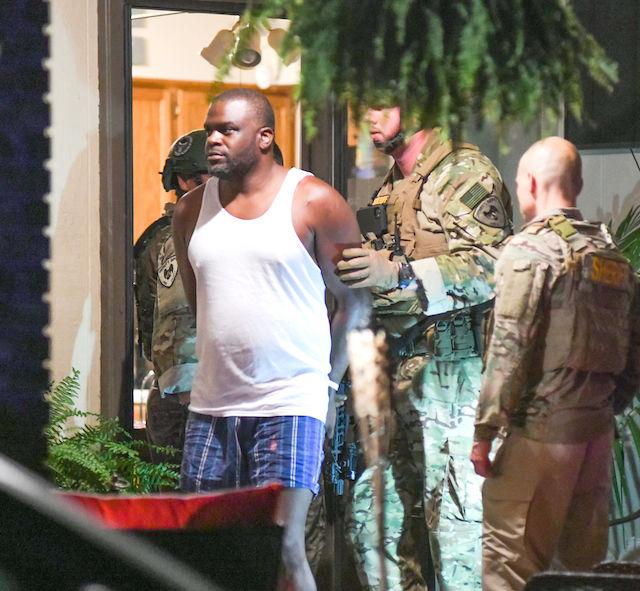 The next stop was a few blocks away, at 910 North Church St. Corey "C-Murder" Brown, 44, was also arrested and charged with sale of a controlled substance. Officers found about 100 MDMA (ecstasy) tablets and a gallon-sized freezer bag full of high-grade marijuana inside the brick home with a well-manicured lawn. Women and children were inside, just as Chancellor told them in the pre-op meeting.
People who are participating in illegal activity should consider the children in the house and how they will be affected, Berlin said. 
"It can be traumatizing for kids," Berlin said of the early-morning raids, "but we have to have the element of surprise on our side. If the dealers know we're coming, it gives them way too much time to get rid of the evidence or to flee the scene."
The next stop had more fleas than fleeing suspects.
Accused child molester Granville Clark, 50, was charged with possession of methamphetamine and a possession of paraphernalia after agents found a small amount of the drug in his home at 580 Sellers Road in Moselle while executing the search warrant.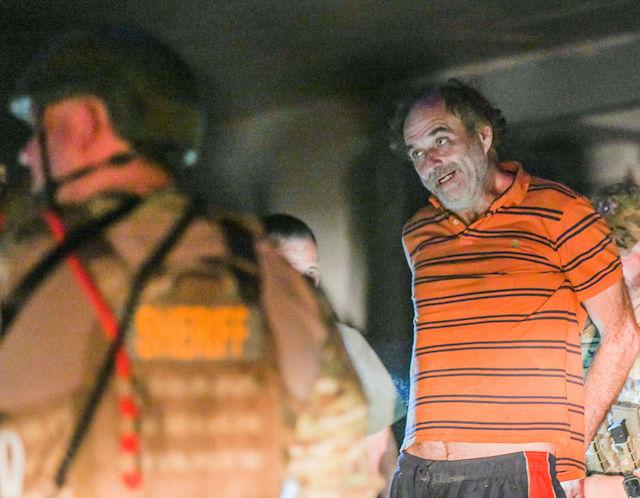 Several veteran officers described the squalor inside as "the worst I've ever seen." A toddler and "very pregnant woman" who's on probation were in a bed that was covered in "dog poop," as was the suspect. Roaches, rats and feces were all over the living area of the maze-like home, they said. Child Protective Services and the Department of Health were going to be notified of the conditions, Berlin said.
"It's one of the worst I've ever been in," he said, adding that people in the community had complained about the residence being a nuisance.
Graffiti was spray-painted inside and outside the home, including the words "I Miss Grace." The 6-foot-9 Clark said he was a pastor at the time he was arrested for molestation in January 2019. He was accused of inappropriately touching a young teenage girl, and when he made his initial court appearance and heard what he was accused of, he said, "I didn't realize that was a felony here." His bond was set at $25,000, which he apparently posted.
When asked if he knew why deputies had stormed into his residence and arrested him this time, he said, "No, I just got home yesterday. I've been at my mom's."
Two young men who were inside the residence were detained during the search but they were released.
"We'll see you again soon," Berlin said as a parting shot.
Back at the JCSD Training Center, roughly three hours after the operation, as the sun began to peek out over the horizon, Chancellor and other JCSD command staff congratulated the team members on a successful operation.
"We all left here together and we all came back together," he said.
Berlin told the team members he was proud of them for apprehending the suspects and keeping everyone safe.
"Dealers need to be off the streets," he said, and no-knock warrants are one of the most effective ways to accomplish that, he said.
Officers have to be able to show "facts and circumstances" and preparation — including photos of the residence — to get a judge to sign off on a no-knock warrant, he added.
"We have to have our ducks in a row," he said. "It's a detailed process, and our guys did a great job. Anyone needs to know that if they're selling dope in Jones County, be aware, we're coming after you. You just never know when."