Central Creativity and NASA make the perfect pair to ensure kids dream big and get a top-notch learning experience while doing so.
At some point during adolescence, being part of a NASA space mission makes its way into the imagination of kids. In Mississippi, that goal is attainable, thanks to Central Creativity, a non-profit foundation with the goal to grow critical — and creative-thinking skills in Mississippi's youth.
In partnership with NASA and the Stennis Space Center on the Gulf Coast, Central Creativity is starting the Roads to Mars Robotics Program. It's open to all schools in Mississippi, and NASA selected 16 teams throughout the state, with six of those teams being from Jones County. Jones College will host the Roads to Mars competition May 2, and teams will include students from first through 12th grades.
"Students will have the opportunity to use robots on simulated Martian environments and accomplish challenges and missions, get to fly drones, participate in activities focused on life science as well as environmental science, and even erosion control. It's more than just robots with the NASA experience, it will be just like students actually went to Mars," said Rhye McLeod, Director of Technology Development at Central Creativity.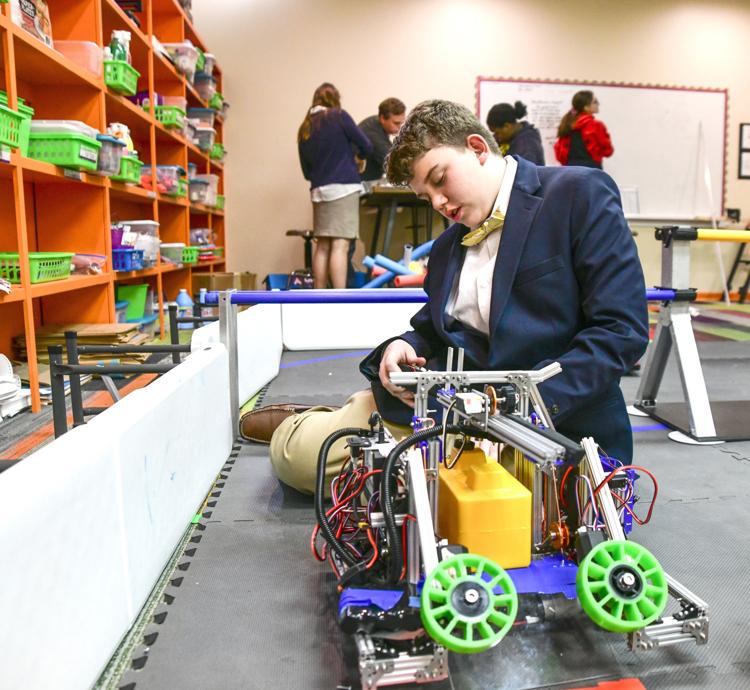 The winning team will be flown by NASA to the Kennedy Space Center in Merritt Island, Fla., to watch the Mars 2020 Rover launch. McLeod and the rest of the staff at Central Creativity have several other upcoming plans with NASA as well, including an Astro Camp over the summer.
"We have a pilot program called NASA School Community Partnership Project at the Laurel upper elementary level, and it's the first time NASA has partnered with an at-risk school," McLeod said. "What we do with this project is have fourth- and fifth-grade students learn about NASA science in the classroom and participate in a lab as well, which we do each week."
NASA will monitor the project for five years, McLeod said. If NASA finds the program successful, it'll implement it throughout the state.
"Laurel will be the pilot school for supporting the underserved and at-risk science community so we can reach all learners," he said. "That's what's important here. You can't be complete without all learners on board."
Central Creativity will also participate in Capitol Day with NASA, an event offering virtual reality experiences that will take place at the Mississippi Capitol in February.
"If a school wishes to bring NASA into their program, please reach out to Central Creativity," McLeod said. "That's what we do is facilitate those connections between educational institutions and the opportunity across the state.
"It's really important that the community understands that our goal is to support the classroom. So we love our teachers and schools. We love all the people who do the hard work of teaching young people. It's not an easy job, and our goal is to help our community understand how grateful we should be for those educators out there. The more we can come together, the more our business community can interface and the more our schools can then support the business community back. And when we bring together those two circles, we are better off as people and as a whole."
For the past two summers, Central Creativity, in partnership with NASA, has hosted the nation's largest single-week Astro Camp summer experience here in Laurel.
Students were able to launch chemical rockets, fly drones, perform missions in virtual reality, craft motorized vehicles, conduct advanced scientific experiments and even construct a 16-foot tall geodesic dome that was used as a base for conducting lunar training.
"Through the outstanding support of our local community, we have had the privilege to serve 211 incredible young innovators who have come from all over Mississippi, as well as seven other states, to be a part of this signature event," McLeod said. "While at camp, students were immersed in highly engaging and advanced learning experiences focused on growing interest and exposure to aeronautical engineering, technology discovery, chemistry, electronics, mission planning, team building, critical thinking, and creative collaboration."
The week-long event was visited by many third-party collaborators, such as Mississippi Power's Louie the Lightning Bug, science instructors from Stennis Space Center, world championship high school robotics teams, technical experts from a wide range of disciplines and many others.
This year's Astro Camp will be July 6-10 in downtown Laurel at Central Creativity. If interested, go online and register for the event.
"Whether private, public or home-schooled, K – 12th, Central Creativity is platform independent and all about the learner, so what we do is we teach them how to process information and dialogue and look for important ingredients and take it out and use it in whatever constructive way they need. And whether in science or technology, fashion, math and English or any other subject, there is information in everything that we do, so learning how to process that is really the key to being a powerful thinker," said McLeod.
 "Once you can think, you can do anything. We use what kids are most interested in, like drones, robotics, game design, virtual reality for construction medical field, electronics and programing logic controllers, culinary arts, fashion design, and those are all fun and memorable challenges and kids need that. We will purposely give them the wrong measuring cups, for example, if they need a cup of something, they will only be presented with one-quarter of a cup and they have to figure out how to problem-solve."
Another project, the NASA Globe program, consists of Laurel upper elementary and St. John's and its students' involvement in environmental science.
"These kids become student scientists, they perform research and assistant on global projects such as tracking weather patterns in the sky, evaluating temperature and humidity control, closely watching and monitoring greenery — trees and grass — when it turns green, what happens with no rain and so on," said McLeod.
"The students learn to understand and recognize global awareness and, because of global warming, it's important to educate them early and have them be informed," McLeod said. "With NOAA (National Oceanic and Atmospheric Administration) and NASA, we tie all that data into a global cloud, so someone in Pennsylvania studying rainfall will get all the data from students across the country. And if it's used, the students get credit for their research. Research can be used in Africa or in Sweden or anywhere in the world, so the students get to track their work and see what they have done to help. It's a global learning community, and it's not just information, it's useful information."
"We have great students here in Mississippi — we don't have an ability problem, we have an opportunity problem."
Call 601-580-8773 or visit Central Creativity's website www.centralcreativity.com for detailed information on class availability, pricing and registration.