Family, friends gather to seek justice for young girl
Relatives and friends of Priscilla Rose Smith Glenn, a 6-year-old girl who drowned in Laurel in 2019, demonstrated in front of the Laurel Police Department Monday morning to demand action against the girl's mother.
In June of last year, the youngster died after allegedly being left unattended in a swimming pool on Kimberly Drive while her mother, Gabriella Glenn, was reportedly supposed to be taking care of her. Family and those close to the matter believe that the mother was using heroin and prescription-grade drugs while the girl was left unattended. She hasn't been indicted related to that incident but was sentenced to drug court after being caught with methamphetamine and a firearm in February of last year.
Glenn's sister Isabella Parker joined the demonstration with grandmother Neysha Stringer and others.
"(My sister) should have gone to jail the day it happened," she said. "Priscilla shouldn't have lost her life so her mother could get high."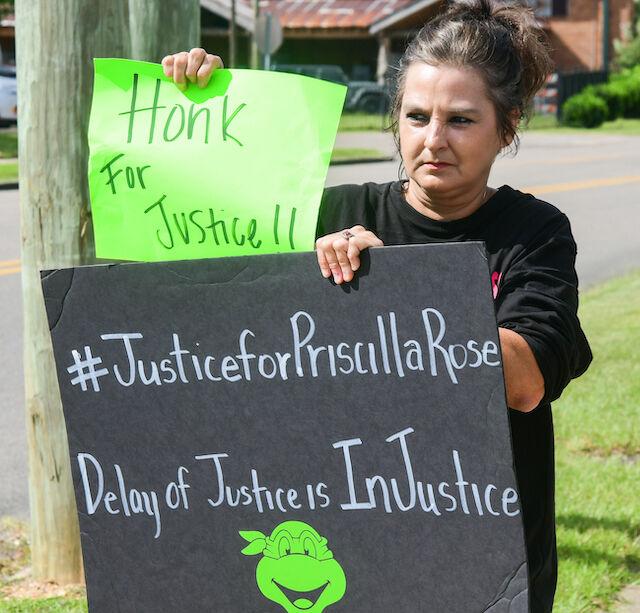 Glenn's mother Melita Arnold was also there.
"I really don't have the words for it," she said. "She needs to be punished for it. She needs to answer for what she did. She's gotten away with several things, and it's just not right."
Stringer said that the mother had brought Priscilla to a house party where drugs and alcohol were being used.
"Even when we got to the hospital, the doctors said drugs were involved. They said, 'We need the police here.' Everyone at that house was high as a kite," Stringer said.
Stringer and the family hope that the LPD's investigative findings will make it past a grand jury.
"Because we present something to the grand jury, it doesn't mean there will be an indictment," Assistant DA Dennis Bisnette said. "No arrests were made at the time of the incident, and that would be consistent with what we've seen in the past. We've had several incidents here where children were killed … It's a tragic accident. (The family) seems to feel that Glenn was under the influence, and that's where their issue is."
The LPD responded to requests for action with the following:
"On 8-27-19, LPD officers responded to Kimberly Drive in reference to a tragic child drowning incident. Officers and investigators interviewed witnesses and took statements at the scene and in the days following. Information was forwarded to the Jones County District Attorney's Office for their consideration. As always, the Laurel Police Department fully supports any decisions made by their office. Our sympathy goes out to the family in the wake of this tragedy. There will be no further comment at this time."