Suspect had history of trouble with the law in Jones County
•
A man some were calling "Rambo" is in custody after a 30-plus-hour standoff in the Strengthford Community.
John Wiley Welford, 42, was captured Friday afternoon and booked into the Wayne County Adult Detention Center, facing several charges and possibly federal charges, too, Sheriff Jody Ashley said.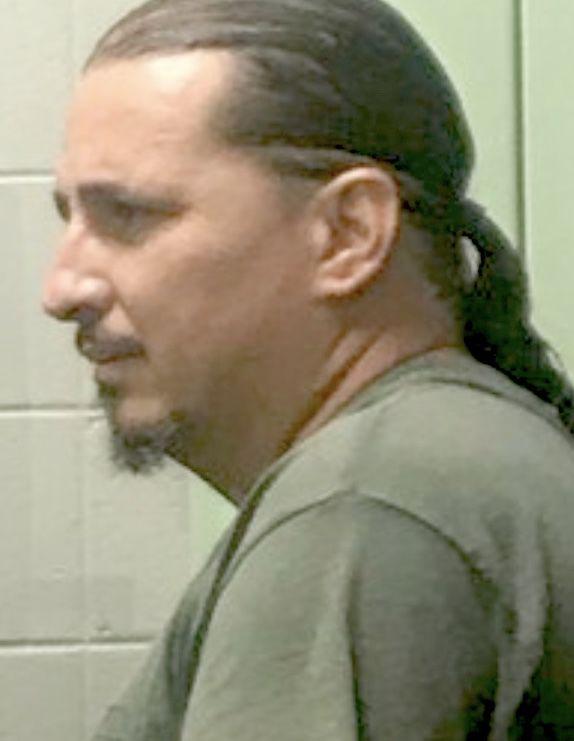 Welford has a history of trouble with the law, some in Jones County, Ashley said.
"His goal was to kill law enforcement officers," Ashley said, noting that Welford had extensive military training, underground bunkers on his property and an arsenal with at least 2,000 rounds of ammunition. "He made threats to kill any law enforcement official he could. We had to have a show of force."
Surrounding agencies made sure he had a show of strength in the Strengthford Community, just over the Jones County line. Armored vehicles and personnel from Jones County responded, along with the Mississippi Highway Patrol troopers and SWAT, deputies from Perry and Clarke counties, agents from the state Bureau of Narcotics and Bureau of Investigation, DEA and ATF, and the Mississippi Wildlife, Fisheries and Parks. An MHP helicopter also assisted.
"It is humbling to see a local sheriff ask for assistance and have this many departments show up and lend aid," Ashley said, noting that "well over 100 officers, deputies and agents" were on the scene.
But it was the help of residents that ultimately helped put Welford in handcuffs. A woman on Hezekiah Martin Road dialed 911 and said that the suspect was hiding in her shed. Earlier in the day, residents reported seeing him walking down Dew Mills Road before he ducked into woods.
Welford was arrested by Chief Deputy Mike Mozingo of the WCSD, with the help of Waynesboro Police Department K9 Jagger, without incident. He was approximately eight miles east of where the incident started on Williams Walley Road, the suspect's grandparents' property, on Thursday morning.
It was unclear how he managed to escape the perimeter that law enforcement had set up around the property.
"We have information that some of his family may have been helping him," Ashley said, adding that the suspect had changed clothes.
Some family members spent time on the phone with Welford, trying to help law enforcement bring the situation to a peaceful end, Ashley said.
The standoff started as a domestic disturbance call around 8 a.m. Thursday. Welford made threats to dispatchers at the time.
"The family told us to let him calm down and he would come out," Mozingo told The Wayne County News. "He made another call to dispatchers and they patched the call through to me. He said that he hated me and he hated (Deputy) Tim Hollingshead. He said we needed to come out or he would make us come out. He said he would walk down the street and start killing neighbors until we came out."
Deputies arrived and found Welford barricaded in his grandparents' home. That began the standoff and led to the call for additional law enforcement.
At around 6:30 p.m., Ashley moved non-essential personnel back to a command post and began mobilizing to move in and try to arrest Welford. Agents entered the house and did not find him in there.
It was learned that an old military bunker was located near the home, and law enforcement was searching the area and the woods for Welford.
Ashley said the suspect threatened law enforcement personnel throughout the day, shooting at drones and threatening to shoot at an MHP helicopter.
"He threatened both law enforcement and the neighbors in this area," Ashley said. "He said he would kill all the neighbors in order to get us to come out.
"The family texted him to try and get him to surrender. During various phone conversations, he said he saw and even described deputies, saying he could have killed them. He described the movements of agents and vehicles. He also said he had military training."
Welford's mother said her son suffers from severe depression, according to a comment posted to The Wayne County News' website. He was once a member of the Wayne County Volunteer Fire Department, said Fire Coordinator Rufus Landrum.
It was believed that Welford had multiple weapons and massive amounts of ammunition at his disposal, Ashley said. After the arrest, no weapons nor ammunition was found on Welford. Ashley believes those items were disposed of.
Ashley said he appreciated all of the help from other agencies.
"We worked together because he was trying to kill us," he said, "but we got out of it without any bloodshed."
— Paul Keane of The Wayne County News contributed