Newborn brings some sunshine after plenty of cloudy days for family
•
Last summer, 20-year-old Scott Graves died in a tragic shooting at a Hattiesburg apartment. His father, 46-year-old Chad Graves, was charged with second-degree murder and is being held in the Forrest County jail.
This summer, Scotty's namesake is fighting for his life in a Memphis neonatal intensive care unit. His father, 26-year-old Robin Powell, is charged up with every little sign of advancement as his son Scott Powell fights for his life.
"The progress is good," Jessica Powell Jaramillo said of her brother Robin's new baby, "but it's going to be a long road to recovery."
That's something the Jones County native knows a lot about. But the birth of her nephew on June 1, and his being named for her beloved son Scott, who died too soon, is a bright spot in what has been the darkest chapter of her life. 
Even that has been bittersweet, though, because of the baby's health problems and because of the cruel reality that struck her after she got the news that her brother and his fianceé Amber Ledrick were naming their baby after her son.
"I was happy and sad … My son should be the one naming his own son after him, not anyone else," Jaramillo said, her voice cracking with emotion. "But if Scott would have wanted anyone to name a child after him, it would have been (Robin). He was Scott's uncle, but they were only a couple of years apart, so they grew up together."
Powell and Ledrick recently moved from Jones County to Arkansas so he could get a new job. Their baby was born five weeks premature and, at only 3.5 pounds, was suffering from gastrochisis, meaning his intestines were outside of his body. He also has club feet and other problems with his arms and hands, Jaramillo said.
His parents, family, friends and strangers, through a GoFundMe Page, are fighting with him to help him grow up.
That's a much different life than Jaramillo and her first-born started with.
Daring escape from abuse
Jessica Powell graduated in 1998 from Northeast Jones, where she was a standout member of the Future Farmers of America and Beta Club. She lived with her parents, Robin and Paula Powell, on a farm just off Highway 15 South, near a horse arena.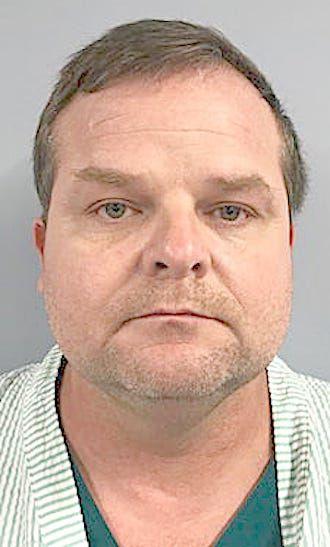 She married Chad Graves in 1999 and soon got pregnant with Scott. When she was 6 weeks along, she was doing housework while he slept after working the nightshift. 
"He dragged me by my hair, punched me in the head and yelled, 'Don't ever wake me up again!'" she recalled.
It only got worse. He beat her "really bad" another time "because the vegetables in the cabinet were not in order," she said. There were plenty of horrors, she said, recalling some of the worst, such as when he pushed her head into a hot frying pan … and when he smashed a ceramic coffee cup into her face and strangled her, causing blood vessels in both her eyes to burst … and put a .38-caliber handgun in her mouth and pulled the trigger — after unloading it, unbeknownst to her. The hammer of the gun clamped down on her lip, but the mental torture of that ordeal caused her to throw up on the bed, she said.
"He unplugged the phone and took it with him to work," along with the only mobile phone they had, she said.
After one beating, she went across the road from their home near the Wayne County line to call the Jones County Sheriff's Department.
"He always ended up in a mental hospital," she said of Graves, adding that his family was "connected" to officials in law enforcement and the judicial system. "It's not what you know, it's who you know."
The Hattiesburg American reported seeing "numerous police reports" documenting her abuse in Jones County. But nothing ever kept Graves away from his wife and their three young children for long as the family — and the abuse — continued to grow.
The final straw came when little Scott was 4. He saw that his mommy was being hurt and he stepped in to try to stop it, his mother said. Graves "slapped him on the back, leaving a perfect red handprint," she recalled. Shortly thereafter, they left their house and drove to Myrick to pick up Graves' son from a previous marriage. 
He told her to stay in the vehicle "because it was obvious I'd been beat up," she said.
"When he got out, I jumped in the driver's seat and flew up that driveway … I must've been going 70," she said. Graves jumped in front of the vehicle and she saw him mouth the words, "I will kill you," she recalled. "I just closed my eyes and gassed it."
She didn't check up until she got to an aunt's house in Glade, where she called the JCSD.
That date is forever seared in her memory. It was Aug. 17, 2001.
Dad promised car, job
Graves was taken into custody, but he was taken to the hospital because he had been cutting himself, and he escaped from there, Jaramillo said. Wayne County officials later picked him up, she said. 
"I had him arrested at least three times," she said, "but he said he would never see a day in jail, and he didn't."
She wound up divorcing him but "got screwed over" in that proceeding, too, she said. They got joint custody of the children, with visitation set up for a year with each parent.
Jaramillo joined the U.S. Army at 25 and was stationed in South Carolina then Virginia. The children would often cut short their visits with their dad because of his unpredictable temper and come home to their mother early, she said.
"Then he would say he was getting treatment" and they would give him another chance, Jaramillo said.
Despite his history of domestic abuse and treatment for mental illness, Graves was still on active duty with the Army, she said, and he was never forced to give up his extensive gun collection.
Then in their last visit, younger brother Joe, who was 18 at the time, saw Scott "get attacked" over leaving some clothes on the floor, Jaramillo said. "(Graves) wrapped a shower curtain around his neck and kicked him," she said.
Scott screamed that he thought his "eyeball was hanging out," so his father stopped beating him and pretended to be concerned, saying, "Let me look," Jaramillo said. "But when he tried to show him, Chad kneed him in the face."
The Lamar County Department of Human Services was called, Jaramillo said, but nothing was done.
Her children came back to Virginia to stay with her, but in December 2017, Scott returned to Mississippi.
"His grannie was dying, and he was very close to her, so he wanted to be there for her," Jaramillo said. His dad had reached out to him in an effort to make up, too, she said.
"Chad said he'd buy him a car and get him a job," Jaramillo said.
So he moved into Breckenridge Apartments in Hattiesburg with him.
On Aug. 17, 2018 — 17 years to the day after she'd made the daring escape from her husband — she got a call that forever changed her life.
'He killed him'
Jaramillo had a message to call Stacy Beech, who was her ex-husband's newest finaceé. 
"He killed him," Beech told her. "Scott's dead."
Jaramillo threw her phone, She screamed. She cried.
Then she got her phone to talk to Beech some more. She wanted to clarify what was said. The thought that maybe her son, who had Type 1 Diabetes, had slipped into a coma or been involved in a car wreck seemed more plausible.
But Beech gave her the sad news again. "She said, 'Chad did it, he killed him,'" Jaramillo recalled.
At first, Graves tried to claim self-defense, she said, but the Hattiesburg Police Department's investigation later determined that Scott had been knocked out, then his father stood over him and shot him not once, but twice with a shotgun.
"The only solace I get is that he was unconscious," Jaramillo said, choking back tears.
She and the rest of the family and friends have suffered plenty, though. Graves has been charged with second-degree murder and is going before a judge this month for a fourth time seeking bond.
Each hearing causes a familiar uneasiness for Jaramillo.
She lives in Suffolk, Va., now with her new husband Eric, who is a U.S. Navy chief petty officer on the U.S.S. George Washington, and their two younger children, as well as her two older children.
Jaramillo has learned that she and Beech — who was set to be Graves' fifth wife — and the other exes have a lot in common.
"They're like my sisters," she said.
The first wife, who was married to Graves in the early 1990s, "is still fearful of him," Jaramillo said. "He knocked her teeth out and broke her arm."
Jaramillo has since become an advocate for domestic abuse victims. She wants her son's death to raise awareness and serve as an example of how it can escalate.
"There are resources out there that are available," she said. "They don't have to stay with someone they love just because they are family. If his story can save one family, one woman, one kid, that is all I can ever ask for in this world."
Similar to Sinclair situation
Scott always wanted to be in the Army, just like his parents, but because of his diabetes, "that was out of the question," Jaramillo said.
He worked as a volunteer at a horse rescue organization in Virginia and eventually, he was hired to work there. The Diamonds in the Rough Horse Rescue (19251 Bob White Road, Windsor, VA, 23487) even honored him with a memorial.
"He was a sweet boy," Jaramillo said. "He loved to help people. He was very protective of me."
When he saw a neighbor of theirs, who was in his 70s, using a weed-trimmer on his ditch, he went over and did it for him. "Scott said, 'He doesn't need to be doing that,'" she recalled. 
He loved hunting and fishing and anything outdoors.
"In our last conversation, he told me he had decided he wanted to be a game warden," Jaramillo said.
She believes Scott would have been a good father, too. After her daughter Isabella was born, he rode home on the backseat with her and began singing, "You Are My Sunshine," Jaramillo said. "The only time she would sleep during the day was when she was on his chest."
In the two months before Scott's death, Jaramillo was closely following the Leader-Call's coverage of the investigation into the shooting death of 23-year-old Katherine Sinclair. She was shot on the night of June 1, 2017 in the garage of boyfriend Greg Burroughs, who was eventually charged with manslaughter but was found not guilty by a Franklin County jury a little more than a year later.
"There are so many similarities," Jaramillo said, adding that she has since befriended Sinclair's mother Madeline Herrington and was already friends with "Justice For Katherine" Facebook page founder Belinda Harrison. "I feel like the system let us down. If law enforcement and judges had done what they were supposed to along the way, maybe both of them would still be here."
Jaramillo plans to make a trip to Mississippi and Memphis at the end of the month — this time because of a birth, not a death. And when she does, she hopes to hold little Scottie close and maybe even sing "You Are My Sunshine" as he brightens her world.