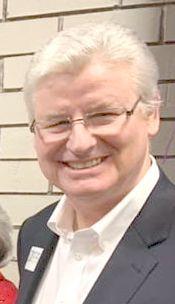 On Monday afternoon, Sam Britton of Laurel officially announced his candidacy for Secretary of State. Britton was joined by his wife Robin at the State Capitol for the announcement. Britton, an early supporter of President Donald Trump and a small-business owner is currently serving his first term as public service commissioner for Mississippi's Southern District. Current Secretary of State Delbert Hosemann has announced he will run for lieutenant governor.
"I am a conservative outsider with a proven track record of solving difficult problems such as the Kemper County Project. As the Southern District PSC Commissioner, my work on Kemper saved the ratepayers billions of dollars." said Britton. "As Secretary of State, I know that I can help lead the fight to get government out of our lives and focus on policy priorities that will lead to rising incomes for all Mississippians.
"I have a clear understanding of how to make our government work more like the private sector. President Trump is leading this fight in Washington. I endorsed President Trump early in the '16 GOP primary and I know that he can count on me as a strong ally in Mississippi.
"Robin and I are excited to bring this message and our campaign to voters throughout our great state. We ask for your prayers as we take this journey together."
Before his term as public service commissioner, Britton spent his career in business and finance.