Kaileigh Schmidt is safe, "not kidnapped" and isn't represented by out-of-state attorneys. She said so herself.
    Amid public rumors that she was missing after being released from jail, 20-year-old Schmidt, who once faced charges over publishing racially charged texts she said were from her parents, appeared in a video Thursday apologizing to the Jones County Sheriff's Department and her family.
    "Today is June 25, and I just wanted to put some rumors to rest that I've been hearing," the Petal woman said in the video. "First off, when I originally made the post, I had no intentions of it getting this far, I had no intentions of harming anybody."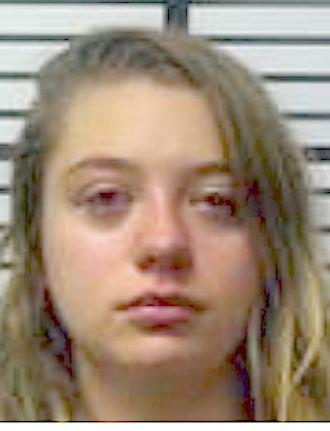 Schmidt said in the video that she stayed quiet and hidden over the past two weeks after her posts and news of her arrest — which some have called unconstitutional — circulated internationally. Her family received death threats when she alleged she received racist messages from her parents.
Schmidt stressed her apology to the JCSD, saying the deputies overseeing the case handled it well.
"They dealt very kindly with me," Schmidt said. "Some of the cops told me they were rooting for me to get out. … I'm also sorry to anyone whose lives I put in danger by the posts I made."
That led to her arrest, at which point she faced two felony charges for posting messages with intent to cause injury. The charges were reduced to misdemeanors and then dropped. 
"Upon further investigation, these charges were deemed misdemeanor with the burden of proof left up to the parents who signed the charges," the JCSD stated in a Facebook post. The parents eventually dropped the charges.
Schmidt said she was released from jail without the help of two lawyers — Javaron Buckley of Chicago and Carlos Moore of Grenada — who claimed to be trying to help her.
But after a turbulent press conference from Buckley and Moore on the day of her release at Jones County Justice Court, the newly free Schmidt stopped posting to social media and didn't contact friends for two weeks. Her purse was reportedly left at Hobby Lobby in Hattiesburg, where she works. Her biological mother, Chantelle Dunn, also thought she was missing.
The JCSD assured followers of the case through social media that its deputies had seen that she was safe. Sheriff Joe Berlin, personally making the Facebook post, dispelled a rumor that he was friends with Schmidt's father and was covering up her disappearance. The Laurel Leader-Call was similarly accused.
Berlin told a reporter his department has been "dragged through the mud and slandered by radicals on Facebook" and callers inquiring about Schmidt's well-being.
"The department has taken a beating because we won't tell them where she is," Berlin said, estimating there were 40-50 calls that first day. Many of them were rude, demanding and profane, he said.
"They're saying I'm in cahoots with her father, we're lying … My voters are behind us. It's the out-of-towners; they have no idea what they're talking about. They're just jumping on us."
Berlin said he and the department were simply complying with the wishes of Schmidt and her family by not giving out her location.
"We make sure that she's OK every few days," he said. "She didn't want the others to know where she was."
Berlin sent a deputy to retrieve Schmidt's purse from Hobby Lobby. She left her phone with her parents.
The Leader-Call and JCSD received numerous calls to investigate Schmidt's whereabouts. When Schmidt was again confirmed to be OK, the public called on the FBI, with some claiming they were "now involved." The bureau said they were not actively investigating Schmidt's whereabouts.
"The FBI is aware of the matter, and we have been in contact with local authorities," said FBI public information officer Brett Carr. "If a federal criminal violation comes to light during the course of the local investigation, the FBI is prepared to investigate."
Now, with Schmidt saying she's fine, some internet users are concerned she was forced to shoot and upload the updated video. Dunn wrote on Thursday that "she's being made to say these things."
"Theres so many people that have been done wrong by Robert and Tracy Schmidt and it's all coming out," Dunn wrote. "I do not and will not ever believe this is Kaileigh on her own free will."
"Nobody has heard from her," Dunn told a reporter a week before Schmidt's video was uploaded. "This is what her dad and stepmom do. They tell all these lies."
Berlin said claims that the video was "coerced" are "ridiculous."
Schmidt said in her video that she is "not kidnapped." She suggested she and Dunn aren't close.
"I've only met her like once since I was 8," she said. "Not even my best friends, a lot of my family, know where I'm at right now. The more it's shared, the more people keep making up lies and rumors, the more I'm going to stay in hiding."
Schmidt also refuted rumors that her parents are abusive.
"No physical breaking of arms ever happened," she said. "They're good people. They really are. Y'all saw me — I was cussing them out as well. We're all human. … I do love them. I'm sorry to them as well."