Hodge touts department's 94-percent service rate
•
Sheriff Alex Hodge called a press conference Tuesday to address an issue in a newspaper article that he said he didn't read.
"I don't read your paper," he said to a Leader-Call reporter at the Jones County courthouse in Laurel.
Local media — including WDAM, FOX23, SuperTalk and The Impact — were called there to hear Hodge talk about his department's duty to serve indictments, which has "become an issue," he said.
He was referring to a story that was in the Saturday edition of the Leader-Call. It had details of 14 accused felons whose cases were dismissed over the last four months because the Jones County Sheriff's Department didn't serve their indictments in a timely manner, according to the dismissal orders. 
"Those that were recently dismissed, that's not on us," Hodge said. "That's the law. I'm not a lawyer … but the fact they were in court was because they were served process."
In the dismissal orders, Judge Dal Williamson cited case law from the state Court of Appeals and U.S. Supreme Court showing that a delay of eight months is "presumptively prejudicial" to the defendant. That means if he had accepted plea agreements or taken the defendants to trial and they were found guilty, the higher courts likely would have overturned them.
But Hodge touted his department's record of serving indictments handed down by grand juries in Ellisville and Laurel as well as warrants and papers from youth, county and circuit courts.
"As of 9 a.m. (Tuesday) 4,375 (of 4,641 indictments) HAVE been served by the Jones County Sheriff's Office," according to a press release from Hodge's public relations director Allyson Knotts, and "266 have not been served. That is an overall percentage of just over 94 percent served under the leadership of Sheriff Hodge and this administration."
In the cases that were dismissed, the delays ranged from almost three years to more than 12 years between the time the defendants were arrested and the time they were served with their indictments. There was "no satisfactory reason" for the delays, Williamson wrote in the orders to dismiss. All of the defendants had lived and/or worked at the same locations for years and JCSD officials made only one attempt to get the paperwork to them.
"With reasonable diligence, the Sheriff's Department should have been able to serve the indictment," Williamson wrote in most of the orders.
Hodge opened the press conference by saying, "I'm not here, as some think I should, to respond to various rumors and propaganda and personal slander."
A reporter asked if the "slander" — which refers to the spoken word, not the written word — he was referring to was the court's dismissal orders. Those were the sources of the Leader-Call's information for the story that was reported under the banner headline "FAILURE TO SERVE." 
Hodge said, "I'm not saying the court is slandering us. What I am saying is that the Jones County Sheriff's Department has faithfully served the people of Jones County in serving 94 percent of the indictments that have been handed down to us."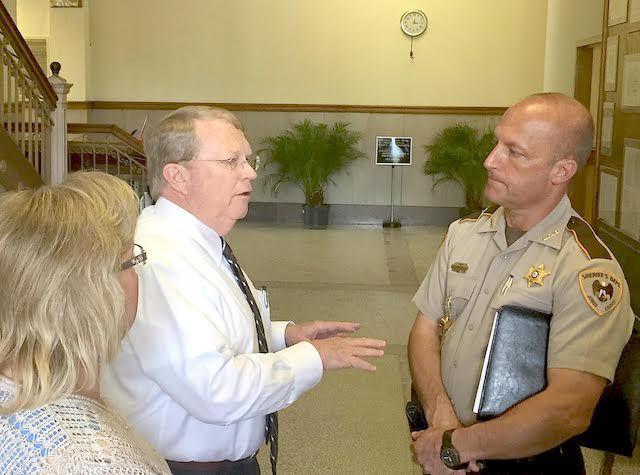 The JCSD Facebook page announcing the press conference posted that Hodge would clear things up about some "misleading information" that had been reported. He also said, "I'm thankful to be able to stand before you and tell you the truth, which I've always done."
When asked if the story he hadn't read was not true, Hodge said, "I'm not suggesting that it's inaccurate at all … I'm not denying it."
He reiterated his department's 94 percent rate of serving indictments since he took office in 2008 and noted, "We've done that with a total staffing of 39 people." He said that "manpower and staffing" are issues with the department, continuing with a theme that goes back to his budget battles with the Board of Supervisors that boiled over last year.
"Let me be honest," he said. "If we go one time (to serve an indictment), that's great. If we get there two times, it's a blessing. If we make it a third time, it's a miracle … that doesn't mean we're not looking for them and we don't keep looking."
Speaking from the top of the courthouse steps while circuit court was in session, Hodge was flanked by a half-dozen deputies and at least 10 people from his department were in the audience. When a reporter asked if being at a press conference was the best use of their time, Hodge said, "It is … they're involved in the process and I want them to be able to speak if there's a question."
None of the on-duty deputies stepped up to the lectern to speak during the 20-minute press conference.
Some of his personnel at the courthouse were already there for circuit court, Hodge said.
"Sixty-nine defendants was being marched to Judge Dal Williamson as a result of the great work of the Jones County Sheriff's Department," he said.
Hodge said that the 39 department members he has are "doing all sorts of things besides serving indictments," pointing to statistics that show they answer more than 30,000 calls and work more than 1,500 felony cases per year.
"If I had just one or two that we could commit full-time to just serving process, I think it would make a difference," he said, adding, "but 94 percent is hard to improve on."
Hodge also said that he didn't want to be "misconstrued, making excuses" for the indictments that weren't served.
"I'm your sheriff," he said. "I take the good, the bad, the ugly. It's not about excuses, it's about solutions. I welcome criticism."
He gave a summary of the procedure that's followed from the time a defendant is indicted by a grand jury to the time he or she is served with the indictment. Those who bond out before their case goes to the grand jury sign a document that states they agree to sign in at the Jones County Adult Detention Center on the first Tuesday of each month, and stay in contact with their bondsman and their attorney. If they fail to do those things, they are placed on the National Crime Information Center database, which alerts law enforcement agencies across the country that the person is wanted.
Hodge said he plans to start working with the District Attorney's Office and the circuit court "so that judgment can be issued against bondsmen," he said. "They're required to see that the (defendant) is in court when they're supposed to be. We need to hold bondsmen accountable for getting those people to court … or pay the bond."
Williamson has been making rulings to hold bondsmen accountable for more than two years.
"We're constantly revising, strengthening what we do on a day-to-day basis so we can be stronger as a team," Hodge said.