SPD officer talks about being shot by armed-robbery suspect
Barely 48 hours after being shot in the line of duty, Miguel Grimaldo was at home resting comfortably.
His wife was doing anything but.
"She was more shocked than I was," he said. "Looking at my scars made her get nauseous. She was thinking about how it could have been so much worse."
She was used to her husband giving his sweat and tears to law enforcement, but now he's given his blood to serve and protect.
The 26-year-old part-time officer for the Sandersville Police Department took a load of buckshot in the face and arm while approaching an armed robbery suspect in front of a convenience store around 2 a.m. Thursday. Miraculously, he is OK, he said.
"I feel great," Grimaldo said by telephone on Saturday morning. "If it was up to me, I would have gone right back to work."
Grimaldo had one shotgun pellet in his cheek, one under his lip, three in his right arm and one in his left pinky finger, he said. The one that went through his lip hit his gum, and the pellet that went in his cheek "is in pieces.' The surgeon couldn't take it out, Grimaldo said.
William Belk, 33, of Pachuta was charged with aggravated assault of an officer, armed robbery and felony motor vehicle taking and he is being held in the Jones County Adult Detention Center without bond. Laurel police arrested him in the Walmart parking lot after a short chase not long after the shooting.
Grimaldo was limited in what he could say about the incident because it was still under investigation by the Jones County Sheriff's Department, which was being assisted by the FBI and the Choctaw Police Department since the incident began on federal tribal land. 
"It all happened really fast," Grimaldo said.
He spotted a Bok Homa Casino white SUV that had just been reported stolen and the suspect in front of the Circle K on Highway 11. Ideally, he would have been able to wait for backup to arrive at the rural location before confronting the suspect, who had reportedly just robbed a casino security guard at gunpoint. But there was no time for that.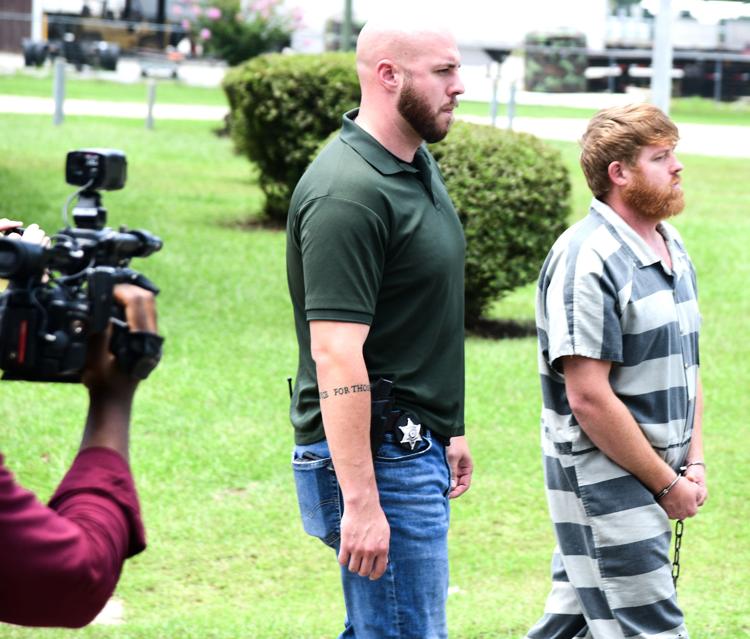 "I didn't know his mindset or his reason for stopping there," Grimaldo said.
And he didn't wait around to find out what his intentions were. Grimaldo made the decision to approach the suspect. 
"Since he had just committed an armed robbery, I was using caution," Grimaldo said, "but I thought if I didn't make contact, the possibility of him robbing someone else or hurting someone was pretty high."
Grimaldo wasn't caught off guard by what happened when he got out of his patrol unit and ordered the suspect to get out of the SUV.
"I knew he was going to come out shooting … I just had a feeling," Grimaldo said.
That feeling was right, too. The suspect fired, then fled in the SUV. SPD Chief Curt Pitts said his officer is a hero for stopping the suspect at the store and then pursuing him after being shot. Grimaldo gave chase and radioed in the suspect's vehicle/physical description and direction of travel before realizing he was wounded. 
"My adrenaline was up … I didn't feel it at first," Grimaldo said of the pellets that had penetrated his skin.
Law enforcement is in his skin, too. His brother Poncho was a deputy with the JCSD and is now with the Mississippi Department of Corrections and they have relatives who are on the job in Texas. Grimaldo graduated from South Jones High School and he was a 2013 graduate of the Mississippi Law Enforcement Training Academy. 
He went to work for JCSD as a corrections officer and "worked my way up" to deputy in December 2015. Less than two years later, with his second child on the way, he made the painful decision to step away from the job in September 2017.
"We were living paycheck-to-paycheck," Grimaldo said. "With another little one on the way, we couldn't afford for me to stay … I won't lie, though, I cried when I put in my two weeks' notice."
Grimaldo went to work in the oilfield full-time and kept his law enforcement itch scratched — while making a little extra scratch — with the Sandersville Police Department.
"No matter what, it's just in your blood," he said.
Grimaldo credited his training with helping him survive.
"I never let him get close," Grimaldo said, estimating that the suspect was "10 yards or more" away from him when he shot. Grimaldo fired off two rounds that didn't strike the suspect, Pitts said.
It's believed that the suspect used a handgun called "The Judge," which can fire .45-caliber bullets and .410 shotgun shells, and it was loaded with .410 buckshot when Grimaldo was fired upon.
Judge David Lyons denied bond for Belk at his initial appearance in Jones County Justice Court on Friday. Nothing in Belk's criminal history showed violent tendencies. He had a drug possession charge that was later dismissed along with arrests for DUI, public drunkenness and other misdemeanors, Investigator Stephen Graeser of the JCSD said. Investigator Brad Grunig of the Jones County District Attorney's Office did request a "significant bond" because of the serious nature of the charges, which could carry a sentence of up to 140 years in prison.
Grimaldo's history includes having "to fight for a gun" with a suspect and several other encounters with armed suspects, but Thursday morning's encounter was the most harrowing one yet. Asked how it will affect him going forward, Grimaldo said, "The only thing it will do is make me stronger."
Sandersville Mayor Bob White said the shooting has been an eye-opening experience, especially "in a quiet little town like ours." 
"It alarmed me," he said. "We need to start watching things closer. I'm just proud it wasn't any worse than it was."
And he shudders to think what could have happened if the suspect had gone in the store, where a clerk was working alone.
"That really concerns me," said White, who visited Grimaldo on Friday. "He did an excellent job. He's a fine young man."
Store officials said they couldn't speak about the incident, but one did say they were "glad he was there" and that he and the JCSD's response time was outstanding.
Grimaldo has received phone calls and messages from law enforcement colleagues all across the state and from Texas. Their support has far outweighed the voices of the protesters and detractors who have the police under heightened scrutiny these days.
"You can bash me, hate me … but at the end of the day, if I'm in the same situation, I'll be the first one to help you, on or off duty," Grimaldo said, adding that's the mindset of all the law enforcement officers he's worked with. "You can hate us, but we're still going to be there for you."