On Friday, I had the great honor of attending the funeral service of our city's Chief of Police, Tyrone Stewart. And what a great celebration of life it was! As I listened to the words spoken by so many who loved him, I was struck by the word "legacy" that I heard during the service.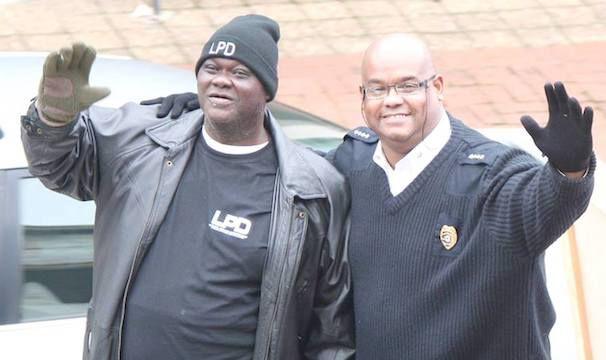 It really made me think about what that word means to me. The dictionary defines legacy as "a gift, something handed down by an ancestor or a predecessor of the past." Friends and relatives of Chief Stewart had the opportunity to pay tribute, and I began to take note of the words they used to express his legacy, his gift to us.   
The word that I heard the most was "servant." He loved people, of any age, race, religion or background.  He was a giver of his time, resources and love. People call him friend, boss, partner, brother, uncle, husband, son and Daddy. He was a true-born leader, a man dedicated to his city and his Brothers in Blue.  
Chief Stewart was a man of honor, a peacemaker and a man who took on responsibility so that the people in the City of Laurel could sleep, even if it meant he didn't. I heard stories about how he was a great interrogator and negotiator, a man who took his job seriously but still knew how to enjoy life and have fun.  
I heard about his football days, his cooking skills, his love of Now and Later candy, and even one time when he stuck his finger in a freshly baked pot pie. He looked for the positive in situations and did not focus on negativity. Chief Stewart was a man who embraced his purpose and encouraged many others to do the same.  
I am not saying that Chief Stewart was a perfect man, for I am sure that he had his problems just like the rest of us do. What I am saying is that we will all leave a legacy someday. The beauty of life is that we get to choose what that legacy is.   
Chief was a very young man (I am two days older than him) and he had no idea that Jan. 28, 2019 would be his last day on earth. The wonderful thing is that he got started defining and working on his legacy long before he drew his last breath. If we could ask him, I am sure he would tell us that he wasn't finished. The events of today make me question whether or not I am done with mine. The answer is: No, I am not.  
One important lesson that we can learn from Chief Stewart is that it doesn't matter where you come from, or what your circumstances in life are, you have a purpose. You are important and loved. My Wednesday night Bible study class is titled, "It Is Time." It is time that you move on from old history, old habits and old hurts. You cannot build your legacy if you are too busy looking behind you. 
Some of you need to make a change, get closer to God, be honest with a friend, get in tune with your purpose and passions, and get on doing something greater than yourself. Know what your values are and do what it takes to work toward those values so you can have the kind of life that you desire.  
All of us may not be blessed to lead departments of people or impact an entire city like our Chief did, but we can live a life of purpose. Be kind. Show love. Respect yourself. Be a servant to someone. Start now on building your legacy.  
And a special thank you to Mrs. Catrina, Justin and Jasmine, for sharing Chief's legacy with us. We are better to have known him, for he made our city a better place.