Black Lives Matter Mississippi marched on the Jones County courthouse in Laurel Saturday. When the group appeared, having walked from near Oak Park School, their voices could be heard echoing down the North 5th Avenue corridor: "No justice, no peace!"
The gathering of both sides was neither confrontational nor peaceful — it was a standoff, separated by a Laurel Police Department cruiser, a few officers and one BLM-aligned rifleman who didn't give his name. Both sides carried weapons.
"You better try to stay out of the center, if shooting starts," a different unidentified man advised a reporter.
The march took place after the group was first denied permission to stage on Laurel School District property and then denied a parade permit from the City of Laurel.
Mayor Johnny Magee on Monday morning said police Chief Tommy Cox "felt like it would cause more confusion" if police were to arrest people at the march despite being denied a permit from the city.
"He was afraid it would cause more protests against the city by not allowing the march," Magee said. "He decided to let them walk, as long as no one was disruptive."
Multiple groups were represented in Downtown Laurel on Saturday. A predominantly Black motorcycle club, armed, stood listening to Black Lives Matter speakers Anastasia Doctor and Brandiilynne Mangum-Dear at the gazebo in Pinehurst Park. Oathkeepers, made up of retired military and law enforcement who aim to uphold the Constitution, guarded the Confederate monument, holding shotguns and rifles.
While members of Black Lives Matter Mississippi have noted online that the event was to be a unity march, there was an air of protest on their side of the street. On both sides, tensions grew as more and more people pulled up with guns.
"They pretend like this is such a happy place in Laurel," Doctor said, addressing the march crowd. "Our election commissioner, she said, 'We got to get out there' because we Blacks are having these voter registration events, and people — because we're clearly not people — need to do something about it."
One recurring sentiment on both sides was individual concepts of Jesus. 
"If the Lord came down right now and saw all of this, He'd say that all lives matter," said Charlene Coats. "Some say he was Black, White, red, it doesn't matter. We were all made in His image. We're all to love each other no matter what."
"If you feel like this is a war against White people, then you're not following the real Jesus," Mangum-Dear said, referring to an opinion piece written by Leader-Call owner/publisher Jim Cegielski. "You're following the white nationalist Jesus, and you're worshipping a golden calf."
A Black Jones Countian named Shamon Woulard stood with those defending the Confederate monument. He said he hopes "we really do find peace, if that's in the plan for Laurel, Mississippi."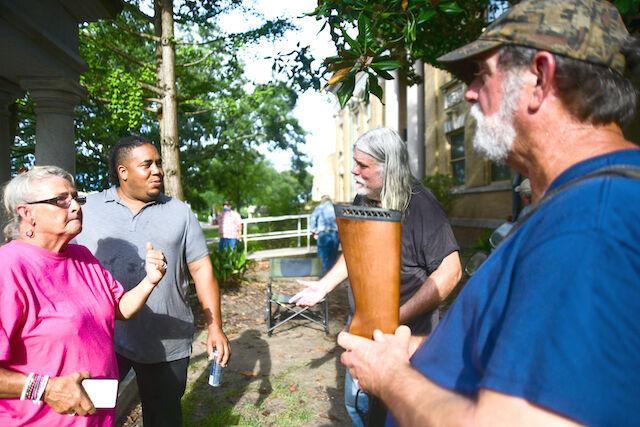 "I feel like (Black Lives Matter) has been a bully to white people in Mississippi," he said. "Jones County has no problems. We're all neighbors. We work together, eat together, they're bringing the problems. I have White friends who are disturbed by this. If you go over to a friend's house and start throwing rocks at them — I'm trying to understand how you call that peace."
Employees of the City of Laurel said no permits had been issued to Black Lives Matter Mississippi to hold their march, so the event wasn't officially recognized. The group responded by saying the event was still on because lawful gatherings on public streets do not require any permits.