The University of Southern Mississippi sports a well-documented tradition of excellence in producing Goldwater Scholarship winners. And now the bar has been raised even higher as three USM students — including West Jones grad Erin Crater — have earned the prestigious award for 2019.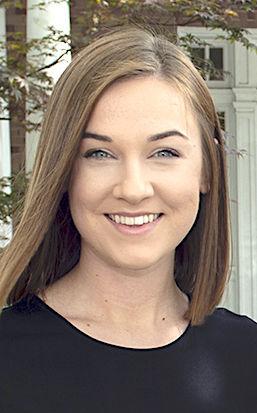 Not since 1995 has the University seen three winners in the same year. No other Mississippi college or university had more than one winner for 2019. This year's trio brings the total number of USM Goldwater Scholarship recipients to a state-leading total of 24.
"The Goldwater Scholarship is considered the premier nationally competitive scholarship for STEM (Science, Technology, Engineering and Math) research as an undergraduate student," said Danielle Manasco, project director for Nationally Competitive Programs at USM. "The application process is extensive and coincides with an already rigorous course load and research hours in the lab. "The monetary prize is only one benefit of being named a Goldwater Scholar. This accomplishment and academic honor gives our students a competitive edge which will help them gain admittance into the most prestigious graduate programs in the country."
Crater, a junior with a double-major in polymer science and chemistry, was awarded the prestigious scholarship. A member of the University's Honors College, Crater was awarded entrance in the Ernest F. Hollings Scholarship Program of 2018 through the National Oceanic and Atmospheric Administration and a 2018 Goldwater honorable mention. 
Her faculty mentor is Dr. Jason Azoulay and her research emphasis is on conjugated polymer-based fluorescent sensors for the detection of contaminants in seawater.
"The Goldwater Scholarship is positive confirmation of the choices I have made in my undergraduate career," Crater said. "Often, I wondered how many late nights studying would pay off. Knowing that people across the nation value my work and see my potential as a scientist motivates me to continue challenging myself."
The West Jones graduate is the daughter of Bart and Angie Crater.
Other Goldwater scholars from USM were Michael Sandoz of Long Beach and Clara Ellis of Hattiesburg.
From an estimated pool of more than 5,000 college sophomores and juniors, 1,223 natural science, engineering and mathematics students were nominated by 443 academic institutions to compete for the 2019 Goldwater scholarships. A total of 493 scholarships were awarded this year.
"We are extremely proud of our students who have been recognized in many nationally competitive scholarship programs, and it is especially exciting to have three prestigious Goldwater Scholars in one year," said Dr. Kate Howard, dean of Admissions at USM. 
To see the complete list of 2019 Goldwater Scholarship winners, visit: goldwater.scholarsapply.org/2019-goldwater-scholars-by-institution-state/