County residents keep water fountains, approve medical marijuana; local judges' race going to runoff
Jones Countians voting in the 2020 general election Tuesday favored medical marijuana, set up a runoff between justice court judge candidates and kept a pair of water fountains at the courthouse.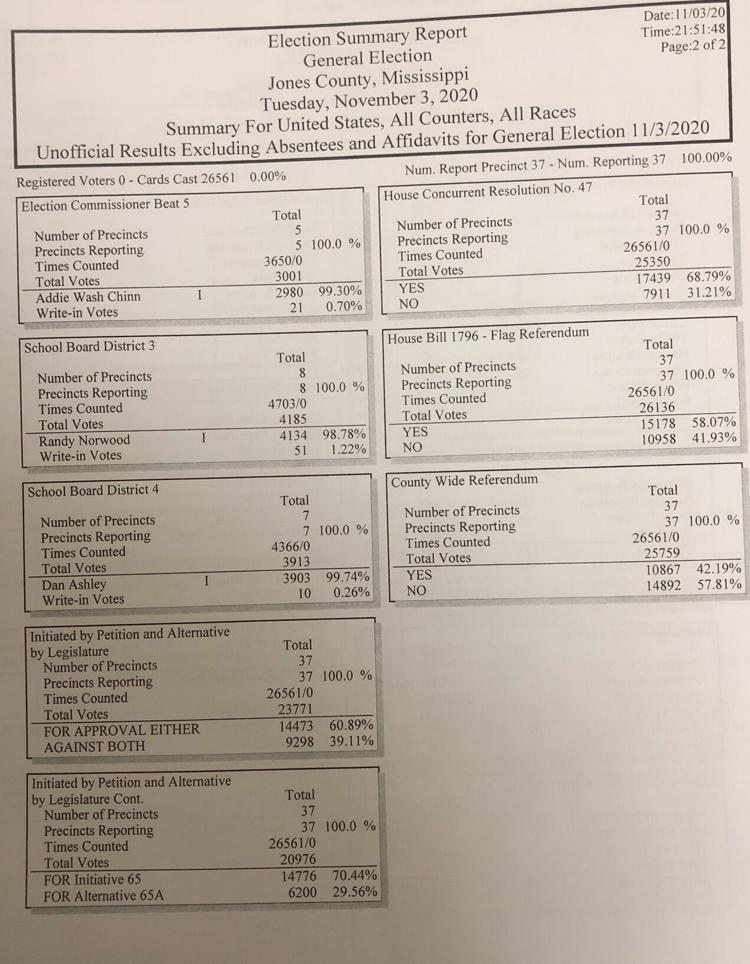 Incumbent Judge Noel Rogers will square off against former Mississippi Highway Patrolman Sonny Saul on Nov. 24 after neither garnered 50 percent of the vote. The race saw a sharp turnaround from 8 p.m. to 8:30, as Marian Allen took a strong lead at first call with 47 percent of the vote. By second call half an hour later, her share fell to 26.8 percent of the vote while Rogers skirted past with 27.4. Unofficial results at the end of the night showed Saul and Rogers at 35.6 and 29 percent — 2,615 votes versus 2,131.
The medical marijuana Initiative 65 held a 74 percent share of Mississippi's votes Tuesday night, reflective of Jones Countians' 70 percent vote in its favor. The measure, as opposed to Initiative 65A, will give the Mississippi State Department of Health full control over the medical marijuana program. That control would have gone to the Legislature had the other measure passed. Just under 40 percent of Jones County voters opposed both measures.
In the most local issue, the county voted to keep a pair of once-segregated, non-functional water fountains outside the Jones County Courthouse in Ellisville with 58 percent in favor to 42 percent opposed. The fountains have the words "colored" and "white" engraved on them, but those engravings have been covered by placards for years. The issue sprang up earlier this year during a national push to remove historic statues and markers because they symbolize racism and segregation to some.
As the U.S. awaited results for the presidential election Wednesday morning, Jones County voters had made up their mind, with Republican President Donald Trump taking 72 percent of the vote over Democrat Joe Biden's 26. Statewide, Trump took 60 percent of the vote after taking 57 percent against Hillary Clinton in 2016.
Mississippi also voted Republican for Senate; Cindy Hyde-Smith took 67 percent of the vote in Jones County and 56 percent statewide. Mike Espy secured 30 percent here and 42 percent statewide.
Jones County had about 4,000 outstanding mail-in ballots that needed counting at the end of the night, as well as a box full of affidavit ballots, said Circuit Clerk Concetta Brooks. Voter turnout for this election may have been record-setting for our area between mail-ins and poll voters, she said.
"Two precincts were hitting 65 percent of their voter roll at 5 and 6 p.m.," Brooks said. "The marijuana issue was a draw, as was everything going on at the White House."
Some things have noticeably changed from the 2016 election — namely the turnout of young voters, many of whom submitted absentee ballots.
"I can attest that it was a lot of young people," Brooks said. "I feel like the 18- to 35-year-old group is seeing an increase in voters. On another note, though, a lot of older people (60 and over) registered to vote for the first time.
"The bottom line to that is, it's great that young people are becoming interested in the process. The next four years will be defining for America."
Brooks' office didn't encounter any notable problems while counting ballots. But leading up to the election, it received a lot of calls and visits from voters asking what the medical marijuana initiatives even mean — for the past year, the dueling measures have grown notorious for the confusing way they appear on ballots.
"An attorney came in and even he was confused," Brooks said. "If it's confusing for someone familiar with law, then imagine what this is like for the average voter."
Steven Palazzo ran uncontested for 4th Congressional District. Other uncontested races included Mike Randolph for Supreme Court, Gail Harrison Welch for Beat 1 election commissioner, Marilyn Graves Huff for Beat 2 election commissioner, Helen Blackledge Stanley for Beat 3 election commissioner, Ken Reynolds for Beat 4 election commissioner and Addie Wash Chinn for Beat 5. Randy Norwood and Dan Ashley ran uncontested for Jones County School Board seats.
These results are unofficial. They'll be certified in a few days after all ballots are accounted for.