MEADVILLE — Testimony on Wednesday afternoon ranged from family members to gun experts.
Scott Sinclair, whose only child Katherine, 23, suffered a fatal gunshot wound in 38-year-old boyfriend Greg Burroughs' garage on the night of June 1, 2017, testified that he and her mother divorced in 2000 and Katherine came to live with him through her teen years.
"She got a speeding ticket for doing 102 mph" when she was 16, and he took her vehicle away, he testified. Katherine responded by taking 10 Advil, and he and her mother took her to the emergency room "just to be on the safe side," he said. The ER physician said she would be OK, but listed the reason for the visit as "intentional overdose."
In the days before her death, Sinclair and his daughter had gotten into a couple of arguments, he testified.
"It was about her going on with her life, getting out of my wallet," he told Assistant District Attorney Kristen Martin.
On Memorial Day weekend, days before her death, she was at the Lake Eddins house her dad let her live in while he was living with longtime girlfriend Dr. Christy Chard in Laurel. They were there along with Kyle and Stephanie Robertson — who is Scott Sinclair's sister — and Burroughs and Katherine came over for part of the weekend.
"She got upset … that I was going to be sleeping in her bed, and she wasn't even going to be staying there," Sinclair said. "It was just a temper-tantrum."
On cross examination, Burroughs' attorney Tracy Klein asked if it was common for Katherine to "overreact to minor things." 
Her father answered, "Yes."
Klein had documents showing him that she had not been enrolled at Meridian Community College the last two semesters, as she had told him, which "explains why she got angry" when you kept asking about her grades.
She sent a text "berating you as a father," Klein said, only days before her death that was discovered in the "phone dump" done by the Attorney General's Office. She said she wanted to see a therapist or a psychologist in a text that also said, "I'm 99 percent sure I have early signs of schizophrenia."
She made an appointment at Pine Grove Mental Health that was set for 1 p.m. on June 5, Sinclair said, and the reason listed on the form was: "No problems, family history of mental illness."
Martin asked if there was any mention of suicide on the form, and he said, "No."
Sinclair testified that his daughter was "very anxious, tense" when they were all together at the lake on the holiday weekend.
"She said she had anger issues," he said. "She always said that. It's just from being spoiled."
Chard also testified that she spoiled. "Very much so, by her dad," she said with a smile.
Chard, who is a pediatrician in Laurel, also described Katherine as "tense" over the holiday weekend. But when Martin asked if she had any indication of "suicide ideation"or "depression," Chard said she didn't. But when asked if she had anxiety or anger problems, she said, "Maybe."
Both Sinclair and Chard said they didn't notice any problems with Burroughs and Katherine that weekend. Both were working on pallet furniture, and everyone was drinking, fishing, "just having a good time," Chard said.
Sinclair testified that he gave his daughter the .380-caliber Ruger handgun that fired the fatal shot into her head that night. He gave it to her 11 days earlier, for her birthday, and got back his .357 that she had been carrying in the car with her.
Martin asked Sinclair if Burroughs had ever said giving her the gun was "a bad idea."
He testified, "No, he didn't tell me that. She already had a gun."
In earlier body-cam video, Burroughs tells Sgt. Mark Brewer of the LPD that he told her dad it was "a bad idea" to give her that gun.
Sinclair also testified that he didn't get a call from Burroughs about his daughter being shot, and he hasn't received a call since. Burroughs said that he was calling Robertson, instead of dialing 911 first, to get her father's number because she was dead.
Katherine was gasping for air when emergency officials arrived at his home, according to body-cam video and testimony from emergency officials who responded.
He said his sister called him and she and her husband picked him up at Chard's house and took him to South Central Regional Medical Center. When they went to Forrest General later, a doctor "told us it may not be suicide," Sinclair testified.
When told she would not recover from her injuries, Sinclair and Katherine's mother, Madeline Herrington, made the decision to donate her organs, so she was kept on life support unto the next day.
Sinclair said his life has changed "drastically" since his daughter's death. "There are days of sadness, sometimes depression."
When he asked if he approved of his daughter's relationship with Burroughs, Sinclair said, "I wasn't thrilled with it because of the age difference, but she's 23, what could I do?"
Kyle Robertson also testified, saying he had a missed call from Burroughs then got another one a few minutes later, just before 9 p.m. on the night of the shooting.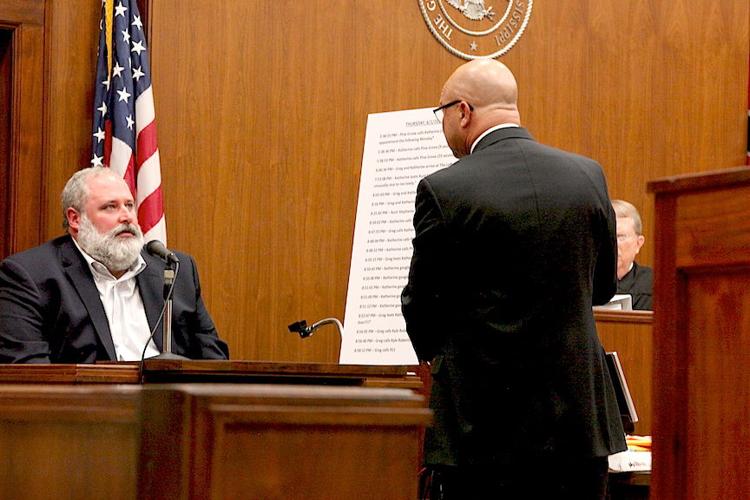 "He said, 'Kyle, I need you to get over here, Katherine's shot herself in the head and she's dead in my garage," Robertson told Buckley.
Robertson told Klein that he "saw no volatility" between the two at the lake house the previous weekend.
Three expert witnesses then testified — one from the Attorney General's Office who did the "phone dump" and two from the state crime lab who did firearms-related testing.
Charles Rubisoff testified that he got all the data — including that which had been deleted — from two cellphones, an iPad and a laptop that had belonged to Burroughs and Katherine Sinclair.
Klein asked if the data could have been retrieved without getting the device's code, and when Rubisoff said it couldn't, he noted that his client "voluntarily" gave his code to investigators.
A forensics firearms expert confirmed that the .380 Ruger was the weapon that fired the fatal shot, and trace evidence expert Jacob Burchfield testified about the results of gunshot residue tests.
He testified that Sinclair had residue on the back and front of her left and right hand, and Burroughs was positive for residue on both sides of his left hand and the back of his right had but not his right palm.
Everyone within "2 or 3 feet" would get gunshot residue on them if it were fired in a small, enclosed space, Burchfield said. Burroughs told officers he was standing at the door going into his garage when the gun was fired. But the expert did point out that residue can be picked up "like pollen" by people who touch an area where a gun was just fired.
Burchfield told Assistant District Attorney Dennis Bisnette that the lab's test "just tests for the presence, not quantity" of gun residue. 
But when Klein cross-examined him, he asked if the person who fired a weapon would have more residue, Burchfield said yes and said Katherine's test "had more."
Bisnette noted the discrepancy during redirect testimony.
The trial was expected to resume on Thursday morning with Lt. Shannon Caraway and Investigator Michael Reaves of the Laurel Police Department set to testify.