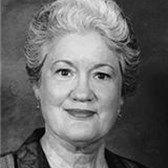 Graveside services for Annie Doris Chandler Parish were on Wednesday at Highland Cemetery in Hattiesburg. Rev. Mark Ferguson officiated.
Doris was born on Jan. 19, 1932 in Laurel and died on Dec. 28, 2018 at Haven Hospice in Lake City, Fla.
Doris graduated from George S. Gardiner High School in Laurel in 1950. She worked as a bookkeeper for ConvaRest Nursing Homes and The Hattiesburg American newspaper. She then owned and operated Mini Blinds and More. She was a faithful servant to her savior at Highland Park Baptist Church.
She was preceded in death by her husband James Arnold Parish; parents William Lawrence and Tempie Key Chandler; brother Charles Chandler; niece Elizabeth Chandler Atkinson; brothers-in-law Elton Bryan, Rev. Alvin Parish and Bruce Blackledge.
She is survived by her son Roger S. (Suzanne) Parish, daughter Twila D. Parish, grandchildren Chandler Keith and Melina Reece Parish and the grandchildren's mother Michele Parish, all of Lake City, Fla.; sister Betty Bryan of Memphis; and her four-legged companion of 16 years Cupid. Other survivors are sisters-in-law Bonnie Shepherd Chandler and Mary Ann Parish Blackledge, both of Laurel, and Janet Parish Shook of Baton Rouge, La.; nieces Ann Marie (Tony) Hosey and Becky (Tim) Powell, all of Laurel, Linda Parish Robert of Tyler, Texas, and Stacey (Doug) James of Laurel; nephews Tony (Tawana) Trigg of Memphis, Billy (Kellie) Chandler, Mike (Kari) Chandler, Chris (Tonya) Blackledge, all of Laurel, Paul (Shirley) Parish of Baton Rouge and Latheal (Janet) Parish of Houston, Texas.
Dees-Parrish Funeral Family Funeral Home in Lake City, Fla., was in charge of arrangements.