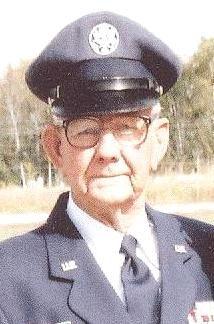 Charles Wesley Allred, 91, of Laurel went to be with the Lord, Friday, Jan. 4, 2019, at his residence in Laurel. He was born Tuesday, April 26, 1927 in Clinton.
Visitation was Sunday at the Ellisville Funeral Home in Ellisville. Funeral services will be Monday, Jan. 7, at 11 a.m. at Ellisville Funeral Home and the burial will follow in Myrick Cemetery. Rev. Eddie Parker and Rev. Danny Stringer will officiate. Ellisville Funeral Home is in charge of arrangements. 
He is survived by his cherished wife Mary Maxine West Allred of 71 years; his brother Rev. Lewis Allred (Mary) of Laurel; his sons Robert Allred (Angela) of Laurel, Al Allred (Sherlene) of Savannah and Mark Allred (Rebecca) of Laurel; his grandchildren Brett Allred (Jennifer) of Laurel, Melissa Allred Todd (Jason) of Laurel, Matthew Allred of Jacksonville, Fla., and Devon Allred of Laurel; his great-grandchildren Zach Koenigsberger, Cole Koenigsberger and Emma Todd; and a host of nieces and nephews as well as great nieces and nephews.
He was preceded in death by his parents Rev. William and Dora Allred; sisters Esther Weathersby (Roy), Ruby Nell Howard (Chester) and Addie Ruth Strickland (Lavelle); brothers James Allred (Marian), Henry Allred (Juanita), Sgt. John Allred of the U.S. Marines and Ray Allred (Earlene); and sister-in-law, Sybil Allred.

He began his 25-year military career as a 17-year-old petty officer in the Navy during World War II. In the Korean War, he was a 19-year-old sergeant in the Army and during the Vietnam War, he was a 25-year-old senior master sergeant in the Air Force. During his career, he was awarded the Army and Air Force Commendation Medals and was awarded a total of five Good Conduct Medals from the Air Force. 
On Sept. 1, 1966, he retired from the Air Force and moved back to Myrick, where he and his wife formed Allred Farms during that same year. After his military retirement, he worked as a Transportation Manager for Bush Dairy. In 1978, he began work at Southland Oil as a computer operator in the Dispatching Department. After 14 years with Southland Oil, he retired in 1992 to serve full time as president of Allred Farms, Inc.  After his retirement from the Air Force, he graduated from Jones County Junior College with his Associate's Degree. 
He accepted Christ as his Savior at the age of 13 at Myrick Baptist Church, where his father W.W. Allred served as pastor for 31 years. During his military service, he was awarded an Appreciation Certificate from the General Commission on Chaplains and Armed Forces Personnel in recognition of his devoted services rendered to the protestant religious programs and activities with the 6100th Air Base Wing in Japan. He served in church leadership roles at Myrick Baptist Church, Freedom Baptist Church, and was a charter member of Pineview Baptist Church.
Pallbearers will be Arthur Ray Allred, Brett Allred, Don West, Todd Sullivan, Michael McDonald, and Joe Flick.
In lieu of flowers, memorials may be made to Pineview Baptist Church Building Fund, 291 Magnolia Road, Laurel, MS 39443, or to a charity of your choice.     
Online guestbook may be signed at www.ellisvillefuneralhome.com.