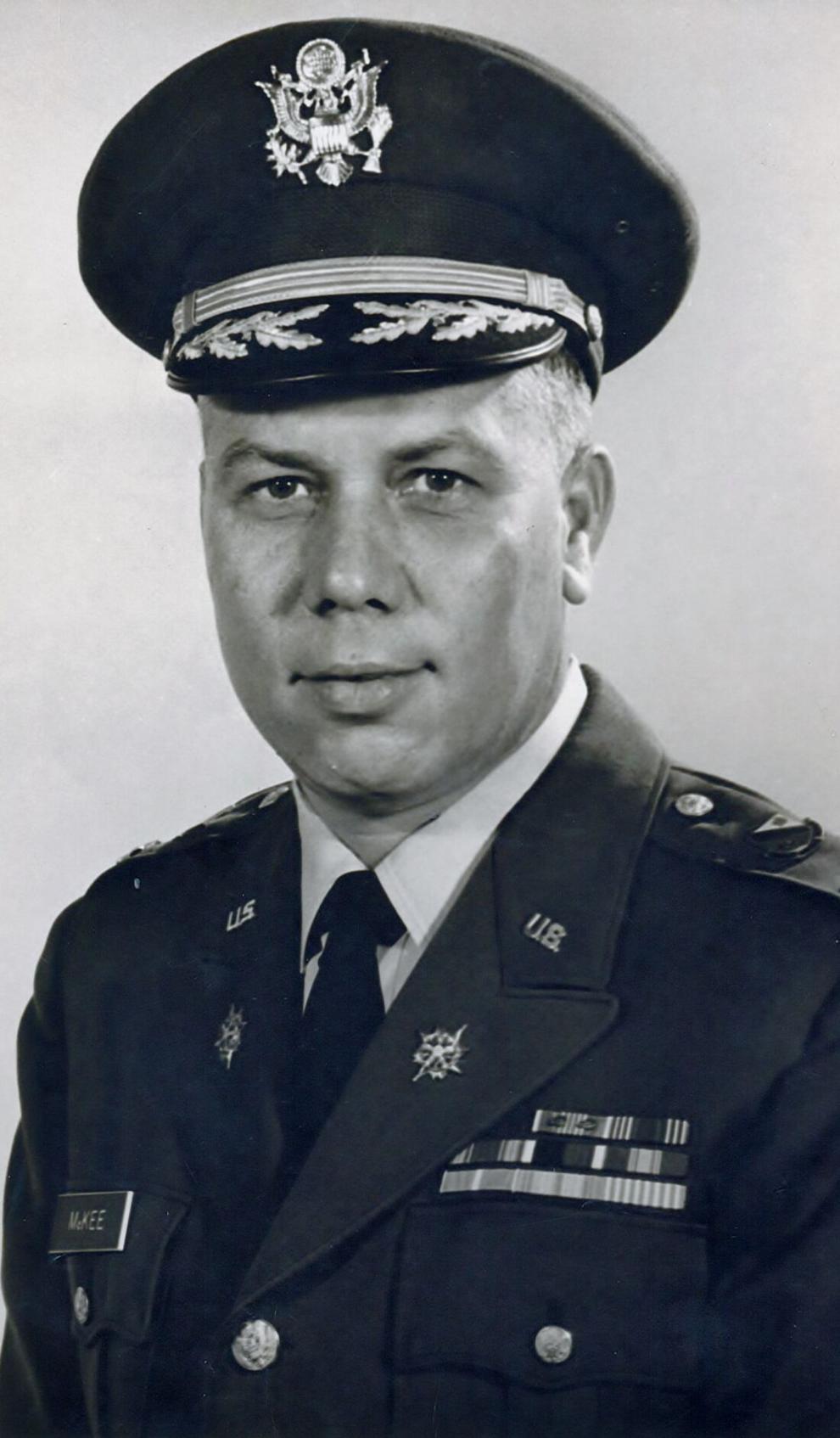 Dewey Eugene McKee went to be with his Lord and Savior on Monday, Sept. 13, 2021 after a rewarding and well-lived life of 93 years. He was born in Wayne County on Feb. 28, 1928.
McKee grew up in Wayne County and attended Davis School through the eighth grade and graduated top of his class in 1945 from Beat Four High School. Growing up, he worked on the family farm in the Yellow Creek Community of Wayne County. Following graduation, McKee worked for Maritime Shipyard in Mobile and the Merchant Seaman and was also a quartermaster on a tanker sailing the seas of the world. Then on June 11, 1946, he enlisted in the regular Army at Camp Shelby.
He undertook a 22-year career that ended on Aug. 31, 1968, at the age of 40 as a lieutenant colonel. During his first four years in the service, he was promoted to the highest enlisted grade of master sergeant and one year later was promoted to the grade of second lieutenant and was commissioned an officer on Dec. 5, 1951. During his Army career McKee was stationed in Kokura, Japan; Camp Chaffee, Ark.; Fort McPherson, Ga.; Key Field, Mississippi; Columbia, S.C.; Fort Holabird, Md.; Sasebo, Korea; Fort Benjamin Harrison, Ind.; Fort Leavenworth, Kan.; Presidio of Monterey, Calif.; and headquartered in Europe and Seventh Army in Stuttgart and Heidelberg, Germany. His many decorations include Army of Occupation Medal (Japan), Army Commendation Medal with third Oak Leaf Cluster, Good Conduct Medal, Korean Service Medal, United Nations Service Medal, National Defense Service Medal and World War II Victory Medal. While in the service, McKee graduated from the University of Southern Mississippi in 1962 under the Army's Boot Strap Program. He later attained a master's degree from USM in educational leadership.
In 1968 McKee returned home to the Whistler Community of Wayne County to begin a 23-year education career in the Wayne County schools. He was a history teacher and assistant principal at Beat Four High School for 12 years before being hired as principal at Waynesboro Junior High from 1980-87. In 1987, he was elected superintendent of education of the Wayne County Schools until his retirement from education in 1992. He also served on the Jones County Junior College Board of Trustees while superintendent.
After his retirement, McKee remained active in the community by helping fellow veterans and neighbors, as well as serving as the secretary of the Retired Military Officers Association in Laurel. He also was active in the Wayne County Genealogy and Waynesboro-Wayne County Library.
He was a member and deacon of West Shady Grove Baptist Church for 53 years.
McKee was preceded in death by his parents Grover McKee and Eula Elliott McKee; son Donald Eugene McKee; brother Leroy McKee; and a great-granddaughter Haylee McKee.
He is survived by his wife of 71 years Gladys Pitts McKee; his son Dale McKee (Teresa); his daughters Dr. Suzanne McKee-Waddell (Jerry), Jana McKee Pitts (Daryl) and Lara McKee, all of Waynesboro; grandchildren Whitney Bounds (Adam) of Hattiesburg, Derek McKee (Merry) of McKinney, Texas, Brett McKee (Katy) of San Diego, Margaret Pitts of Oxford and Mallory Pitts of Starkville; and great-grandchildren Wilkes and Baylor Bounds of Hattiesburg and Kenley and Cayson McKee of McKinney, Texas.
Visitation for Mr. McKee will be from 5-8 p.m. Thursday, Sept. 16, at Freeman Funeral Home at 1305 Skyland Drive in Waynesboro, then at West Shady Grove Baptist Church in the Whistler Community from 10-11 a.m. Friday. Funeral services will be held at 11 a.m. Friday at the church with burial to follow in West Shady Grove Baptist Church Cemetery. Brother Mitchell Smith, Brother Steve Smith and Dr. Steve Smith will be officiating the service. The family kindly requests social distancing and masks.
Pallbearers will be Keith Clay, Michael McKee, Dale McMichael, Rusty Pitts, Donald Sellers and Bill Taylor. Honorary pallbearers are Derek McKee, Brett McKee, Marty McKee and Adam Bounds.
Memorials may be made to West Shady Grove Church Cemetery Fund or the Waynesboro-Wayne County Library.