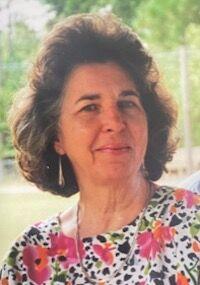 Ellen Sanderson, 83, of Ellisville passed away Wednesday, Jan. 12, 2022 at South Central Regional Medical Center in Laurel. She was born Saturday, Jan.7, 1939 in Ellisville.
Visitation will be Saturday, Jan. 15, from 9:30-11 a.m. at Ellisville Funeral Home in Ellisville. Funeral services will follow at 11 a.m. Burial will be in Pilgrims Rest Cemetery. Brother Randy Cook will officiate. Ellisville Funeral Home is in charge of arrangements.
Ellen was a founding member of the "Mad Hatters" club in honor of her sister Jan Cooley. She was a giving person who often grew out her hair to donate to "Locks of Love." Ellen was also honored by the Mississippi extension service as Homemaker Club woman of the year in 1985. Ellen loved her family and will be greatly missed by all her knew her.
She was preceded in death by her husband of 58 years T.R. Sanderson Jr.; her parents Fred and Dona Watson; her brother Fred H. Watson; and her sisters Frankie Kuper, Jan Cooley and Stellia McDonnieal.
Survivors include her daughter Sheila Bradley (Bo) of Brighton, Colo.; her son Allen Sanderson of San Jose, Calif.; her granddaughter Brittany Bennett (Casey) of Savannah, Tenn.; her great-grandsons Aaron Wright, Dylan Wright, Tanner Wright and Cody Bennett; her great-granddaughter Leila Wright; and her sister Woodie Kilpatrick.
Pallbearers will be Aaron Wright, Dylan Wright, Randy Cooley, Gary Parker, Ryan Starnes and Casey Bennett.
Honorary pallbearers will be Tanner Wright and Cody Bennett.     
The family thanks her friends Sheila Reid and Krisha Yelverton for their comfort and care during the last few months.
An online guestbook may be signed at www.ellisvillefuneralhome.com.