Laura Marie Whittington, born in Laurel on March 16, 1955, passed away on Monday, June 29, 2020 at her residence at the age of 65.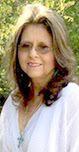 Mrs. Whittington was a nurse practitioner and loved being outdoors, gardening and her dogs.
She was preceded in death by her father Clint Maxey. 
Those left to treasure her memory include her mother Retta Maxey; husband of 32 years Terry Whittington; son Tyler Whittington (Whitney); brothers Bo Maxey and Mitchell Maxey; and sister Linda Todd.
To sign the online guestbook, visit www.memorychapellaurel.com.