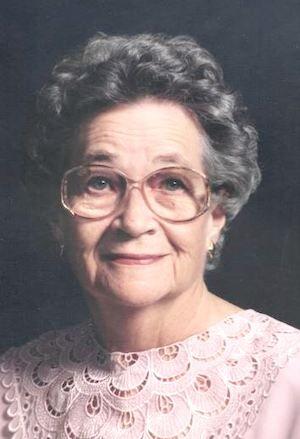 Mary Ophelia McCoy Ingram of Soso passed away Nov. 17, 2020 at Jones County Rest Home. She lived to the incredible age of 99. She was known affectionately as "Mac" or "Aunt Mac" to her many friends and relatives.
Visitation will be Monday, Nov. 23, at 10:30 a.m. at Union Line Cemetery near Soso. Interment will follow the visitation at 11 a.m. with Rev. P.J. Weeks officiating. Memory Chapel of Laurel is in charge of the arrangements.
Ophelia was born April 2, 1921, in Prentiss County. She graduated from Booneville High School in 1939 and boldly left the family farm riding a bus to Jones County to begin her education in nursing. She received her registered nursing degree from South Mississippi Charity Hospital School of Nursing in 1943. After many years in general duty and private nursing at various hospitals in Jones County, Ophelia retired in 1986 while serving as the college nurse at Jones County Junior College. She was an active member of Soso First Baptist Church where she helped to establish the church library. She was a volunteer with the Hospice Program at South Central Regional Medical Center, retired Senior Volunteer Program, and the American Association of Retired Persons. She was a longtime member of Eastern Star in both Soso and Laurel, and served twice as Worthy Matron. Ophelia doted on her grandchildren and also enjoyed sewing and quilting.
She was preceded in death by her parents Joel William McCoy and Keziah Clementine Goddard McCoy; by her husband of 47 years Leonard L. Ingram Sr.; and by siblings Lavona Warene McCoy, Pauline Rinehart, Orena Reynolds, John Thomas McCoy and Billy McCoy.
Survivors include her sons Leonard L. Ingram Jr., and his wife Reba, Jim Ingram and his wife Debra, and daughter Helen Ingram Lott; grandchildren Leonard L. Ingram III and Rhonda Lott; and many nieces and nephews.
Pallbearers will be Milton Gandy, Stanley Jefcoat, Mike Mauldin, George Gavin, Steven Jefcoat and Mike Smith.
Memorials may be made to the building/restoration fund at Soso First Baptist Church.
To sign the online guestbook, visit www.memorychapellaurel.com.