Editor's note: Dr. Rhonda Smith has written occasional columns for the Leader-Call over the past two years. We are pleased to welcome her as a regular contributor. Her columns will appear every other Tuesday on Page A4.
Last weekend was supposed to be such a treat for me. If you know me at all, then you understand my obsession with the sport of NASCAR. I was invited to an all-expenses-paid weekend at the Las Vegas Motor Speedway to watch my favorite driver compete in the first race of the 2019 playoff season. I was so excited and couldn't wait to get there on Thursday!  
We had the entire weekend planned out perfectly. I would arrive on Thursday, go to a Cirque du Soleil show at the Mirage and then be at the racetrack all day Friday and watch the truck race that night. Saturday was scheduled for more fun at the track following my friends around all day on Pit Road, helping with driver interviews and meeting as many drivers and crew as I could handle. Then Sunday was the big day, the first Monster Cup Playoff race of the season. I was so pumped and ready!
Wednesday morning, I knew I would pack when I got home from work and then try to sleep. (I was too excited to sleep!)  What dreaded horror I felt that next morning when I woke up and felt the tiny little razorblades that were invading the inside of my throat!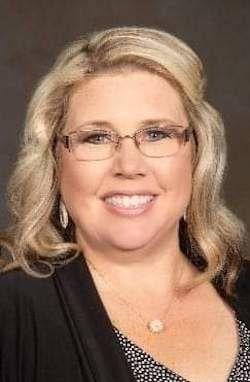 "No way, I can't be sick now," I told myself as I tried to will away the tenderness and pain as the tears welled up in my eyes, for I knew what was coming. I boarded the plane in New Orleans anyway and set out on my weekend adventure. As the plane descended into Las Vegas, those tiny razorblades suddenly turned into miniature ice picks being stabbed into my eardrums. Suddenly I couldn't hear anything around me and felt as if I had been pushed underwater as I struggled to hear the thousands of conversations going on in the airport around me.  Might as well accept it, Rhonda, you are sick.  
As the next day rolled around, so was my swimming head. Sinus congestion and pressure was all I could feel. If you have ever been to Las Vegas, then you know about the heat. It is hot here in Mississippi, but Vegas is on a different level. They say, "it's a dry heat." I say it's like standing directly under a thousand-degree heat lamp with no way to escape. 
It feels even worse when you are sick. But, being the NASCAR junkie that I am, I endured it all (and gladly) and made it to the end of the night without dying. The later it got, the worse I felt, and I knew that I had overdone it that day. I got virtually no sleep Friday night and used an entire box of cheap hotel Kleenex (off-brand, of course) with all of my sneezing and runny nose. 
And here comes the disappointment: I opened my eyes on Saturday morning to a horrible realization — I was alone in my hotel room and no one had awakened me to go to the track. 
My friends knew how sick I was and left me sleeping, hoping that I would get some rest and feel better. Ugh, the pit of my stomach hurt as I thought about everything that I would miss that day. The sound of engines roaring, the smell of racing fuel, the drivers wandering around just waiting for me to introduce myself! At that moment, all I heard was the silent bubbling of pressure in my ears, and I could smell absolutely nothing! I began to feel sorry for myself because my body had failed me, but the crying only made me feel worse. Here I was in Las Vegas for the chance of a lifetime and I must spend it in this stupid hotel room in the middle of the hot desert by myself! Woe is me! I was pretty pathetic.
After about 15 minutes of this self-indulgent pity party, I realized that I had a choice to make — I could lay there and wallow in my sorrow and disappointment or I could get up and do something about it. I jumped online and found an urgent care clinic 2.2 miles from the hotel. Then I called for an Uber! Two-hundred seven dollars, a shot in the butt, a trip to CVS and two hours later, I was back at my hotel staring at the four walls around me hoping to feel better. Now what? I could invite myself back to that pity party and be miserable all day or I could make a different choice.  
You see, choices are about being intentional — intending to do something on purpose. What I decided to do that Saturday was to purposely focus on the many blessings I have been given, not on what had been taken away. 
I opened the curtains in that room and was delighted to see the orange bursts of the mountains of Nevada that surrounded my hotel. The sky was a perfect blue and I had the coolest view of the city in the distance. I could hear families laughing in the pool below and I watched as they showed love to one another as they played. I smiled as I found the remote control, tuned to NBC Sports and watched the coverage of Saturday's race in the coolness of my hotel room. I was blessed.
Disappointments come in many forms. You may be sad that you didn't get that job you were hoping for, or that certain guy didn't ask you out. You may be angry because someone talked about you behind your back and you react with fury and venom, only making the situation worse, hurting others in the process. 
One thing we know for sure is that we will all be disappointed by something, but how we choose to deal with it will make all the difference in the world. Choose wisely! You may just end up in Victory Lane, just like I did on Sunday!
Dr. Rhonda Smith is a Licensed Clinical Social Worker at South Central Regional Medical Center. Email her at rsmith@scrmc.com.