I have a lot of photos of people yelling at each other. Well, who doesn't, right?
I look back on a lot of those times and find them irritating — they usually involved people who needed distance from their situation, which helps with perspective. They didn't know that at the time. All they could think to do in those moments was verbally abuse the person in front of them. I think it's funny that the guy with a camera tends to be collateral, because all he's doing is his job. (Come on, folks! I'm not even invested in your personal politics and/or drama!)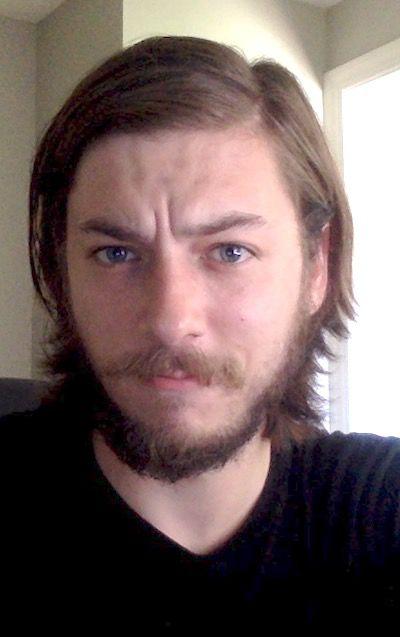 To the point. I hated winter in Minnesota. The first cold breaths of fall would roll through Minneapolis, and the world would shed its summer patina. Snow and ice stayed on the ground until deep into the next year.
I had some Californian friends there who made winter bearable and whom I still cherish. Most weekends we'd hang out in the alley behind the apartment building and drink until we couldn't. Though I'm a private and introverted person, I've realized over the years that life is not the same without being near people who care. I tried to take a lot of photos when I was with them, because I knew I was going to set sail back toward Mississippi at some point.
Here's a photo of those friends at a bar we liked.
For the uninitiated, portraits are a good chance to get close to the subject, where you can capture hints of their personality, the lines in their face, their reaction to the camera or whatever is happening. A decent picture can be made either candidly or catching them off guard, as opposed to asking them to stand there and smile.
I encourage one and all to put this to practice, once we're all no longer distancing ourselves socially. A mentor of mine told me 50mm lenses are boring. That's, like, your opinion, man. Just kidding, Chuck, but not really. I think a 50mm lens is the perfect route for creating those warm photos of the good times, whenever the good times may continue. 
The 50mm is a highly functional lens in low-light situations with its aperture of f/1.4 or f/1.8, so I even break it out for news coverage sometimes. Moreover, it's inexpensive at $200 for Nikkor's 1.8.
In the photo you see, I used an f/1.4. See, the aperture on your lens can be adjusted with the f-stop value, which in this case is f.1.4. The low value means the aperture is wide open; a high f-stop value, like f/22, means the aperture is pinhole tight. You can already guess that the f-stop is one of three major variables for exposing the image, along with shutter speed and ISO. A wide f-stop like f/1.4 or f/1.8 blurs backgrounds and draws the eyes right to the subject — resultingly, the photographer will want to be close to subjects, as the background isn't going to do them many favors. The wide aperture does, however, produce a bokeh effect in the background: that's what you call those blurry, flared-out lights that portrait photographers like so much.
The iPhone X and 11 — are those the latest ones? — have given photographers a lot of grief the past couple of years. Everyone swears by its photography capabilities. I know this might stir up a hive of controversy, disrupt the social fabric of our community and potentially shut this newspaper down, but I'm here to tell you that you're better off with a classic DSLR of the Canon or Nikon variety. (Riots everywhere. Here we go.)
Well, at this point phone cameras are so good that the difference between the two in some cases is unnoticeable to the layman. Aside from the fact that DSLR photos are going to look 200 percent better when printed out or enlarged, phones' "portrait" lenses and their other doodads will never replicate the image fidelity, warmth, organic feel or vibrant look of a photo taken with a true camera. Emphasis on the word "replicate," as the iPhone camera is a simulacrum of what a camera can really do. Yeah, the phone has nighttime mode.
I recommend Nikon. Nikon's starter kits, which include a camera body and kit lens, will run you between $300 and $400. If you have nothing better to spend your extra cash on, it will be a valuable investment.