WJ's Young, LHS' Cross set for national game at noon on NBC
From Andrew Luck to Odell Beckham Jr. to Tim Tebow, no high school all-star game is more coveted to be selected to than this one, which will be played today (Saturday) at noon and broadcast live on NBC.
Two of those players suiting up today — the only two from Mississippi among the 100 selected to play — will carry the mantel for Jones County.
Laurel's Charles Cross, a star offensive lineman who has signed with Mississippi State, will wear No. 75 for the East squad. Byron Young, a University of Alabama commit, will wear No. 47 for the East team.
"He's the first young man from Laurel High School ever selected for this honor," Laurel head coach Todd Breland said in October during a ceremony where Cross received his All-America jersey. "He will be a representative of the football program, the school and the community. He's going to make the entire community very, very proud. I'm proud of him for what he's accomplished and what he's going to accomplish."
Cross was lauded for his work in the classroom and community, as well as on the football field. He has a 3.6 grade-point average and he's a member of the Key Club, said Mike Boyd, who is marketing director for the All-American Bowl.
"He's a mentor for children in elementary school," Boyd said, and he serves as a "role model" and "example of what you can achieve if you work hard."
Young is a four-star recruit and rated by several recruiting agencies as a Top 10 recruit in Mississippi. He helped lead West Jones to its first appearance in the state high school football championship game.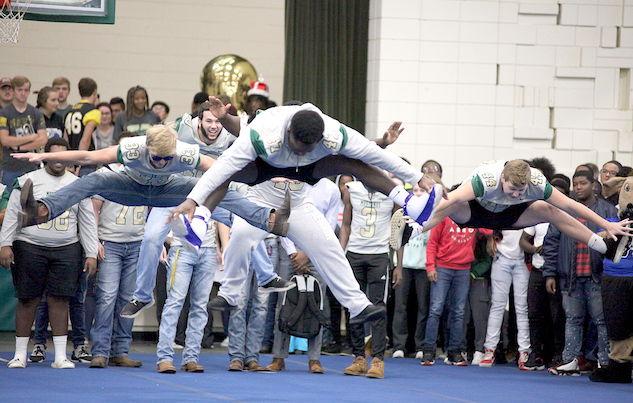 "He has a 3.25 GPA and a 21 on the ACT," coach Scott Pierson told the students and media gathered at the assembly. "He's accomplished this with hard work and dedication in the classroom and on the football field."
On the football field, he was a dominating presence with 125 tackles, 29 1/2 tackles for loss and 17 1/2 sacks.
Playing in the All-America Bowl in San Antonio — previously known as the Under Armor Bowl — "has always been a dream," Young said. "I'm trying to make it to the NFL, so I can come back and help my community and take care of my parents and pay them back."