Dickerson shuts down PRC in South State series opener
Adam Bassett hit a three-run homer, Walker Thompson hit a two-run homer and Kris Riley hit a solo shot as the Blond Bombers of West Jones pounded Pearl River Central, 8-1, in Game 1 of the Class 5A South State championship series.
The Mustangs (26-5) are one win from playing for the state title. Game 2 against the Blue Devils (23-12) was postponed by rain Thursday and rescheduled for Friday in Carriere. The opening game was Wednesday in Soso, a day ahead of schedule, because of predicted stormy weather.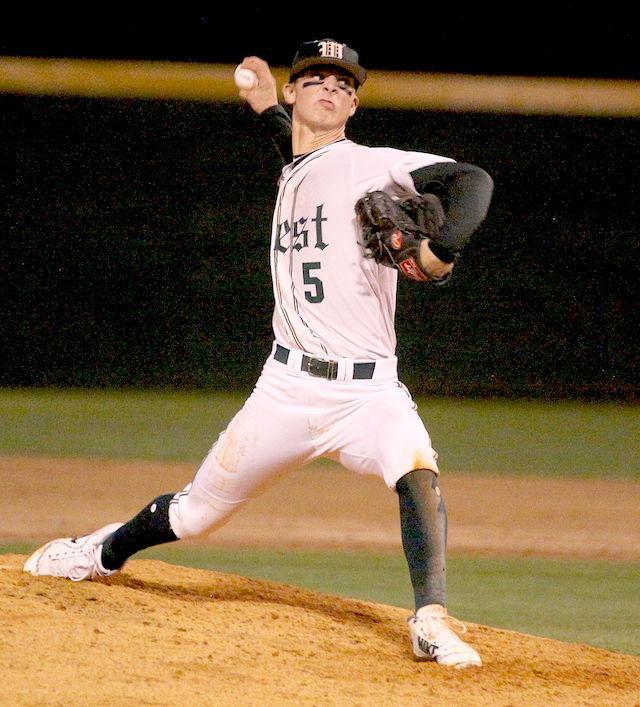 The West Jones bats thundered and Dustin Dickerson brought the lightning from the mound.
The Southern Miss signee struck out 12, walked two and scattered five hits in the complete-game win. He whiffed 10 of the last 12 PRC batters, including Ole Miss signee Hayden Dunhurst, who drove in his team's only run.
Dunhurst, who is predicted to be picked in the fourth or fifth round of the Major League Baseball draft, is among the nation's leaders in walks with 46, most of them intentional. West Harrison put him on base four times in one game in an earlier playoff series. But the Mustangs made a statement by pitching to him with two runners on base and two outs in the second inning.
"I told Coach I wanted to go after him," Dickerson said. "My defense behind me gives me a lot of confidence … It's awesome pitching with that kind of offense, too."
That defense only had to make plays twice over the final four innings. With a slider and a curveball that "were working well," Dickerson left several good hitters swinging at least a foot above the ball when it crossed the plate.
"In the third or fourth inning, he settled in and really threw the ball well," WJ coach Trey Sutton said. 
Asked about the decision to pitch to PRC's star in the second inning, Sutton said, "Dunhurst is one of the best players in the state, but Dustin is a great player, too, and we have a lot of confidence in him."
The first two innings were a little shaky. Dunhurst drew a walk to start the game and Mason Treat followed with an infield single. But Dickerson coaxed a flyout to left and fanned the next two batters to get out of the inning. 
Nolan Walther led off the second with a single, but Dickerson picked him off. Caleb Dyess delivered a single then PRC starter Austin Dean drew a walk to set the table for Dunhurst. He punched a blooper to short left field that got past a diving Riley to give PRC a 1-0 lead. But a baserunner slipped as he rounded toward home and third baseman Austin Moody scrambled to make a diving tag to get him out before he could get back to the bag, ending the inning.
After that, Dickerson was nearly perfect, facing one batter over the minimum.
The 'Stangs were swinging with maximum power, especially in the five-run sixth.
Riley, a Pearl River Community College signee, led off the bottom of the second with a line shot over the wall along the right-field line to tie it. It stayed that way until the fourth, when Bassett smashed a run-scoring single to left field after Cole Tolbert and Kelton Keene drew back-to-back two-out walks. 
Sutton opted to let Dickerson run for himself after he singled in the fifth inning instead of bringing in a courtesy runner, and that decision paid dividends, too. After Riley drew a walk with two outs, Dickerson scored from second on a wild pitch to make it 3-1.
After that, the batter's box became a launching pad for the Mustangs — aka "Blond Bombers" — who bleached their hair before beginning the postseason.
Tolbert led off with a single and Keene walked before Bassett ripped a shot right down the left-field line into a light pole to set off a celebration at the packed stadium. 
That gave the Mustangs a 6-1 lead and chased Dean, but when reliever Landen Droddy came in, it was more of the same. He walked No. 9 batter Logan Kelly and leadoff man Thompson sent the ball sailing over the wall in left-center.
Bassett was 2-for-2 with four RBIs and Dickerson was 2-for-4 for West, which had eight hits — three of them home runs. Every batter in the WJ lineup reached base at least once except Southwest Mississippi Community College signee Garrett McLaurin, but he hit the longest ball of the night — a rocket that was just outside of the left-field foul pole.
"We're just swinging it well," Sutton said. "Things have clicked the last couple of weeks. We need to keep bringing that kind of intensity."
Senior Cayleb Dyess went 3-for-4 with a double, two home runs and five RBIs and freshman Jackson Parker went 3-for-3 with a double, home run and two RBIs to lead Stringer (24-5) to a mercy-rule shortened victory in the first game of the Class 1A South State title series.
Jake Parker also had three hits, including a double, and had an RBI in the win.
Stringer was set to play at Hamilton on Friday night. 
• The Class 2A series between Taylorsville and St. Joseph Catholic was delayed by rain. Game 1 was scheduled for Friday at Taylorsville.