Pitchers shine as Mustangs prep for Picayune in 3rd round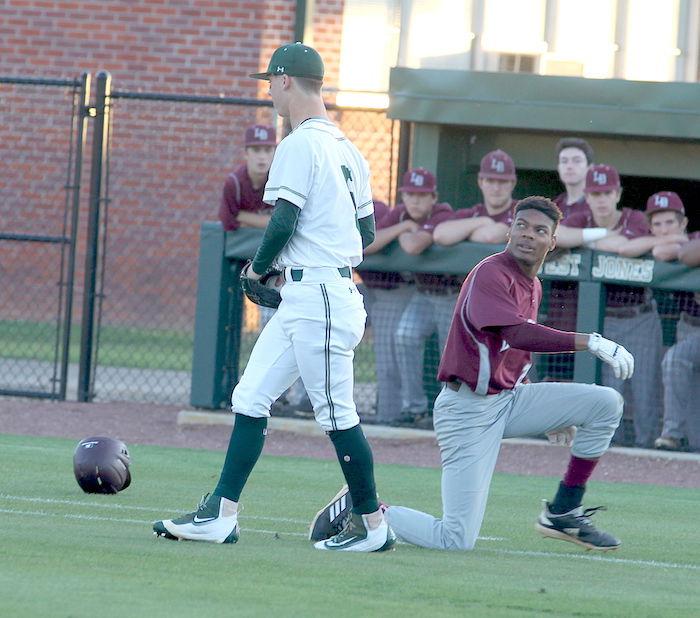 Sporting new 'dos, the Mustangs didn't get it done like they're used to doing. They took a lighter approach — kind of like the matching bleach-blond manes that were under their caps. 
But they are locks for the third round of the playoffs after shutting out Long Beach, 4-0 and 3-0, to advance, and that's all that mattered to West Jones coach Trey Sutton.
"I'm not overly pleased with how we were swinging it," Sutton said. "We can do better. But we found ways to get people across, and I'm proud of that."
The Mustangs (23-5) will face Picayune (17-9) in another best-of-3 series that starts Thursday at Picayune. Game 2 will be Friday at West Jones and if a third game is necessary, it would be Saturday at Picayune. All games start at 7 p.m.
Dustin Dickerson struck out 13 in a complete-game shutout and he delivered a pair of doubles — one up the first-base line and one up the third-base line for an RBI — in Friday's opener at Soso. 
It was the first action for the Mustangs (23-5) on the field in more than a week after they earned a first-round bye in the playoffs. They were outhit 6-5 by the Bearcats (10-17), but were able to manufacture some runs.
"We opted not to play anyone else so we could get a couple of guys healthy," Sutton said. "We haven't seen another team in 10 days, so that may have been a factor."
The Mustangs left the bases loaded in the first inning and managed only one run after the first two batters reached base in the second, scoring on a groundout by Kris Riley.
Kelton Keene then led off the third with a double. That's when Sutton shifted gears to small ball instead of the 'Stangs' usual big-swinging approach at the plate.
Catcher Adam Bassett (2-for-2) bunted his way on to advance Keene, then Logan Kelly executed a squeeze play, laying down a bunt up to the first-base side for a 2-0 lead. 
After stranding another runner at third in the sixth, Bassett led off the seventh with a single and Kelly bunted courtesy runner Luke Leggett to second. Dickerson (2-for-2, RBI) doubled him in and Riley drew a bases-loaded walk for his second RBI and the final run of the game.
Dickerson walked four and scattered six hits in going the distance. When the Bearcats got runners in scoring position in the first and seventh innings, each time the Southern Miss signee struck out the last two batters to get out of the jams.
"We need to swing it better," Sutton said. "But when you're not barreling up on the ball, you have to find a way to get it done, and that's what we did tonight."
Kobe Cook took the loss. He walked four and struck out only one while allowing four hits in 6-1/3 innings. 
Game 2 was a pitchers' duel, with Riley getting the complete-game shutout down on the coast Saturday. The Pearl River Community signee struck out 12, walked three and scattered six hits to secure the win.
Drake Hogue also went the distance, allowing only four hits, walking none and striking out three in the loss. 
Walker Thompson, Kelton Keene and Cole Tolbert all had RBI singles and Riley had a double for all of the offense the Mustangs needed.