South Jones brought its "A" game for the region-opening showdown with its rival. But West Jones had a pair of Bri's with double-doubles to beat the Lady Braves down the stretch, 60-56, in Ellisville on Friday night.
Brikayla Gray had 19 points and 16 rebounds and Brianna Carr had 16 points and 10 boards to help the Lady Mustangs (16-0) remain unbeaten and win the first of at least two matchups with their neighboring nemesis.
It wasn't easy, though. The Lady Braves (14-3) gave West its toughest test yet. Jordan Clark scored a game-high 20 points and Kelsi Jackson had 19 as the home team led by six in the fourth-quarter.
Eighth-grader JerNize Gammage hit a 3-pointer to make it 50-44 early on, then Jackson got a steal and breakaway to maintain the margin after WJ answered.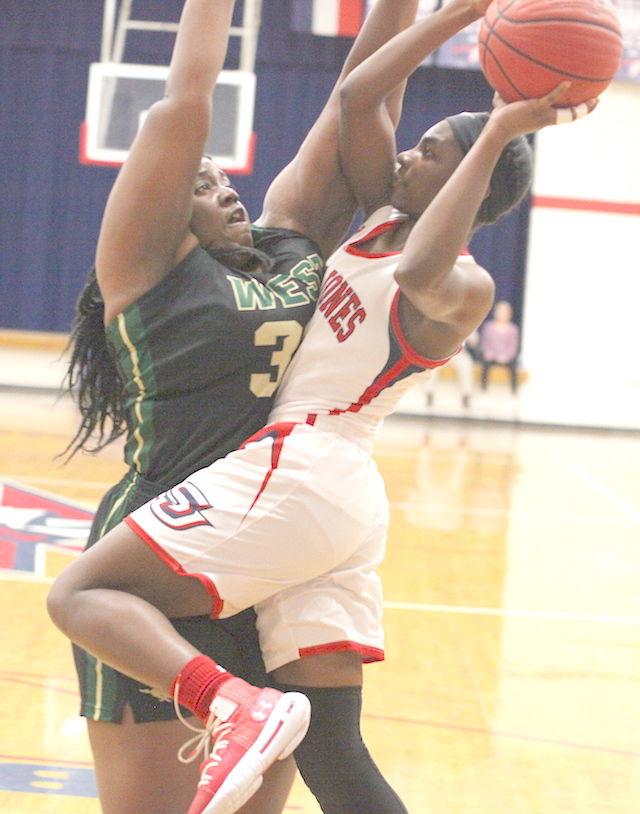 The Lady Mustangs tied it on Gray's steal and layup with just under 5 minutes to go, but again, Jackson responded with two straight end-to-end layups to push the home team's lead back to four.
With about 1:30 to go, a Gray putback pulled the Lady Mustangs within a basket, then after a stop, Jurnee McLaurin's putback tied it at 56 with 1:15 left.
Gray and Mia Moore each got rebounds, drew fouls and made one of two free throws to leave the door open for the Lady Braves, but they couldn't get a bucket down the stretch. 
Carr then grabbed a rebound, drew a foul and hit both free throws to make it a four-point game with 12.7 seconds left as the Lady Mustangs completed the comeback.
Mia Moore also had a double-double for WJ with 17 points and 10 rebounds. The Lady Mustangs also doubled up the Lady Braves on the boards, outrebounding them 46-23.
Nikia Jones had 10 rebounds for South, Gammage finished with eight points and six rebounds and Jackson had four steals.
"I'm happy they never gave up," WJ coach Sharon Murray said of her team's first real test of the season. "They kept working and were able to catch the momentum. We got some key rebounds, steals and free throws down the stretch."
The Lady Mustangs won the South State championship and lost a heartbreaker to Hattiesburg on a last-second putback in the state championship last season.
"We started off shaky … but I'm proud of the way they kept working," Murray said.
The Lady Mustangs led 27-24 at the half, but South Jones came storming back in the third, outscoring its visitors 21-16 to take a 45-44 lead going into the final period. Clark got a three-point play to make it a two-point game and tied it with a putback with a little under two minutes to go in the third. Clark then split a pair of defenders for a layup before getting a block on the other end. Her stop-and-pop basket with 5 seconds left gave the home team a one-point lead going into the final period.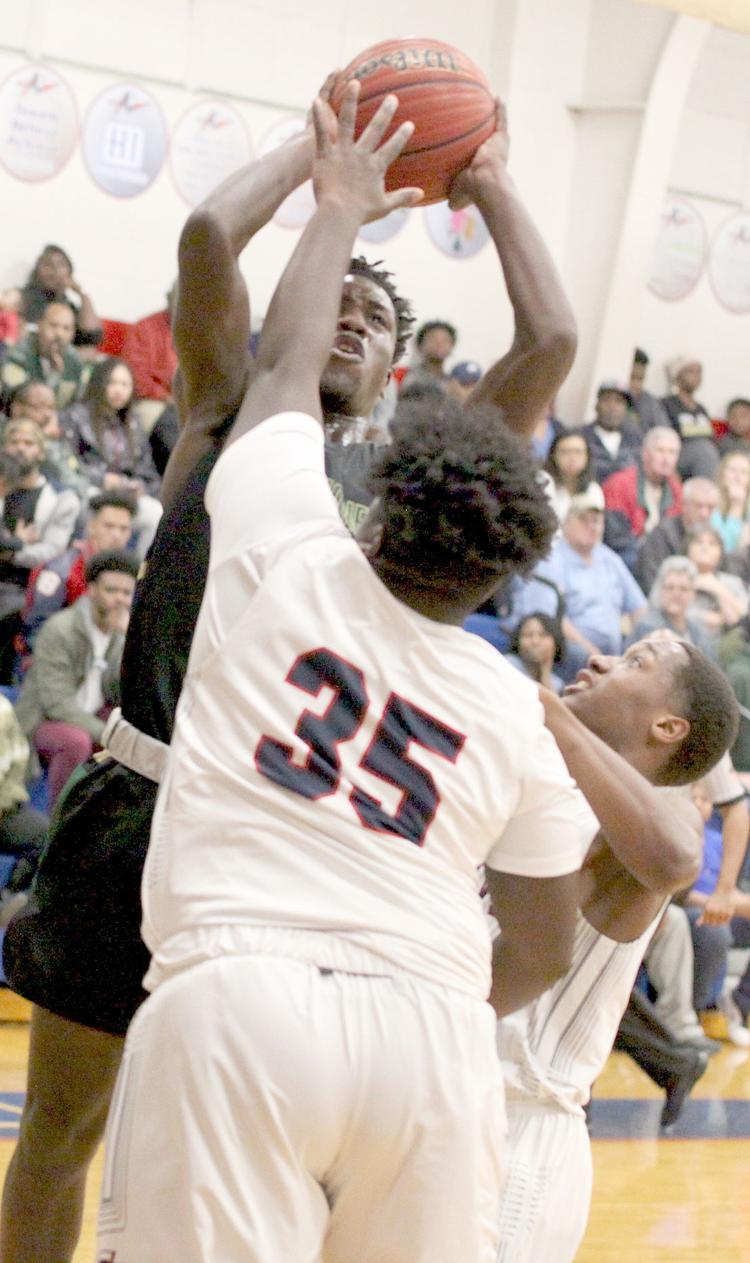 (B) West Jones 65, South Jones 62
The Mustangs (8-9) rallied from behind to win their region opener on the road, too. Tajrick Randolph finished with 23 points, Jared Naylor scored 16 and Re'quan Keyes chipped in 13 in the victory. 
South Jones guard Andre Thomas had 11 points for the Braves (3-12) before leaving the game with an ankle injury in the third quarter. Jordan Miller scored 16, Jamari Deese had 14 and Jackson Delk chipped in 10 in the loss.
West trailed 37-30 at the half and 49-41 going into the fourth period, but the Mustangs outscored the home team 24-13 in the final eight minutes to steal the region-opening win.
Region play and rivalries continue this week for both squads. South is hosting Laurel tonight (Tuesday) and Wayne County on Friday night. West Jones plays at Wayne County tonight and Laurel on Friday night. Tipoff of the girls' games is at 6 p.m. 
• The Tornadoes (6-6) beat Wayne County 66-59 in their region opener and the Lady Tornadoes (9-5) won 54-40. No individual statistics were available. Northeast Jones starts its region schedule at Northeast Lauderdale tonight (Tuesday).