Young makes it official, inks with Tide; Thompson to Ole Miss
The guest list at the Young house for the last week or so has looked a little like the lineup at SEC Media Days before the kickoff of football season.
Nick Saban, Ed Orgeron, Dan Mullen, Matt Luke, Joe Moorhead …
But Big Byron Young was still wearing a big "A" on his chest on National Signing Day as family, teammates, friends, teachers and fans gathered in the West Jones High School Media Center to celebrate the occasion with him.
The star defensive lineman stuck with his verbal commitment to the University of Alabama and will enroll there on May 27. He took official visits to LSU, Mississippi State and Ole Miss, but he never really wavered from his commitment to play for Saban and the Crimson Tide, he said.
After signing his National Letter of Intent on Wednesday morning, he was able to breathe a big sigh of relief.
"The last few days have been hectic," he said. "I just had to shut down my phone. I haven't been responding to anyone."
The phones were out en masse in the school's media center, though, with friends and family documenting the historic moment.
The patriarch of the football-playing family, Kenny Young, had a big smile on his face as he took in the scene of the pomp and circumstance leading up to the youngest of the four Young sons signing the paperwork.
"It's been a pleasurable journey," the elder Young said. "It has been hectic, but it was worth it. It's been a ride."
And now he's looking forward to taking rides to Tuscaloosa and other SEC towns for the next few years to see the Tide play. 
But having some of the top coaches in America sitting in the living room of his Hebron home over the last few weeks, trying to sell their programs to his son, has been an indescribable feeling, he said.
"The final decision was up to Byron," Mr. Young said, and he believes that it was Saban's simple pitch — and track record — that sold him on Alabama. "He said they were looking for young men with character who are good athletes and want to go to the next level."
The 6-foot-4, 280-pound sack machine helped take the Mustangs to the next level, leading them to their first South State championship in school history.
"This was a fun group to coach, and he's the lead guy," West Jones coach Scott Pierson said of the most-recruited football player in school history. "We're going to miss him, but I feel like he's going to stay in touch. He wants to have an impact on the younger generation. He has a legacy here forever."
Young wants to leave a legacy at what has been the most successful college program of the last 50 years, too.
"I just feel like I can go in and make an immediate impact," he said, "and I feel like I can go back if I don't make it to the NFL, and they'll still help me."
That's the sort of thing Saban talked about with him and his family at their home last week.
"He was mostly talking to my parents about my education," Young said of Saban. "It was a good conversation. We had a fun time, just talking and eating."
The fun will stop in the spring, when Young goes back to being a freshman, but he's ready for the challenge, his father said. Seeing his son sign was especially satisfying for him, after his own football career ended with a hand injury his senior year. He's the fifth child in the family to be signed to play college sports. But he doesn't take any credit for their success.
"It's God first, and my wonderful wife of 32 years," he said of Melissa, who works at Jones College and he works at Georgia Pacific in Taylorsville. "I was paying the bills and she was raising the kids."
The signing-day hoopla was just like the icing on the donuts and giant Mustang cookie cake that were part of the spread on tables in the media center.
"To have people think that well of your child, that they come visit and say so many good things … it's been a remarkable experience," he said. "I wish every father could experience this."
It was just a feeling that helped Byron Young choose Alabama.
"I took my trips (to other schools), just to see how they felt, but I knew it was Alabama," he said. "They've stuck with me for a year and a half, and it just felt right. That's where I felt at home, like family."
Brothers Kendrick (Pearl River Community College, Southern Illinois), Regrick (Jones County Junior College and Brandon (JCJC, currently at Arkansas-Monticello) also graduated from WJ after standout careers on the gridiron. 
Their big baby brother had 29.5 tackles for loss, 17.5 of which were sacks, in 15 games. But college coaches clamoring for his services may have been as impressed with his classroom stats — 3.25 GPA and 21 on the ACT, so there would be no eligibility issues with him.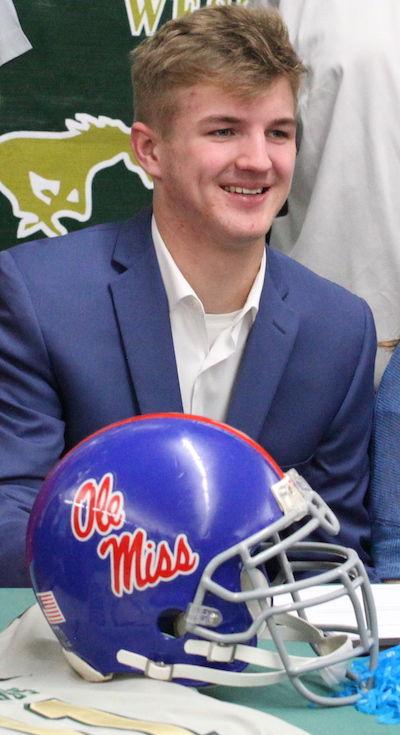 The senior 'Stangs made history together this year, but at least two of them will be competing against each other at the highest level of college football next season.
Kicker/punter Walker Thompson made his commitment to Ole Miss official by signing on the dotted line. He punted 59 times for an average of 40 yards, with a long of 56 yards, and he placed more than half of his kicks (31) inside the 20-yard line. He made 16 of 23 field goals, with a long of 47 yards, and he was 41-of-49 on extra-point attempts.
Walker is the son of Brad and Jenny Thompson.