Lady Braves take first title since '16, Mustangs slip by rival
A freshman helped South Jones accomplish something it hadn't done since she was in grade school — win a region championship.
Sumer Boyette scored two goals two minutes apart to give the Lady Braves the two-goal win over rival West Jones they needed to take the 5-5A title.
"Any time West Jones and South Jones play anything, it's going to be a close, good game," SJ assistant coach Tony Buckley said. "It was an entertaining game."
It was a tense one, too. South struck first when freshman Brianna Gray's shot deflected off a WJ defender and went in the net midway through the first half.
West Jones' Bri Carr tied it with about five minutes remaining in the half to set up a nail-biter of a second half.
Eleven minutes in, Boyette booted the ball in off a corner kick from Madison Diers.
That goal was "particularly sweet," Buckley said, because it came off a set play. 
Boyette's second goal was set up by selflessness and serendipity. Diers was breaking away and sent the ball to Boyette on a cross, and she finished strong, setting off a wild celebration at The Reservation.
"It was a nice pass, and very unselfish," Buckley said.
The Lady Braves lost at West Jones 2-1 in their previous matchup, so they needed to win by at least two goals to win the region championship and the top seed in the playoffs. It was South's first region title since 2016. Craig Winship's West team won the last two region championships — and took the title on goal differential over South last year.
The defenders and goalkeeper Baylee Boyette — Sumer's older sister — made the two-goal lead hold up over the final 27 minutes. Buckley and coach Acie Hamilton selected the junior keeper as Player of the Game. She had 11 saves.
The Lady Braves (12-5-2, 4-1) will go to Wayne County tonight for their final region and regular-season matchup and the Lady Mustangs (11-7, 4-1) will host Laurel.
The Mustangs got off to a slow start this season. But that wasn't the case in Friday night's showdown at region rival South Jones.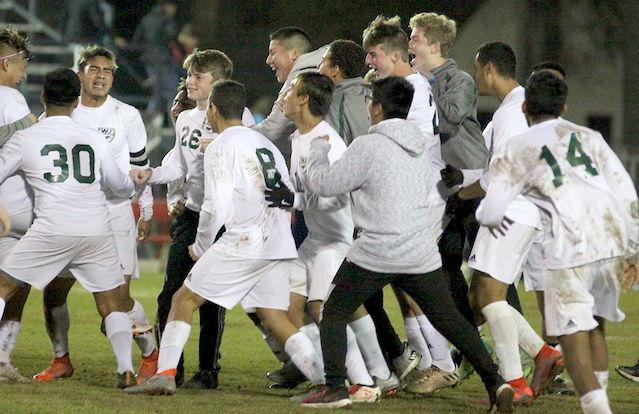 Senior Jacob Fulcher scored the game's lone goal in the sixth minute on a breakaway that gave the Mustangs the lead and the Braves a bleed. Defender Mark Diers had to leave the game briefly with a bloody nose in a matchup that started chippy and just got chippier. 
Fulcher scored on an assist from Luis Ramirez and sophomore goalkeeper Declan Dillistone had six saves and the shutout to help West Jones and coach Josh Sullivan sew up their second straight region title.
The Mustangs started the season 1-6 against top competition, but since Nov. 30, they are on an 11-game unbeaten streak. A 2-2 tie with West Lauderdale on Dec. 1 is West's only non-win since Thanksgiving.
The Mustangs (11-6-1, 5-0) will host Laurel in a battle of the top two teams in the region tonight. The Mustangs can run the table in the region with a victory.
The Braves (6-13, 2-3) had a shot at second place and a playoff berth, but dropped region matchups to the Tornadoes and Mustangs last week.
SJ will finish up the regular season at Wayne County tonight, then by hosting Clarkdale on Thursday.
The Tigers (9-8-1, 3-3) beat the Trojans (7-9-2, 4-2) on Friday. They were scheduled to be at Northeast Lauderdale Monday and at Quitman tonight (Tuesday) with a shot at making the playoffs.
The Lady Tigers came from behind to pick up the victory over visiting Northeast Lauderdale (9-10, 2-4) in The Jungle on Friday night. The Lady Trojans led 2-1 at the half, but NEJ came storming back in the second half with four goals.
The Lions won big at the Vicksburg school to improve to 4-2 overall, 2-2 in division play. LCS is scheduled to host Central Private, from Baker. La., today (Tuesday) at 3:30 p.m. They will be at Cathedral at 5:30 p.m. Thursday.
*Scores and statistics from all games (except South Jones-West Jones) are based on what coaches report to MaxPreps.